Barcelona vs. Chelsea: 5 Reasons Chelsea's Miracle Run Will End in the CL Final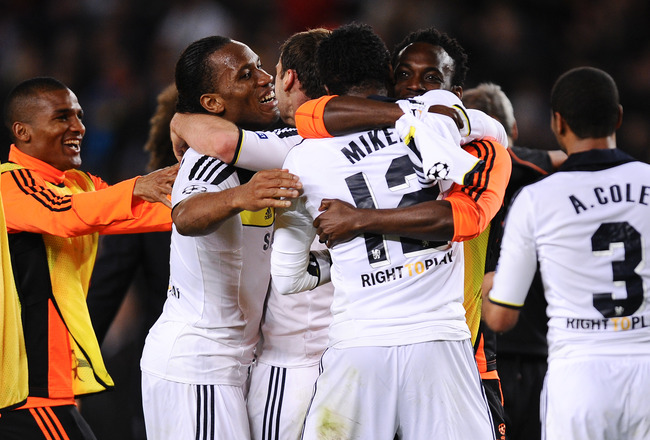 David Ramos/Getty Images
Chelsea's Champions League run has been one of the best in recent history. From start to finish, Chelsea has kept spectators on the edge of their seat.
First came Chelsea's must-win match vs. Valencia in the Champions League group stage. If Chelsea had failed to beat Valencia, they could've seen themselves dumped out of Europe at the first hurdle.
Then came the Round of 16 matchup vs. Napoli. In the middle of one of their worst spells of form of the season, Chelsea were badly beaten by Napoli in Italy, three goals to one.
That away goal gave Chelsea hope, though, and under new coach Roberto Di Matteo, Chelsea were able to orchestrate a remarkable comeback to progress to the quarterfinals.
When Chelsea reached the semifinals, even Chelsea fans prepared themselves for the end. No way was Chelsea going to keep Barcelona from scoring for 180 minutes.
But Chelsea did what until recently even Real Madrid have struggled to do: they beat Barcelona.
Not only that, though, but they did it after conceding two goals and going a man down in the first half of the game at Camp Nou.
Clearly, this Chelsea team is nothing like the one that was playing under Andre Villas-Boas earlier this season. This is a Chelsea team made up of leaders and men of true grit and personality.
Unfortunately, all heroic tales must eventually come to an end, and for Chelsea, that end will be a bit premature, as it will be before they lift the Champions League trophy. Here are the five reasons I don't believe Chelsea will be able to go all the way this year.
Depleted Defense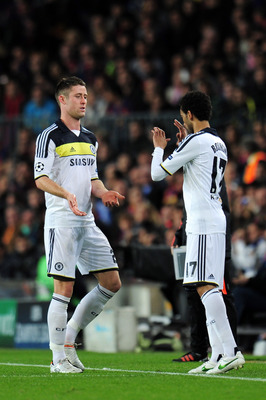 Shaun Botterill/Getty Images
Of all the suspensions that Chelsea's players picked up during the second leg of their semifinal against Barcelona, Branislav Ivanovic's may be the hardest for Chelsea to compensate for.
With John Terry suspended and Gary Cahill freshly injured, David Luiz is the only center-back who will definitely be available to play in the Champions League final, and even he is just recovering for his own injury.
Will Gary Cahill be able to play in the Champions League final? If yes, how much match practice will he have had before then? And if not, who will play in his place?
Chelsea had their entire defense available to them in the Champions League semifinal, which enabled them to play the best defense they've played all season long.
With at least two and possibly three of Chelsea's first-choice defenders missing the Champions League final, I expect that Chelsea will find it hard not to concede goals to either Bayern Munich or Real Madrid in the Champions League final.
No Ramires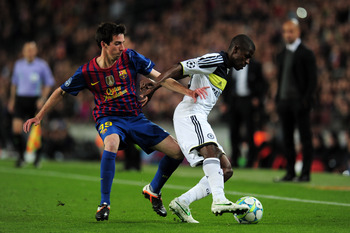 Shaun Botterill/Getty Images
Could Chelsea have beaten Barcelona without Ramires?
No, they couldn't have. The Brazilian was responsible for the two goals that won Chelsea the tie, before Fernando Torres put the icing on the cake.
And that's why, without him, I can't see Chelsea beating either Bayern or Real Madrid.
Ramires isn't a playmaker, but he brings a bit of Brazilian flair to a Chelsea midfield that can otherwise be very boring and ordinary.
Even when Chelsea are under pressure and not seeing a lot of the ball, he's a player who can shine and make an impact, unlike Juan Mata.
Ivanovic's absence hurts Chelsea's defense significantly, but I'm sure that it's Ramires suspension that Chelsea's players and staff wish they could remove.
Parking the Bus Won't Work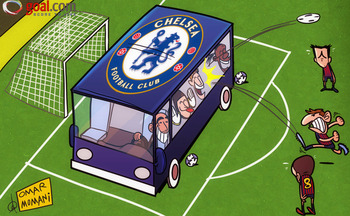 Even if Chelsea had their full compliment of first-choice defenders available for the Champions League final, the "parking the bus" strategy wouldn't work for Chelsea against either Bayern Munich or Real Madrid.
Unlike Barcelona, Bayern Munich have arguably the world's best target man in Mario Gomez. They aren't reliant on beating Chelsea on the ground and can cross the ball to him for him to head the ball in.
After a number of crosses, I'm sure that Gomez or even Thomas Mueller would be able to head Bayern Munich into the lead.
Additionally, Arjen Ribben and Bastian Schweinsteiger, and occasionally Franck Ribery, can all shoot the ball well from distance. Parking the bus would give them the opportunity to take many chances from outside, one of which would likely beat Petr Cech and end up in the back of the net.
The same applies, more or less, for Real Madrid.
Mesut Ozil, Cristiano Ronaldo, Karim Benzema, Xabi Alonso and maybe even a couple other Real Madrid players are good distance shooters. Benzema and Ronaldo are both good in the air, as is Gonzalo Higuain.
Chelsea will need to take these teams head on, and frankly, even if Ramires and Ivanovic weren't suspended, I wouldn't pick Chelsea's starting lineup over either Bayern's or Madrid's.
Fatigue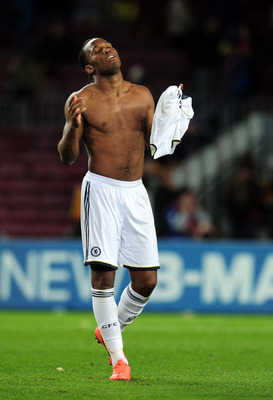 Shaun Botterill/Getty Images
Chelsea have a grueling end-of-the-season schedule ahead of them.
From now until May 13th, there isn't a week in which Chelsea don't play two games. With Chelsea still in the hunt for the Champions League spots, Roberto Di Matteo will need to continue fielding strong lineups that can win games.
That means that Chelsea's players will likely be at least somewhat tired when the time for the Champions League final arrives on May 19th.
Bayern Munich and Real Madrid have less commitments over the same stretch. For Bayern, the league has already been lost to Borussia Dortmund, and for Real Madrid, the league title is practically tied up and the team has already been knocked out of the domestic cup.
That extra rest will surely play into the hands of whoever is facing Chelsea in the final.
Managerial Experience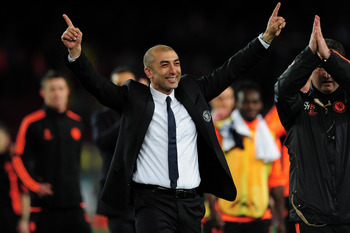 Shaun Botterill/Getty Images
Roberto Di Matteo has done an absolutely amazing job as Chelsea manager since taking over the job, and Chelsea's victory over Barcelona is one Di Matteo will likely cherish for the rest of his career.
But even though Di Matteo deserves to be commended for his achievements with Chelsea, his relative inexperience should not be forgotten in comparison to Jose Mourinho and Jupp Heyneckes, who have both won Champions League titles in the past.
Di Matteo managed to overcome Pep Guardiola, but that is partly due to the fact that Guardiola and Barcelona have not once changed their style this season. RDM's goal against Barcelona was to stop their tiki-taka football, and when he was able to do that, he was able to win the tie.
But against Real Madrid and Bayern Munich, things will not be so simple. RDM will need to beat his opponent with a weaker lineup and without playing ultra-defensive football.
He'll also be without his best counter-attacker, Ramires.
RDM has worked some major miracles during his tenure as Chelsea manager, but this is one miracle that is too great for even RDM to bring about.
Keep Reading

Chelsea: Like this team?