Barcelona: 5 Things Defeat to Chelsea Means for the Blaugrana
April 25, 2012

Shaun Botterill/Getty Images
Chelsea's upset of giants Barcelona sent massive reverberations around the world.
Does this upset—coupled with the loss to Real Madrid and the all-but-certain loss of this season's Spanish title—mean that the rest of the world has finally caught up with Barcelona?
Did Chelsea just expose Barcelona's Achilles heel?
If the answer to this is yes, then the credit must go to AC Milan and to Inter Milan—not to Chelsea. This wasn't the first time a team has packed nine men in its penalty area against Barcelona.
Since, despite this fact, Barcelona have always found ways to win, this latest setback hardly constitutes the final stroke that breaks Barcelona's back.
These recent defeats, especially the one against Chelsea, have come more from Barcelona's profligacy in front of goal than from the opposition's genius in preventing Barcelona from scoring. There was, of course, an element of less-than-adequate defending in these defeats as well.
I examine a few implications of this defeat—just five among many.
1. Recognized the Situation for What It Is
Barcelona were desperately unlucky. That's the truth of the matter. Chelsea may celebrate, but even they ought to recognize that their passage to the final is more a product of luck than genius.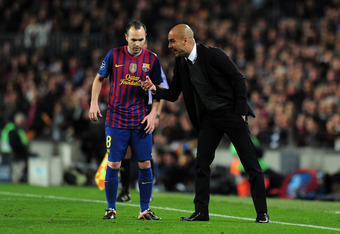 Shaun Botterill/Getty Images
It is crucial fact  many will conveniently forget.
Already amnesic writers have come out in full force.  One such writer claims that Jose Mourinho has "systematically disassembled Barcelona's hegemony of Spanish football at Real Madrid".
Systematically disassembled Barcelona's hegemony of Spanish football? Do two victories in about a dozen matches constitute "systematic disassembling?"
But beside any reaction from the fickle press, Barcelona must recognize this as a mere setback, akin to the one they suffered a couple of years ago at the hands of Inter Milan from which they bounced back rather admirably.
What Barcelona shouldn't do is take these losses beyond what they really are. For even against Real Madrid, Barcelona were still the better side. So recriminations may be in order, but they shouldn't go beyond the compass of the situation.
When Pep Guardiola said the following after the defeat, he displayed what I'd call the right attitude towards the setback:
It's not easy to score. We were not a team that can play in lots of different ways. We have a peculiar way of playing and this is why the opposition adapts themselves to us. Anyway, we will go away and look at it and decide what is best for the institution...

You look at the team and try to tell them what they did wrong, why they're not in the final. And I don't know what to tell them.

At the end of the day you're out of the final and that's all that matters. Sincerely I think it wasn't our turn. We did everything we could - absolutely everything - but we got to a semi-final and lost.

No matter what we did it wasn't enough. And this is what counts. Probably we did something wrong and we need to see what that was and try to fix it in the future.

 
2. Messi is Not Dios
I cringed when images appeared recently with Messi's No. 10 altered to read "Dios."
Clearly, he isn't, if his last jaded performances are anything to go by.
Here's my point.
We ought to recognize that Messi is human and that he can be tired as well as make mistakes. What's more, he can't always score the goals. My point therefore has little bearing, if at all, on the superstition of the appellation.
What was apparent from Barcelona's last three matches is that the players are tired. Who won't be after playing so many matches?
Secondly, Barcelona should recognized that both Xavi and Iniesta are beginning to diminish physically, which might be the reason why the team's transition from defense to attack hasn't been very sharp this season.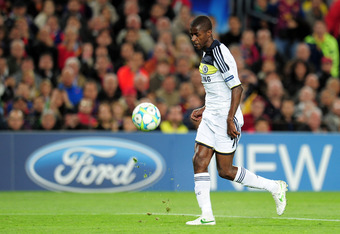 Shaun Botterill/Getty Images
Plus, both players have had problem with injuries, which is another sign of this particular problem.
With this in mind, Barcelona will need players like Cesc Fabregas and Thiago—both of whom I have to say have been rather disappointing lately—to step up.
Iniesta, of course, still has a number of playing years left, but playing him high on the David Villa position has hardly helped Barcelona.
The point here is that Barcelona must find more option for their midfield diamond to enable them rotate players more. This will ensure that their best 11 are fresh and sharp for big games.
As it is, their Dios seemed very tired and jaded.
Discouraged Dios. Shaun Botterill/Getty Images.
3. Key Players a Factor
I cannot but think that the absence of Éric Abidal and David Villa had a hand in this situation.
The reader would recall that Abidal's blindside run contributed to Barcelona's last Bernabéu victory over Real Madrid.
Prior to this match, I had watched Barcelona use this strategy against other teams, with either Abidal straying intentionally offside to disguise Carles Puyol's run, who then received the ball behind the opposition's defense, or vice versa.
It was this exact move that produced Abidal's goal at the Bernabéu in Barcelona's last visit there. 
The absence of both players has certainly taken something away from Barcelona. Messi's apparent impotence in this match owes more to lack of options in front him than his ineffectiveness. They have overcome opponents like this through their tricky movement off the ball.
It there was something lacking in these two matches it was the lack of such movement—movement that used to cause much confusion in the opposition's defense.
What this means is that Barcelona need all their key players back. It also implies that they must search for the right players with whom to arrest this problem.
However, if Barcelona decide to carry on with their distinct way of playing football—and there's no reason why they shouldn't—it means that it might be more profitable to find these players within their own ranks. That is, it might be time to promote more youngsters.
4. Commend Guardiola and then Renew his Contract
It'd be a shame if the Catalan press give in to anger following this defeat. It is anger that produces mindless criticism.
Despite this loss, Barcelona are still the best team in the world, and they still play the best football in the world.
What is clear to any keen observer is that they were unlucky in these couple of matches, where in each they hit the cross bar and the upright. On a more propitious day, these would have been goals and the story would be different.
To therefore lash out at these outstanding players and manager is a shame—and childish.
This is the time to offer Pep Guardiola an enticing enough contract. It is the moment he needs his board's support.
Above all, it is the time the entire Catalan nation unites behind its darling team. Sometimes, it's just not meant to be.
5. Find Other Ways to Blow Up the Bus
The following cartoon appeared on Goal.Com ahead of the match. It pretty much summarizes what happened in the match, including the defiant jeers and the resultant humiliation.

That I am an aesthete should be obvious to anyone familiar with my writing. What I am not is reactionary, insofar as it bears on jettisoning one's philosophy or core belief.
This is why I think that, under the circumstances, Barcelona could have done little more to win the game.
What Chelsea did was to park the figurative bus for 90 minutes in front of their goal, barring the intermittent forays forward that amazingly yielded two goals.
There's little doubt that Chelsea will try the same strategy in the final, but I doubt they'd be lucky thrice.
What is incumbent on Barcelona and other attacking sides is to go back to the drawing board to try and find other ways to deal with the parked bus.
What I should like to iterate at this point, though, is that despite that parked bus, Barcelona created an adequate amount of chances to have scored more than enough goals to see them through to the final.
So the problem here wasn't that they couldn't create chances around the bus, it was that—again—they weren't clinical enough.
Having noted this, Barcelona must come up with other ways to deal with situations like this: Such an approach will become more and more frequent when sides face them.
This, then, is a challenge—and it should be the final word.