Barcelona vs. Chelsea: 8 Takeaways from Historic Champions League Upset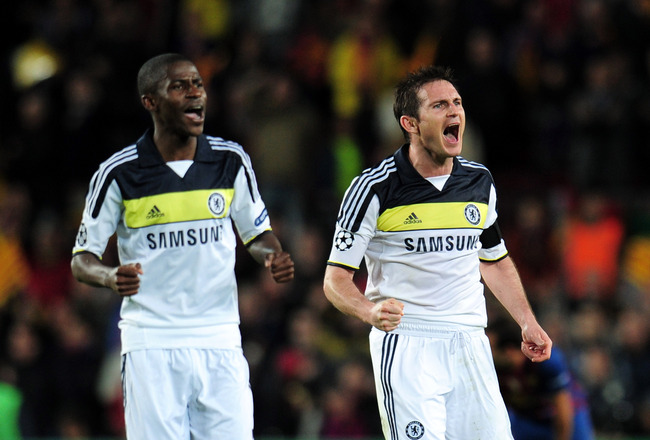 Shaun Botterill/Getty Images
What. A. Game.
Chelsea went into this match against Barcelona with a goal advantage, but they quickly had their backs to the wall as Sergio Busquets cancelled out that advantage and John Terry left his team horribly disadvantaged by getting himself sent off.
When Barcelona made took advantage of their numerical superiority over Chelsea by finding a second goal through Andres Iniesta, it looked like it was all over for Chelsea.
Yet, out of nothing, Frank Lampard threaded a beautiful through-ball which Ramires latched on to and finished with an equally beautiful chip over Barcelona goalkeeper Victor Valdes.
And just like that, Chelsea were on their way to doing the impossible, doing what no one would've imagined they'd be able to do: Defeat Barcelona with 10 men.
It wasn't smooth sailing from there either. When Cesc Fabregas won a weak penalty after a challenge from Didier Drogba, most people watching the game expected Lionel Messi to finally end his goal-scoring drought against Chelsea.
But miraculously, he hit the bar, and finally, people began to believe that this could be Chelsea's night, that this could be a Champions League night where history was made.
And when Fernando Torres scored Chelsea's second goal on a counterattack at the end of the game, his goal provided the perfect ending to a unpredictable, unprecedented night of football.
Without a doubt, this won't be a game we will soon forget about. But while the game's biggest moments will stay with us for years to come, the finer lessons will soon be forgotten.
So while the game is still fresh in all our minds, let's look at some of the things we can take away from this game.
Always Have a Plan B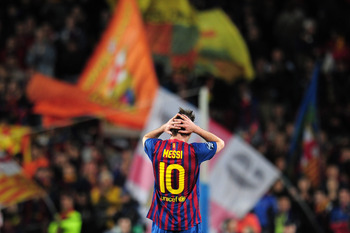 Shaun Botterill/Getty Images
Once again, Barcelona dominated Chelsea. In fact, I don't think dominated is a strong enough word to sum up the control that Barcelona had on the flow of this game.
According to Whoscored.com, Barcelona had 82 percent of the game's possession, to Chelsea's 18. Even by Barcelona's high standards, that is highly impressive.
Barcelona also took 23 shots, six of which were on target, 10 of which were off target, and seven of which were blocked. Chelsea took seven shots; three were on target, four were not.
But while Barcelona dominated Chelsea on the stats, Chelsea was the team with the superior game plan. Why? Because they had a plan B.
Many thought that Chelsea's only plan for this game would be to park the bus. Therefore, with Gary Cahill subbed off, John Terry sent off, and Chelsea losing 2-1 on aggregate, everyone thought the game was over.
Everyone except Frank Lampard and Ramires.
The pair combined excellently, as they did in the first leg, to breathe life back into Chelsea's Champions League bid. They orchestrated a brilliant counterattack that put Chelsea back into the lead on aggregate against all odds.
So once again, it was Barcelona's turn to react. But Barcelona had nothing new to pull out. It was the exact same story as the first leg; Barcelona played the ball around searching for openings, and though there were inevitably a few good chances, they were unable to score the crucial third goal.
It was very reminiscent of the last time Barcelona were humbled in the Champions League in 2010. Back then, the opposition was Jose Mourinho's Internazionale, a side very similar to this year's Chelsea.
In that tie, Barcelona at least had Gerard Piqué to throw up front and feed the ball too when all else failed. In this game, without Pique, Barcelona were forced to try the same tactics over and over again, and failed to get the goal they needed as a result.
Football Is About Offense and Defense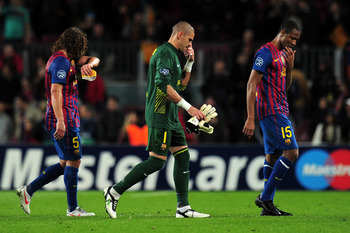 Shaun Botterill/Getty Images
I find ironic that Pep Guardiola was a defensive midfielder as a player, and yet as a manager he seems not to value defense at all.
Back in early March, I talked about Barcelona's defensive fragility being one of the biggest weaknesses of this season's Barcelona. Almost two months later, it has become arguably their biggest weakness.
Against Chelsea, Guardiola played only three center-backs, leaving Dani Alves and Adriano on the bench.
Even when Gerard Piqué was taken off injured, Guardiola brought on Dani Alves as an auxiliary winger and asked Sergio Busquets to drop further back as a center-back, making Barca even less defensive as a result.
Even for a team like Barcelona, who comprehensively dominate possession time and again, domination of possession is no excuse to field weak defenses time and again.
In the past, Barcelona have succeeded excellently at playing tiki-taka football with four-man defenses. Why the sudden shift?
Guardiola must end his obsession with midfielders and realize that defenders are an important component of a truly great side. As good as Carles Puyol is, fielding him and Victor Valdes with nine other midfielders is not the way to win a championship.
Forwards Are Important Too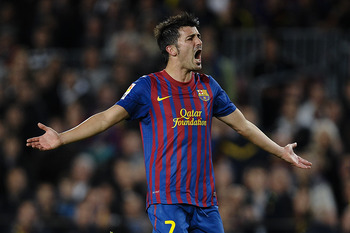 David Ramos/Getty Images
If there's one man Barcelona were clearly missing in this game, it was David Villa.
Gerard Piqué's absence hurt Barcelona, but Javier Mascherano did a decent job alongside Puyol. Eric Abidal's absence also didn't help, but Adriano could've adequately covered for him if Guardiola had intended to play four defenders.
But the one man who Barcelona could not replace tonight was David Villa.
Barcelona are loaded with wingers who've been drilled in the Barcelona tiki-taka style. Cristian Tello and Isaac Cuenca may not have looked especially great as of late, but they know their role at Barcelona very well.
What Barcelona lacks is center forwards. When Lionel Messi isn't playing as the No. 9 in Barca's formation, there isn't anybody who can play as a center-forward for Barca against the best teams in the world.
Alexis Sanchez and Cesc Fabregas have tasted success as false No. 9s vs the weaker teams of La Liga this season, but they do not possess the body type or playing style required to succeed as a center-forward against a team like Chelsea.
That's why Sanchez failed to have an impact, and it's why Fabregas wouldn't have fared much better.
But for someone as experienced as Villa, who has faced nearly every kind of defense and every kind of defender over his long club and international career, he could've easily nicked the goal that would've won Barça the game today, just as it was his goal which put the CL final out of reach for Manchester United last year.
They say you never know what you've had till it's gone. Barcelona fans now know that feeling, and will be happy to see Villa suit up for Barça once again next year.
Ashley Cole Is Still the Best Left-Back in the World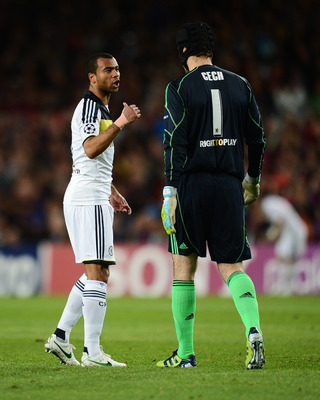 Jasper Juinen/Getty Images
It's a controversial statement, and many people won't agree. But considering that Philipp Lahm currently operates as a right-back for Bayern Munich, I think it's a fair statement to make.
Ashley Cole has been solid all season, but over the last two legs of the Champions League semi-final vs Barcelona, we saw how brilliant the England veteran can still be.
Cole has Isaac Cuenca and Dani Alves in his back pocket for much of this game, and when Cristian Tello replaced Cuenca, Cole nullified Tello so well that few even knew that he was on the pitch.
It was pretty much a re-run of his performance in the first leg, when his lock-down defense on Alexis Sanchez prevented the Chilean from noticeably impacting the game after his chip had hit the bar early in the game.
It also should be noted that Cole had the awareness to avoid picking up the yellow card that would've forced him to miss the Champions League final, something many of his colleagues did not remember to do.
Last but not least, Ashley Cole's desperation clearance at the end of the game was technically an assist, since it wound up at the feet of Fernando Torres, who would go on to score.
That makes it Cole's ninth assist of the season, which is also the most assists Cole has ever recorded in a season. Not bad for a left-back many were calling washed up at the start of the season.
The Referee Made Life Much Harder for Chelsea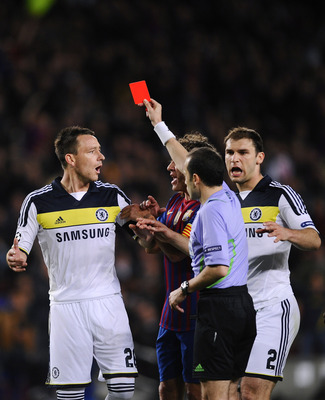 David Ramos/Getty Images
There were no blatantly unfair calls in this game, but referee certainly made many calls that worked against Chelsea.
For starters, the referee gave John Terry a red card on a foul that a) he didn't see, and b) wasn't very physical. Sure, it was uncalled for, but if it was intending to cause injury, surely John Terry would've put more force into it, wouldn't he?
Secondly, the referee gave a penalty to Barcelona on a foul that replays show was very likely a flop. This call was understandable due to Didier Drogba's awkward dive for ball, but again, it was a call made by the referee without seeing the actual play.
Thirdly, the yellow cards dished out to Ramires and Petr Cech for arguing and time-wasting, respectively, were very harsh. The yellow given to Ramires means that he'll miss out on the Champions League final, unless Chelsea are allowed to appeal the ban, which I don't believe they can.
There were more questionable calls that worked against Chelsea, but these four stand out. Like I said, they're all individually understandable, but did the referee need to call all of them against Chelsea?
No, and in doing so he made Chelsea's job in this game and the next much, much harder than it needed to be.
Ramires Is My New Favorite Player, and Should Be Yours Too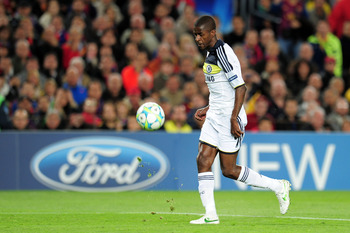 Shaun Botterill/Getty Images
Even though true Chelsea fans may know how good he is, there is no way you can say that Ramires isn't underrated. If anyone has said that Ramires would be the biggest difference-maker for Chelsea over both legs, people would've probably laughed off that prediction as ridiculous.
But the Brazilian indeed was Chelsea's savior, scoring on Chelsea's only shot of the first half.
I have to say, I've probably replayed Ramires' goal at least five times now. It's that good.
Ramires may make it look effortless, but many of the world's best players would've failed where he succeeded.
To score such a beautiful goal in the toughest of circumstances, and with such poise. It's the best goal I've seen in the Champions League this year given the circumstances.
Without Ramires, I can't see Chelsea winning their Champions League final. Chelsea can survive without John Terry, Raul Meireles, and maybe even Ivanovic, but without Ramires, their most dynamic player? I don't think so.
Maybe Bosingwa Doesn't Suck After All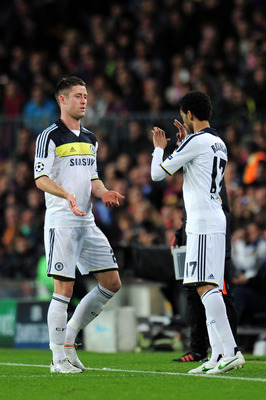 Shaun Botterill/Getty Images
It's not a topic that many have discussed in the aftermath of Chelsea's aggregate victory over Barcelona, but Jose Bosingwa was surprisingly solid at the Camp Nou.
Many spectators, including yours truly, expected a horror-show from the Portuguese right-back, but Bosingwa actually did a solid job of defending his flank.
He put in two tackles, one of which prevented an almost-certain goal-scoring opportunity, two interceptions, and made 10 clearances, second only to Branislav Ivanovic.
I can tell you right now that Bosingwa did not expect to be called upon in the 12th minute of Chelsea's biggest game of the season. The fact that Bosingwa reacted so well to being called on so abruptly is an indication of his skill and ability.
Suspensions Will Significantly Weaken Chelsea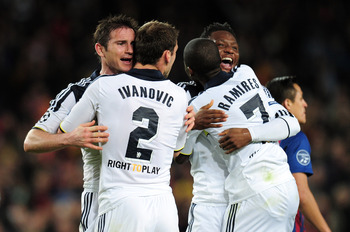 Shaun Botterill/Getty Images
See those four guys celebrating to the left? Only two of them is eligible to play in the Champions League final.
Because of bookings picked up in yesterday's game, Ivanovic and Ramires will all miss the Champions League final. Raul Meireles will miss out as well for the same reason, and John Terry will also miss out because of his red card.
That leaves Chelsea with quite a decimated squad. David Luiz will likely be fit for the Champions League final, but will Gary Cahill recover in time to play alongside him? If not, who will play alongside Luiz as a makeshift center-back?
Raul Meireles' absence won't hurt Chelsea too much, but who will cover for Ramires on the right flank? And will Roberto Di Matteo be forced to turn to Florent Malouda or Daniel Sturridge to start in the Champions League final despite neither player picking up playing time as of late?
We'll see; RDM has pulled a number of rabbits out of his hat already in his short tenure as Chelsea manager. However, I suspect that even he won't be able to maneuver Chelsea to a Champions League victory with all the players suspended for the big game.
Keep Reading

Chelsea: Like this team?