Vancouver Canucks: What Will They Do About the Goaltender Situation Next Year?
April 25, 2012
Rich Lam/Getty Images
Remember the simple days when Roberto Luongo was the Vancouver Canucks' undisputed No. 1 goaltender, and his huge 12-year contract guaranteed that fans could tear him down until they were old and grey?
Was that just two weeks ago?
After spending the Canucks' last three playoff games on the bench in favor of Cory Schneider, Roberto Luongo has said that he'd be willing to waive his no-movement clause if it was the right thing for the team.
Luongo may sound like he has one foot out the door, but the Canucks still have three distinct courses of action available.
1. Keep Schneider, Trade Luongo
Mike Gillis was clear on Tuesday when he said:
The emergence of Cory to be so outstanding as a young goalie changes the landscape. We're in the middle of that changing landscape that we need to evaluate properly.
As soon as Schneider was tapped to start Game 3 of the Canucks' series against the Los Angeles Kings, it looked like the time might be now for the 'goalie of the future.'
Late in the season, Schneider's stock grew with entertaining appearances on Hockey Night in Canada's After Hours and TSN's Off the Record. He's a likable, even-keeled, intelligent guy who contradicts the stereotypes about the unusual mental makeup of most goaltenders.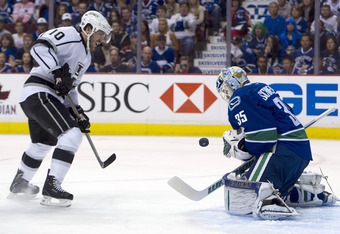 Rich Lam/Getty Images
Schneider is 26 and has just completed the last year of his rookie contract, so he'll be a restricted free agent on July 1. He might be a tempting target for another team's offer sheet, but the Canucks will retain matching rights. Otherwise, they'll look to sign Schneider to a longer-term deal or, failing that, go to arbitration.
Some believe that Schneider is the right choice because the situation in Vancouver has simply become too toxic for Luongo. Sun News hockey writer Robert Tychkowski, based out of Edmonton, evoked a vivid image when he spoke of Luongo "walking a psychological tightrope above GM Place (sic), with his own fans ready to heckle at the first sign of trouble."
After Luongo's comments on Tuesday, it didn't take long for pundits in other cities (Toronto) to start waxing rhapsodic about how he could be the solution to all their problems. No pressure-cooker at all there, Looo.
2. Keep Luongo, Trade Schneider
Schneider said on Tuesday that he intends to be a starter next fall, "playing 60, 70 games, something like that." He did not, however, specify that he expects that to happen in Vancouver.
In terms of bringing back assets, Schneider probably has the higher market value, whether he's traded or signed to an offer sheet. And while Schneider has put up great numbers in the 2011-12 regular season and his three playoff appearances, he and Luongo each lost two playoff games, leading to the Canucks' early exit.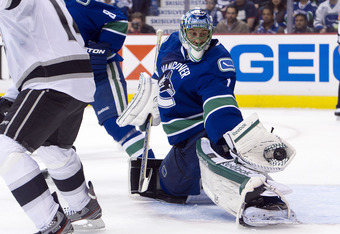 Rich Lam/Getty Images
Luongo's classy display on Tuesday has reminded fans of everything that he has accomplished during his time in Vancouver—arguably the team's best goalie in its history, an Olympic gold medalist and one game away from the Stanley Cup. He's an elite netminder and seems to have grown from this experience. The Canucks could do worse than to keep him around.
3. Keep Both
Stranger things have happened. Many assumed that Schneider would be moved at the trade deadline back in February, no matter how many times Mike Gillis insisted that was not part of his plan. That decision has led the team to where it stands today.
Luongo was clearly not the problem in the Canucks' series against Los Angeles, but he wasn't the solution, either. After Tuesday's statements, he's finding himself in the odd position of being coddled and, yes, liked, by the fans and media in Vancouver. It's been awhile.
The importance of goaltending in this year's playoffs has underscored that teams can never have too many good backstoppers.
St. Louis has needed both Brian Elliott and Jaroslav Halak just to get to Round 2. Boston has bounced back and forth for awhile between Tim Thomas and Tuukka Rask, though Thomas has been the playoff goalie of choice.
It's thought that the healthy competition and mutual support between Luongo and Schneider has actually been good for both. In some ways, another year of the same would be a welcome security blanket for the Canucks.
The situation is likely untenable from both a financial and emotional point of view, but never say never.
After all, this will not be your typical summer in terms of player movement. The current Collective Bargaining Agreement expires on September 15, and new NHLPA Executive Director Donald Fehr was known for playing hardball during his time in Major League Baseball.
It's unlikely that a new deal will be hammered out quickly, and another lockout is well within the realm of possibility.
Until teams have some idea of their financial ground-rules going forward, including salary-cap details, it will be almost impossible for them to pull the trigger on big contracts or big deals. Unless the Canucks can make a slam-dunk deal for Luongo and get Schneider signed before July 1, expect them to sit tight until the lay of the land becomes clear.
Follow me on Twitter: @pool88