Yankees-Rangers: Hiroki Kuroda Shows Great Promise in Tough Loss Against Darvish
April 24, 2012

Ronald Martinez/Getty Images
They call them hard-luck losses.
It's where the starting pitcher throws an outstanding game, yet just doesn't get enough help to get the win.
Hiroki Kuroda went through that for the Yankees as they lost 2-0 to the Texas Rangers in the second game of their three-game series at Arlington.
Tuesday night was a showdown of two premier Japanese pitchers in Kuroda and Yu Darvish.
The Yankees tried to pursue Darvish in the offseason, but not as much as the Rangers did when they landed him in a mega-deal this winter.
They faced him for the very first time and weren't able to do much against the power-throwing righty, as Darvish struck out 10 over 8.1 innings.
The Yankees had a chance to do some damage against Darvish in the third with the bases loaded and no outs, but he struck out Curtis Granderson and got Alex Rodriguez to hit into a double play to end the threat.
After that, the Yankees didn't pose much of a threat and Darvish and the Rangers took control.
On the other side, after getting whacked around against the Twins last week, Kuroda came back a lot stronger and pitched much better against the potent Texas offense. The Yankees' own offseason acquisition went 6.2 innings, allowed five hits, two runs, two walks and struck out five.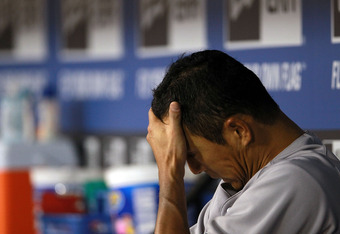 Ronald Martinez/Getty Images
His sinker was more effective and he mixed his pitches well; his only downfall was two mistakes.
The first was a leadoff home run to Ian Kinsler, and the second an RBI single by Josh Hamilton. Other than that, Kuroda was very good.
His record does drop to 1-3, but his ERA also dropped from 5.00 to 4.38, which looks much better.
After the loss to the Twins, I had wondered if Kuroda can pitch with any consistency for the Yankees in 2012. If Tuesday night's start is any indication, it's a really strong and good sign that Kuroda can pitch well and be effective.
On most nights, giving up less than two runs in seven innings will get most pitchers a win. But because Kuroda was facing his countryman who pitched a shutout, he just ran into that hard luck again.
His next start will be an important one, as he needs to put together back to back strong starts for the Yankees.
Stay tuned, Yankees Universe.