Seattle Mariners, Post-Ichiro Era: Who Will Take over as the Face of the Team?
April 25, 2012

Rob Tringali/Getty Images
I don't mean to jump the gun, but Ichiro Suzuki, the star player and face of the Seattle Mariners since 2001, is 38 years old and showing signs of age, much to the dismay of hundreds of thousands of baseball fans around the world.
His 2011 numbers were a stark awakening to what his future stats may look like as the effects of age project themselves onto his unique play style that relies heavily upon speed, agility and quick reflexes.
The beginning of the 2012 season has shown an expected shift in Ichiro's hitting from "get on base" to "contribute to the offense in a more conventional way." His on-base percentage thus far is slightly lower than it was last year, but his slugging percentage is significantly higher this year, which is a good sign because he is hitting third this year, as opposed to first.
Those two components combine to give him an OPS+ value that's less discouraging than last year—96 this year compared to 84 last year—but still not optimal (a value of 100 for OPS+ is considered average for a league, and you don't want your star player hitting below the league average).
Anyway, most of us agree that the wonderful Ichiro is experiencing a decline in his abilities, which means there's room in the vision of the public eye for a new player to step up and earn himself a lasting association with the Mariners.
So who'll it be?
The first names that come to mind as this year's influential and important players in the majors are Dustin Ackley, Kyle Seager, Alex Liddi, Jesus Montero, Justin Smoak, Brandon League and Felix Hernandez.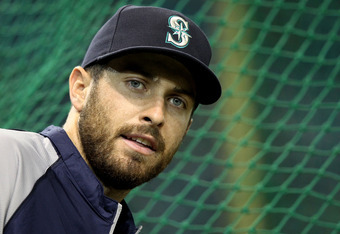 Chris McGrath/Getty Images
A quick scan removes Smoak's candidacy because of his purportedly dormant talents, and League's because, well, he's a closer.
King Felix has been a huge part of what success the team has enjoyed since 2005, and he even has his own fan section and a(n) (inter)national following, but the fact that he only participates in one of every five games prevents him from becoming the face of the team.
Seager and Liddi have both made legitimate contributions to the team's still-developing offense this year, but neither has really even solidified a starting position; Seager may be displaced from third when Mike Carp comes off the DL, and Liddi is playing utility. They both have the means to become big parts of the team in the future, but the need for a new star will come before they've grown to their full potentials.
And that reasoning holds for a lot of the minor league players in the Mariners' organization who could be fantastic in a few years, but who are, for now, still developing.
That leaves second baseman Dustin Ackley and part-time catcher Jesus Montero. At the conclusion of last season, I would have made my case for Ackley, partly because Montero wasn't even a Mariner, but really I'd have chosen Ackley over anyone else.
He was the second overall draft pick in the 2009 MLB draft, and lofty expectations were set for him. He came up last June and showed he was ready to compete in the bigs; both his offense and his defense were climbing up to par.
I saw him as a talented hitter who could add useful pop to the lineup from a number of different spots in the batting order. I was expecting him to start off the 2012 season strong and as a team leader. I assume he's done the latter, but the former expectation has not yet been met, which is just a little troubling.
Sure, it's a small sample size to consider, but his bat has definitely been outshined by the bats of upcoming teammates, which is definitely a good thing for the team, but also a little disappointing.
Like I was saying earlier, though, my case was for Ackley last November, but then, a few months ago, general manager Jack Zduriencik traded for elite hitting prospect Jesus Montero.
With Ackley's lackluster display in April, I've turned my attentions to Montero. He knows how to swing the bat, and he's working on the move into the full-time catcher role.
Catcher is a bit of an unusual spot for the face of the team to reside, being behind a mask half the time, but there's Jason Varitek who was the cohesive force in Boston for more than a decade.
I don't see the future Mariners with one player who stands out distinctly from the rest of the team since there are so many talented prospects coming up, but there are always people who only know one player from each team (I guess it's this way a lot of the time for the Mariners), and I see that player being Jesus Montero.