Kentucky Derby 2012: Closest Finishes in Kentucky Derby History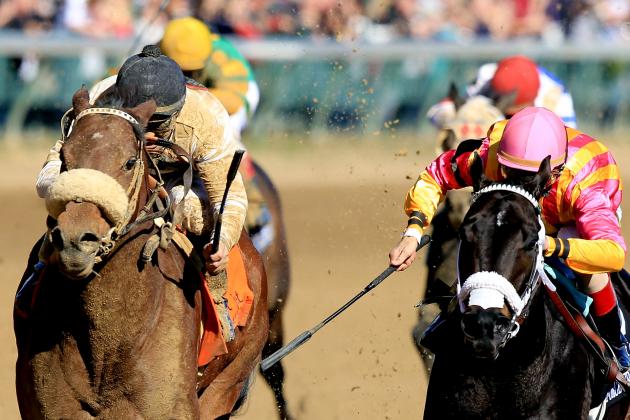 Matthew Stockman/Getty Images

The Kentucky Derby is the most anticipated race in thoroughbred racing.
It's the peak of all the care, preparation and dedication that the owners, trainers, handlers and jockeys have done with their horses for the previous two years.
All that time and energy spent for an adrenaline rush that lasts about two minutes. But it's all worth it.
There is no other feeling like watching and cheering for your favorite horse on the biggest race, at the most historic horse-racing stage the first Saturday in May.
In four days, we will all be watching the Run for the Roses and the only thing that can top your favorite horse's win is a photo-finish win.
The idea of a mano-a-mano down the home stretch culminating in a full extension, all-out head-bopping finish in the Kentucky Derby, is a thoroughbred racing fan's dream.
There have been such close finishes throughout Derby history. In fact, 13 Derby races have been decided by a neck or less.
Let's take a look at those heart-pumping finishes.
Begin Slideshow

»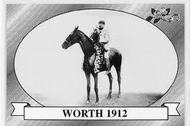 Image via TVG.com
May 11, 1912 (38th running)
Worth was the heavy favorite (.80/1) and was hustled to the lead by his jockey, Carroll Schilling.
He was still the leader at the third call when Duval (20/1), who was running fourth, moved to second place and started stalking Worth's pace.
Worth was still holding a one-length lead as the entered the home stretch, but started tiring in the final half-furlong and was able to hold off Duval's final rally.
Final Time: 2:09.4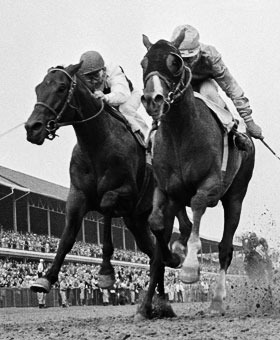 Northern Dancer holding off Hill Rise. (Photo via Forbes.com)
May 2, 1964 (90th running)
The legendary Northern Dancer was the second betting choice (3.40/1) just below the favorite, Hill Rise (1.40/1).
It was also the battle of two legendary jockeys, Bill Hartack (Northern Dancer) and Bill Shoemaker (Hill Rise).
Northern Dancer was seventh early, just behind Hill Rise. He was saving ground until around the far turn, Hartack made a move and took him to the outside and to the lead.
Hill Rise was left behind horses and fell back to eight place.
As they headed for home, Northern Dancer was ahead by two lengths and Hill Rise started to chase him.
At the end, it was Hartack's left-handed whip urging that made Northern Dancer prevail over Hill Rise, who was fully extended under Shoemaker.
Final Time: 2:00 (New Track Record at the time)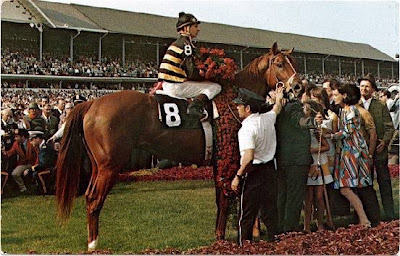 Majestic Prince (Photo via docsunspeckledrock.blogspot.com)
May 3, 1969 (95th running)
Bill Hartack was at it again. He was the rider for the favorite, Majestic Prince (1.40/1).
Majestic Prince was fourth in the early going, while Arts and Letters was chasing the leader, Ocean Roar.
By the second call, Hartack moved Majestic Prince up to third and Arts and Letters fell right behind him in fourth place.
From there on, the chase began. As they turned for home, Majestic Prince was in front by a half-length and Arts and Letters insisted hard on his inside. Dike had moved up to third and was closing slowly on them.
At the end, Majestic Prince held by a neck over Arts and Letters and Dike finished just a half-length behind on the outside of both.
Final Time: 2:01.8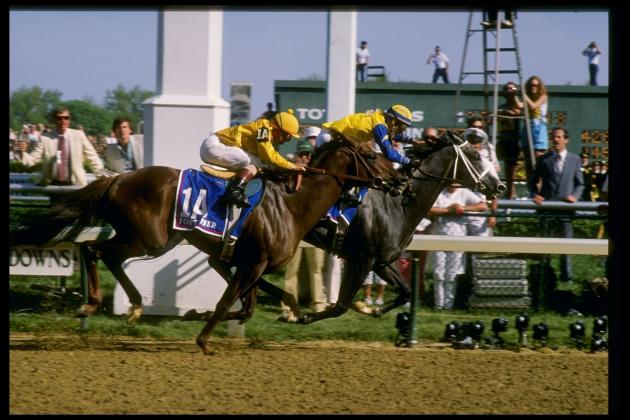 Mike Powell/Getty Images
Winning Colors holds off Forty Niner's furious rally.
May 7, 1988 (114th running)
Winning Colors under Gary Stevens broke alertly from post position 11 and took the lead as expected.
Forty Niner also had a sharp start and prompted the pace at the first call. But jockey Pat Day took him back to fifth along the backstretch in order to make on final furious rally.
Winning Colors' lead grew up to four lengths during the backstretch, which allowed Stevens to relax her up front.
As they headed for home, Forty Niner was four lengths behind in fourth place but had started his final move.
At the end, Stevens was working hard with his left-handed whip and Winning Colors held by a neck for the win.
Final Time: 2:02.2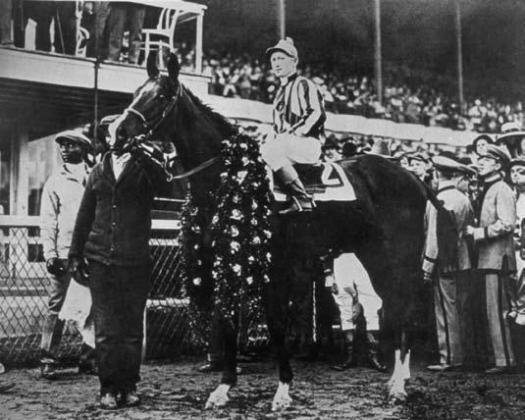 Paul Jones (Photo via TVG.com)
May 8, 1920 (46th running)
Paul Jones (16.20/1) was the surprising winner over the big favorite Upset (1.65/1).
Ted Rice put Paul Jones on the lead from the start and was on the third call that Upset placed in second to start his chase from two lengths behind.
As they entered the stretch, Upset was just a head behind and with a sixteenth to go, it looked like he would pass Paul Jones, but it was the latter who held on gamely for the win.
Upset was a tiring second-place finisher.
Final Time: 2:09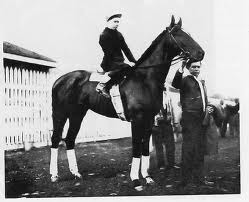 Whiskery (Photo via TVG.com)
May 14, 1927 (53rd running)
Whiskery was fifth early while Osmand was placed second five lengths behind the leader Jock.
By the third call, Whiskery was third, a couple of lengths behind Osmand, and started to make his move on him. Osmand was still five lengths behind Jock but starting to chase him down.
As they turned for home, Osmand caught Jock and took the lead, while Whiskery was a third of a length behind, but in pursuit of Osmand.
With a sixteenth to go, Whiskery got even with Osmand and out-finished him to win by a head.
Final Time: 2:06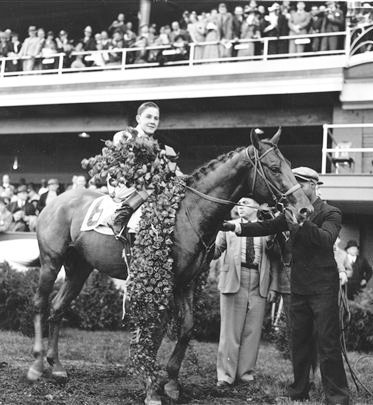 Bold Venture (Photo via Examiner.com)
May 2, 1936 (62nd running)
Bold Venture (20.50/1) started the race in tight and fell back to eighth at the first call, with heavy favorite (.80/1) Brevity in ninth place right behind him.
Right there, jockey Ian Hanford started the chase and by the third call, Bold Venture was up front by a length. Brevity was sixth and starting his move to the front.
As they entered the home stretch, it was Bold Venture in front by a length over Brevity, who loomed large on his outside.
But by the end, Bold Venture held by a head under Hanford's strong urging to score the big upset win.
Final time: 2:03.6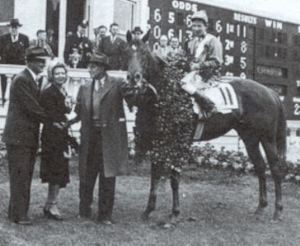 Jet Pilot (Photo via thevaulthorseracing.wordpress,org)
May 3, 1947 (73rd running)
Jet Pilot (5.40/1) took the lead early and set the pace easily down the backstretch while the favorite Phalanx (2/1) was dead last on the first call after a sluggish start under jockey Eddie Arcaro.
Phalanx started to move by the half-mile and as they reached the home stretch, Phalanx was fifth, three lengths behind, and Faultless was third, just over one-and-a-half lengths behind.
During the stretch run, Phalanx was closing in fast, but as they got to the wire, it was Jet Pilot barely holding on by a head, while Faultless was third, just a head behind Phalanx.
Final time: 2:06.8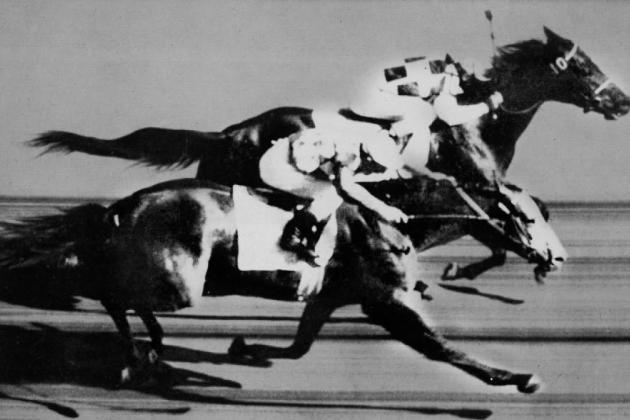 Dark Star upsets Native Dancer (Photo via jockeyworld.com)
May 2, 1953 (79th running)
Dark Star took the lead early and established a swift pace down the back stretch.
The great Native Dancer, under jockey Eddie Guerin, encountered some heavy traffic problems around the first turn and was pushed back to eighth in the early going.
Once Guerin found running room around the far turn, he placed Native Dancer on the clear outside and started to make his move to the front.
When they entered the home stretch, Native Dancer was still one-and-a-half lengths behind, but gaining steady on the front-running Dark Horse.
But the wire came first and Native Dancer's rally fell one head short. It was the only defeat in the career of the great Native Dancer.
Final time: 2:02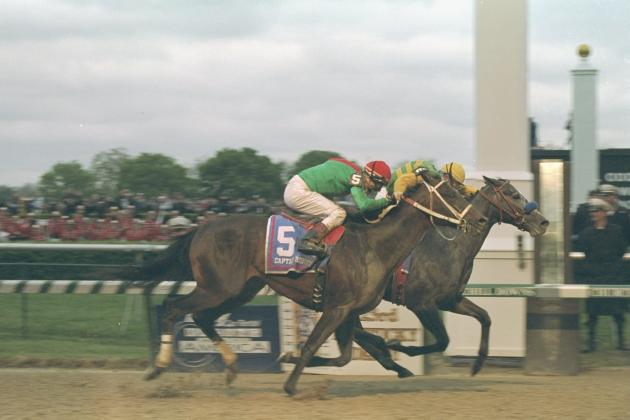 Jamie Squire/Getty Images
Silver Charm shows the head up front of Captain Bodgit.
May 3, 1997 (132nd running)
Silver Charm under Gary Stevens was sixth in the early going and running in between horses.
As they entered the back stretch, Stevens moved Silver Charm to the clear and started to move on the leaders Pulpit and Free House.
When they entered the home stretch, it was Silver Charm taking the lead by a head over Free House. Captain Bodgit was ninth in the early going and had moved up to third just ahead a tiring Pulpit.
On the final furlong, it was Silver Charm outstretched, while Stevens was asking for everything his horse had left. He finally held on by a head at the wire over the surging rally of Captain Bodgit.
Final time: 2:02.44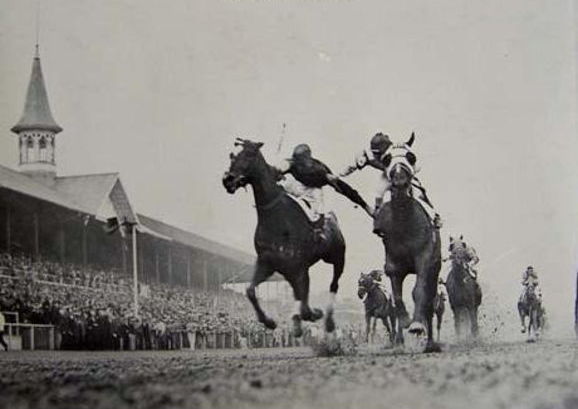 Brokers Tip over Head Play (Photo via TVG.com)
May 6, 1933 (59th running)
Brokers Tip was off slowly from his 11th post position and jockey Don Meade took the horse immediately to the inside and started saving ground.
Jockey Herb Fisher placed Head Play in third place just behind the leaders Good Advice and Isaiah.
Down the back stretch, Head Play took the lead by the third call and Brokers Tip was closing in on fourth place, just 3.75 lengths behind Head Play.
When they entered the home stretch, Head Play's lead was a mere hair and the mano-a-mano was on.
After Head Play's interference, Brokers Tip put the nose ahead at the wire to win after the rough stretch run.
At the time it was the closest—and probably roughest—finish in Derby history.
Final time: 2:06.8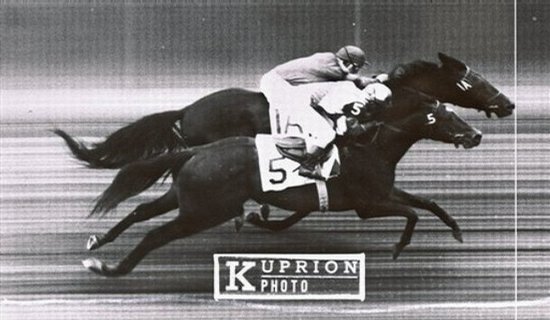 Gallant Man loses to Iron Liege (Photo via mentalfloss.com)
May 4, 1957 (83rd running)
This race is a classic that will forever be remembered in the Kentucky Derby archives. It included one of the most talented fields in Derby history, including racing greats Bold Ruler, Round Table and Gallant Man (GB).
Federal Hill and Iron Liege were also close contenders.
But this race will be remembered the most because jockey legend Bill Shoemaker, aboard Gallant Man (GB), misjudged the finish line and stood up too early in his stirrups.
This slowed Gallant Man's momentum and allowed for Iron Liege, who was under the heavy urging of another jockey legend Bill Hartack, to gain on him and pass him at the wire.
To date, this remains one of horse racing's biggest flops.
Round Table finished third, just over three lengths behind. Bold Ruler and Federal Hill rounded out the top five.
Final time: 2:02.2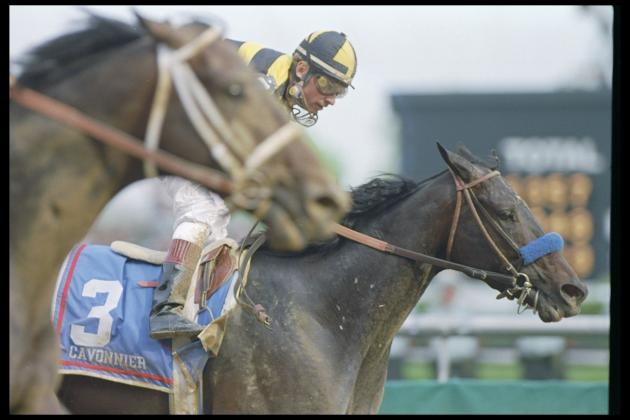 Doug Pensinger/Getty Images
Grindstone edged Cavonnier on the last jump.
May 4, 1996 (122nd running)
This finish was another instant classic.
Grindstone under Jerry Bailey was taken back to 15th in the first call, while Cavonnier, with Chris McCarron, was ninth and running on the clear.
As they started to round the far turn, Cavonnier was the first one to make a move and as he was rounding horses four-wide, Craig Perret, the jockey for Halo Sunshine, inadvertently struck Cavonnier's head with his whip.
This slowed Cavonnier's move for a second but was able to keep his momentum going forward and Cavonnier took the lead at the top of the stretch by a head over Unbridled's Song.
Grindstone had moved into fourth place and was gaining ground steadily on the leaders while running on the fifth lane.
On the stretch, Grindstone was still running on the fifth lane and closed quickly enough to nip Cavonnier exactly on the final jump at the wire.
That was Grindstone's final act. Apparently the effort was too much for Grindstone, since he was retired shortly after the Derby when his trainer, D. Wayne Lukas, discovered knee chips in his leg.
Final time: 2:01.06