What New GM Bob Myers Must Do to Fix Woeful Golden State Warriors
April 24, 2012

Ezra Shaw/Getty Images
With Bob Myers promoted to general manager on Tuesday, Golden State Warriors' co-owner Joe Lacob has taken yet another step to transform a struggling franchise that's all but forgotten what it's like to make the playoffs.
After agreeing to trade franchise player Monta Ellis to the Milwaukee Bucks for center Andrew Bogut before February's trade deadline, Lacob has presumably put together a core of talent for Myers to tweak around the edges.
It would be surprising to see this club make any more drastic moves in the near term, but then again the Warriors do love to surprise us.
If Myers is smart, he'll take a cautious approach to improving the roster and leave the more transformative efforts to coach Mark Jackson. After all, this is a young roster led by 24-year-old point guard Stephen Curry, an emerging star poised to flourish with the ball-dominating Ellis shipped out.
This is also a roster still very much in flux.
Bogut has yet to play a game for Golden State, and the 2 position will be manned by rookie Klay Thompson for the foreseeable future.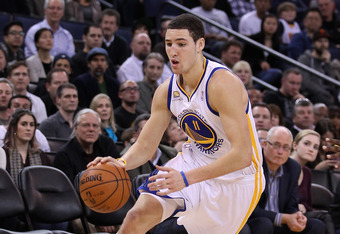 Ezra Shaw/Getty Images
Should Myers make any major moves, he should either do so immediately or only after the team has had the opportunity to form some chemistry. The temptation to periodically tinker with Mark Jackson's personnel could render any improvements moot by sheer chaos and unpredictability.
It's not as if this organization has the flexibility to do all that much at the moment, anyway. The Warriors have little-to-no cap room for the next two seasons thanks to burdensome contracts and an amnesty clause wasted on Charlie Bell.
Richard Jefferson and Andris Biedrins will make a combined $20 million next season if they pick up their player-options (and it's impossible to imagine they won't).
Myers should theoretically try to trade these guys as soon as possible, but he doesn't have much of a chance realistically. No one wants to take on that kind of money without more talent coming along with it.
A more realistic option might be moving the comparatively more valuable David Lee, but he's set to make around $56 million over the next four seasons. 
Without a great chance of freeing up cap space and with few assets to attract upgrades on the trade market, Myers should look primarily to build through the draft. The Warriors could use depth at just about every position.
Grooming a few prospects to replace the overpriced veterans as they move on could be Myers' only play. He might be able to acquire a veteran or two to improve the bench, but he hasn't been dealt a hand that allows him to do much more than that. 
Warriors fans may want to believe there's a silver bullet that will make this team an instant contender, but in all probability those fans will have to remain patient.
Golden State has a solid talent base to build around—it should give those in-house options a chance to see what they can do when healthy.