Barcelona vs. Chelsea: 6 Things Learned After Incredible Game Sees Blues Advance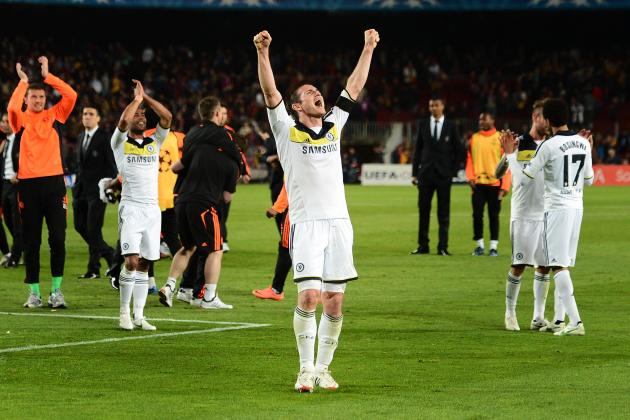 Jasper Juinen/Getty Images

"SFDKFHLSDGHASIGFIGHLh!"
That was the guttural nonsense I screamed as Fernando Torres scored Chelsea's second goal of the match and secured the Blues' passage to the Champions League final with a 3-2 aggregate score over Barcelona.
The odds of this occurring were slim and made even more slim by the sending off of John Terry halfway through the first. Barca were able to score two before the break, but Ramires got Chelsea level on aggregate by plucking one just before the whistle.
The Blues parked the bus for 45 brilliant minutes before Torres latched on to a clearance and scored perhaps the biggest goal in the club's history.
Here are six things we learned from the match.
Begin Slideshow

»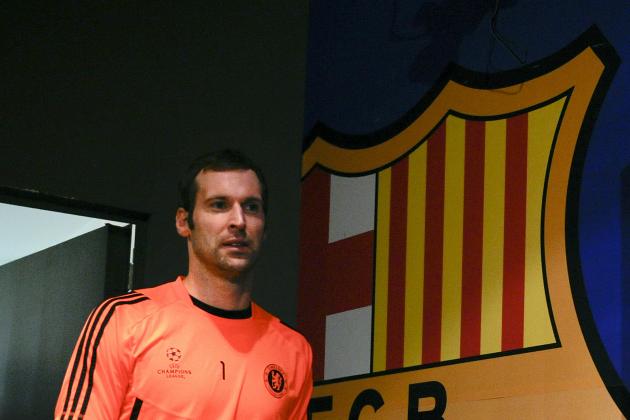 David Ramos/Getty Images

I don't care what anyone says with Joe Hart this, Iker Casillas that—Petr Cech is the best goalkeeper in the world.
For the second straight Champions League match, Cech put on an utterly brilliant performance against the most prolific attack this game has ever seen. He knew from the moment that they were drawn against Barca that he would have to be perfect to ensure Chelsea get by, and he was.
The two scored against him tonight were in no way his fault, but that victory should hoist him above anyone else for the discussion of who is the best.
Yes, he had more than his fair share of excellent saves, but that is just the empirical data contrived off of what we saw. His argument for supremacy extends much deeper than that. He is a psychological master who can alter the belief a team has in itself and the confidence of its shooters.
You think one of the game's best goal scorers of all time would miss a penalty against any keeper? You think those through balls Barca routinely put away with ease just happened to be off today?
All of that is the consequence of knowing that anything but absolute perfection will be saved with ease. And that is the reason Cech is the best keeper in the world.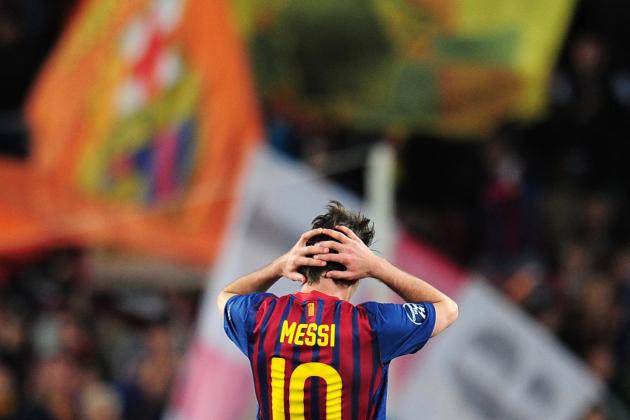 Shaun Botterill/Getty Images

I like Messi a lot. I think he is a tremendous player and utterly brilliant on the ball. But for whatever reason, Chelsea make him look human. Actually, they make him look simple.
It was just another game where Messi failed to get on the score sheet, and in the end, it cost them. He did not have a terrible performance, but it certainly was not one we have come to expect out of him.
He was pedestrian on the ball, trying to always weave his way through like he does routinely in La Liga. But every time he did, Frank Lampard and Raul Meireles were there to usher him out wide, never giving up that inside lane to the net.
Perhaps it is the physicality or the sheer size of the Chelsea players that gets to him. Whatever it is, it certainly is not an isolated event. Something happens (or doesn't happen) when he faces this side.
Don't take anything away from the Chelsea defenders, but there is something of a mental block that keeps Messi from being Messi against the Blues.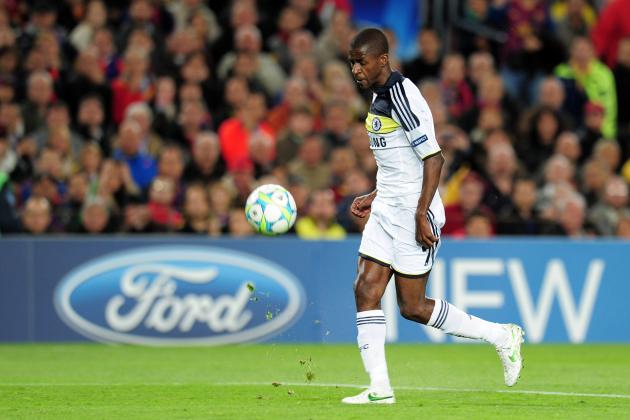 Shaun Botterill/Getty Images

At the start of the season when all was going wrong, Ramires seemed to be the only bit of hope Chelsea fans had. He began to fade away in the middle of the season as injuries and fatigue got to him. But in both legs of this tie, he has come on to be one of those players that has all the makings of a legend.
His speed is undeniable, as it caused fits for the Barca defenders the few times they were attacked and, of course, led to the first goal just before half.
Interestingly, Ramires is possibly the most nontraditional Brazilian to have ever played the game. He relies on putting his head down and chagrining up the field, not nifty technical play. But he exuded one moment that would make the Joga Bonito gods proud—the cheekiest of chips to advance Chelsea to the finals.
Unfortunately for Ramires, he will not be able to cement this status in the final, as he will be suspended. But there is plenty of more time in his career to make him a true Stamford Bridge great.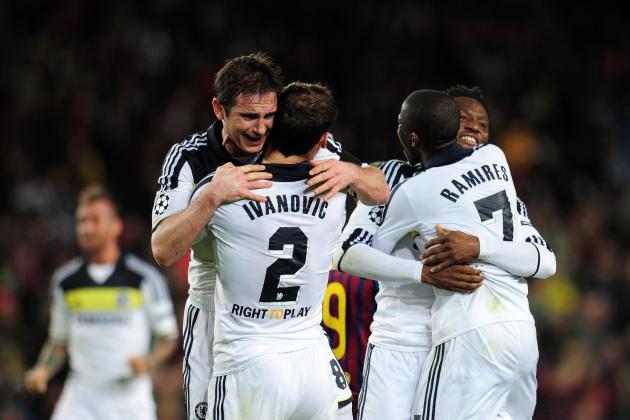 Shaun Botterill/Getty Images

I have to admit my being a bad fan for a moment and say that I thought Chelsea were done after the second Barca goal. Playing down a man with all the momentum headed toward the Spaniards, it was hard to see otherwise. But thankfully, I was wrong, and it was all because of three players.
The win was a combined effort of all the players on the field, but the leadership and incredible defensive display by these three players had to make even the most diehard Barca fan applaud.
Branislav Ivanovic became the man to lead the back line after Cahill was subbed with an injury and Terry got his red card. But he executed that role to perfection, keeping them in order and making sure they never conceded the space Barca likes to play in. He also threw his body into countless shots.
Ashley Cole was forced to come more towards the middle than he prefers and play more as a positional defender than attacking on the outside. He, too, was perfect, making the likes of Cesc Fabregas, Alexis Sanchez and even Lionel Messi struggle to be comfortable whenever they were on the ball.
Frank Lampard was amazing. I think it is safe to say now that in two consecutive games, Lamps outplayed Messi and was the most influential player on the pitch for either side. He got the assist on Ramires' goal, but the amount of time he dispossessed the Barca midfielders or at least turned them away was more telling of his match.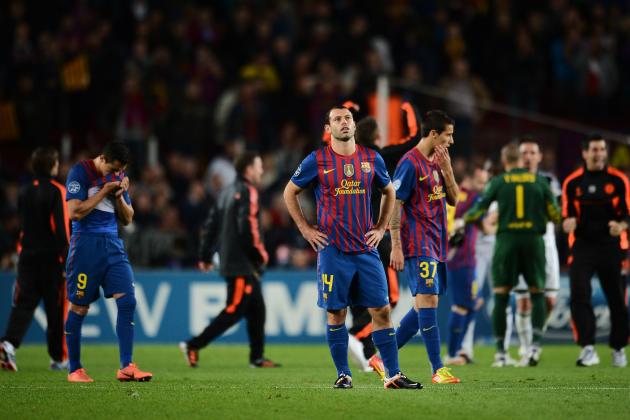 Jasper Juinen/Getty Images

Man advantage for more than a half. A penalty kick. Three times the possession. More shots, and shots on target. At home.
What more excuses can Barcelona fans find for the reason their team lost?
Chelsea were the better team last week and the better team today—not just because they advanced to the Champions League finals, but because they did it with utter perfection.
If you are a Barcelona fan and want to excuse your team for their shortcomings, by all means, please try. But I can tell you now, it will mean nothing to me, the Chelsea fanbase or the footballing world because all we have to do is look up at the scoreboard.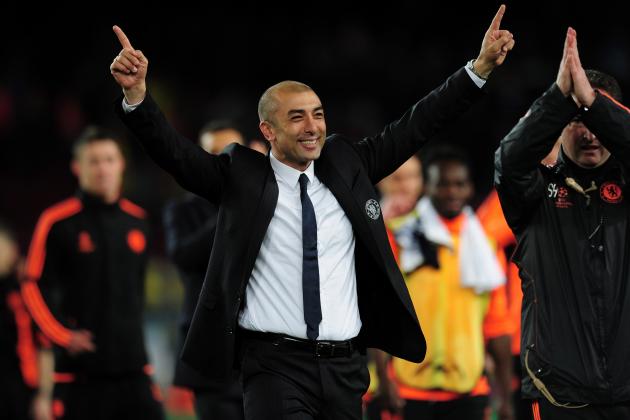 Shaun Botterill/Getty Images

A few weeks ago, when the draws came out, I wrote a piece describing how Chelsea's victory over Barcelona will be their greatest in their 100-plus-year history. On April 24, 2012 at 5 p.m. ET, I make that proclamation so.
Few expected Chelsea to get by Barca at Camp Nou, and no one expected them to do it down a man. But Chelsea did what they do best: persevere.
If there was one word to describe this team, it would be "survivors." They claw on the edge of death so many times, just tinkering with the idea of letting go, but never cede to the expectations of nonbelievers.
Chelsea are not better than Barcelona. They do not have the skill, the talent or even the confidence that the Catalans have—but none of that matters when you are a survivor. It's all about doing enough to get you by. The glitz and glam of passing and tapping the ball around the pitch means nothing when the other side will not die.
This was the greatest win in Chelsea history, not because they won against the odds—they have been doing that for years. It is because they did it their way; they did it the Chelsea way.
So let's keep it short and sweet. What did you learn from this match?
As always, please...forget it!
Keep the Blue Flag Flying High!
For all my articles, follow me on Twitter: @thecriterionman