World Football Strange but True: Genoa Players Heed Ultras, Hand over Shirts
April 24, 2012
Score one for the hecklers. We've always known that the players were listening.
Well, actually, let me back up a moment.
Score one for the crazies. We've always known they'd scare some poor players into submission at some point.
From the Associated Press:
Genoa players stripped off their shirts in a gesture of apology to angry, flare-throwing fans on Sunday as their protests forced a 45-minute suspension of the team's 4-1 loss to Siena in Serie A…

Fans threw flares onto the pitch and climbed atop barriers as they were faced by stewards in riot gear at the Luigi Ferraris stadium, forcing families with small children to flee.

Also, Genoa forward Bosko Jankovic was forced to leave his seat on the bench after an argument with fans.
The lesson? Don't mess with Genoa fans. They're crazy.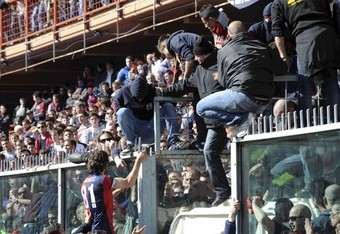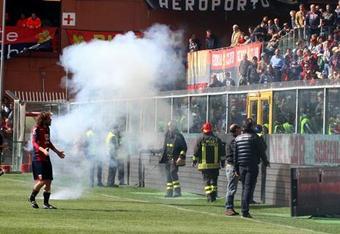 For those uninitiated in the ways of football hooliganism, these crazy Genoese fans are commonly known as Ultras. Numerous clubs across the globe have them—hardcore fans who wreak havoc on a game-by-game basis, acting like insane-asylum inmates and intimidating just about everybody.
In this case, everybody included the players, who apparently cowered in fear at the sight of a few flares.
Genoa president Enrico Preziosi, however, wasn't too impressed. "It's upsetting that 60 or 100 people have the impunity to do and say what they feel like without being stopped and sent home," Preziosi said. "It's not possible that they take over the stadium and impose their laws."
Genoa's Ultras might not have such a stage for long. After Sunday's loss, Genoa—who have the worst defensive record in Serie A—now sit one point above the relegation zone with five matches left.