SEC Football: SEC Coaches Give Insight on Playoffs and Petrino in Teleconference
April 24, 2012

Sam Greenwood/Getty Images
The SEC held its post-spring teleconference on Tuesday morning. Thirteen of the conference's 14 coaches hopped on the line to give a recap (or, in Texas A&M's case, update) of what's been going on during practice. The only team not represented was Arkansas, which introduced John L. Smith as its new head coach later in the afternoon.
So what were some of the hot-button issues on the conference call? FBS postseason and the Arkansas situation, of course. 
Alabama head coach Nick Saban is a fan of the current bowl structure. "I've always thought having the bowl system in tact as much as possible is healthy for college football," Saban said. He then immediately described how a potential plus-one would work.
I guess he's flexible.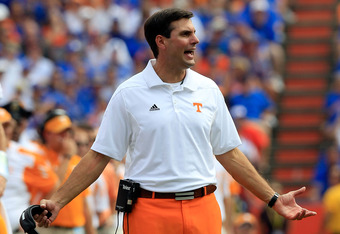 Sam Greenwood/Getty Images
Tennessee head coach Derek Dooley grew up in a football family and has been thinking about the college football postseason for quite some time, apparently. 
"Ever since I was a child, I've been in favor of the plus-one model," Dooley said. "I remember when my dad was pushing for that 20-25 years ago."
Florida head coach Will Muschamp shared some of his thoughts on the Bobby Petrino saga. "We tell our players that the choices you make, make you who you are."
Cheap shot? I don't think so. But certainly good advice to live by.
Saban also chimed in on Petrino's situation and how it translates to the coaching industry. "We have an opportunity to impact the lives of young people, and setting a good example is part of that," said Saban.
That's not necessarily a shot at Petrino either, but it's certainly a comment on Petrino's actions.
Georgia head coach Mark Richt said that the adversity that the Arkansas players are going through will help them in the long run. "When adversity strikes, that's when people come together," said Richt. He then compared the situation to a funeral.
South Carolina Steve Spurrier commented on his proposal to decide SEC division winners by division record rather than overall SEC record, saying that he thinks that it "will be discussed by athletic directors and presidents."
As stated here at the SEC Blog last week, that proposal is detrimental to the SEC and incredibly selfish on Spurrier's part.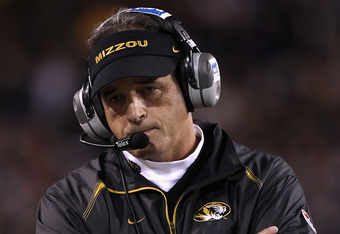 Christian Petersen/Getty Images
Missouri head coach Gary Pinkel was self-depricating at times, saying that his vote doesn't matter all that much. That didn't stop him from voicing his opinion on the potential for a nine-game conference schedule. 
"This league is so difficult and so challenging each and every week," said Pinkel. "If you go to nine [conference games] it'll make it more difficult."
Texas A&M head coach Kevin Sumlin dodged the question about the Aggies' rivalry with Texas, but he did address their new rival LSU. "From a recruiting standpoint, it's an important game," said Sumlin. "There's going to be a natural rivalry there."
Those two teams will certainly evolve into rivals as we progress in the new-look SEC, and I'd love to see that game close out the regular season on future SEC schedules.
The quotes that weren't made were, by far, the most entertaining part of the teleconference. Ole Miss head coach Hugh Freeze wasn't prepared for his turn on the call. The first-year Ole Miss coach had to be tracked down via cell phone while on the Rebel Road Trip. After about five minutes of waiting around, he was located, answered a few questions, and then his call was dropped.