NHL Playoff Bracket 2012: Breaking Down the Western Conference Second Round
April 25, 2012

Frederick Breedon/Getty Images
The Western Conference had its share of surprises and shocks during the first round of the NHL playoffs.
Now attention must be turned to the second round, where only four teams remain in play for the Clarence S. Campbell Trophy.
No. 2 St. Louis Blues vs. No. 8 Los Angeles Kings
The intrigue surrounding this matchup is endless.
The Kings disposed of the Canucks in the first round in such a fashion that the rest of the league has to be on notice.
LA plays tough defense and has stout goaltending between the pipes with Jonathan Quick.
The problem?
Their opponent, the St. Louis Blues, have the same philosophy and equally strong goaltending.
St. Louis gave up an NHL-best 155 goals over the course of the regular season, while the Kings were second with 170.
Brian Elliott's 1.56 goals against average was tops in the league, but of course Jonathan Quick was second in the regular season with a 1.95 GAA.
The defensiveness of this upcoming series is reflected in the results of their regular season matchups.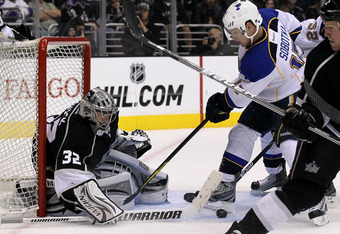 Stephen Dunn/Getty Images
Los Angeles won three out of those four games, and two of the contests ended with a score of 1-0.
The only game that wasn't decided by one goal was a 5-0 shutout on Oct. 18, while the Blues were still mired in the Davis Payne era.
This series may not have a lot of pure star power but it will be a blue-collar, hard-nosed dogfight between two physical hockey teams.
No. 3 Phoenix Coyotes vs. No. 4 Nashville Predators
The fact that these teams are ranked No. 3 and No. 4 in the bracket is a perfect reflection of their balanced nature.
In the regular season, each team won two games against their counterpart.
Both clubs have a strong veteran presence and goaltending that is making a statement in the playoffs. Pekka Rinne in particular locked down the Detroit Red Wings in the first round in such a convincing manner that the Predators knocked out Detroit in just three games.
The Coyotes have the better top-end scorers in Ray Whitney and Radim Vrbata, but Nashville brings a more balanced offensive attack to the table.
The Predators had seven different players with at least 40 regular season points, and that number does not include Alexander Radulov, who has exploded in the postseason.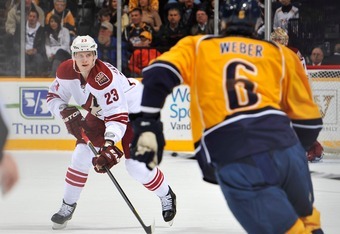 Frederick Breedon/Getty Images
Nashville also features one of the best defensemen in the NHL, Shea Weber.
Phoenix's answer?
Keith Yandle.
Yandle is one of the best offensive blue-liners in the league and notched five points in the team's six-game series against the Chicago Blackhawks.
This series is likely to come down to the play of Phoenix's stars.
If they are firing on all cylinders, then they can carry the Coyotes, but if not the depth and balance of Nashville will wear them down.