Atlanta Braves: Jurrjens Gets Demoted as Hudson Eyes Weekend Return
April 24, 2012

In a somewhat surprising move by the Atlanta Braves front office, Jair Jurrjens was optioned to Triple-A Gwinnett shortly after another rough outing on Monday night in Los Angeles.
Most big league front offices are hesitant to send a proven veteran to the minor leagues in favor of a young kid with only 10 major league starts under his belt.
Given the Braves playoff aspirations and a schedule filled with tough divisional opponents, it was slowly becoming more difficult for Atlanta to continue sending an ineffective Jurrjens to the mound every five days.
Instead, the Braves decided the unconventional move of demoting Jurrjens to allow him to work through his struggles at Triple-A was not only the best move for him, but also the big league club.
Even with Jurrjens' constant dismissal that he is injured; there has been an ongoing concern that a balky knee that caused him to miss most of the second half of 2011 was again affecting his performance.
After a Cy Young caliber beginning to the season last year where he went 12-3 with a 1.87 ERA before the All-Star break, he struggled down the stretch and was eventually shut down for the remainder of the season.
Since being selected as an All-Star last July, he has only managed a 6.87 ERA in 11 starts. More alarming has been is inability to record an out after the fifth inning in any of his four starts this season.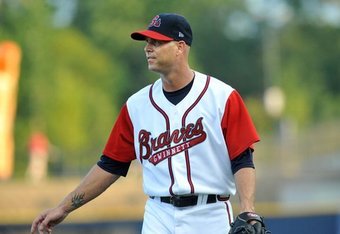 Injured or not, his average fastball velocity is down again this season to a meager 88.1 mph. In addition to the lost velocity, pitch location has also been poor, causing him to find too much of the plate too often.
Couple those factors with a changeup that he is only throwing at a 5.9 mph difference than his fastball and, it goes without saying that those results don't mix well as evident by an opponents' batting average against of .405.
With Tim Hudson set to make his final rehab start tonight in Gwinnett, he would be in line to return to the Atlanta rotation on Sunday against the Pittsburgh Pirates.
Hudson, who had back surgery in November, is coming off a rehab start last week in which he threw 48 of 76 pitches for strikes and induced eight ground balls.
Those ground-ball outs are a good sign that he is close to being ready to face major league caliber hitters.
Hudson is expected to extend his final rehab outing to six innings with a pitch count upwards of a 100 total.
For a rotation that, until recently, has struggled to pitch deep into ballgames, Hudson's presence in the rotation will provide some veteran leadership to lean on.
HUDSON REHAB UPDATE: Hudson threw five scoreless innings in his final Triple-A rehab start before allowing a run in the sixth. That was the only run he allowed on six hits in his 5.2 innings of work, throwing 68 of his 110 pitches for strikes. He also walked two and struck out four.
Jim Pratt is a Featured Columnist for Bleacher Report, MLB contributor for MLBDepthCharts and BravesWire. Follow Jim on Twitter, @2OutSacBunt