Alabama Football: 5 Biggest Recruiting Commit Busts in Program History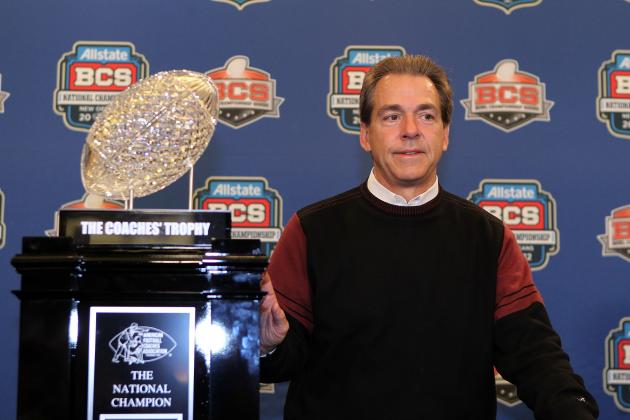 Andy Lyons/Getty Images

Alabama has returned to greatness under Nick Saban, and a major component of that return is recruiting. Now that the Tide are back in the recruiting game, elite talent seems to flock to the Capstone like the swallows of Capistrano.
With the arrival of elite talent, the odds of having a championship team increase exponentially. The flipside of that coin is that the bust potential of the team is also increased.
The higher the recruit is rated, the bigger the potential bust. It's a high-risk, high-reward situation, and it has brought hardware to the Capstone twice in the past three years.
The five biggest busts that immediately came to my mind date only a few years back, but they were huge in terms of the expectations placed on them. With just a couple of these guys living up to their potential, there could be even more BCS hardware in Tuscaloosa today (specifically in 2008).
*Stats and record obtained from the Alabama Record Book
Begin Slideshow

»
On Oct. 20, 2007, D.J. Hall earned the top spot in the Alabama Record Book for number of receptions in a game at 13 against rival Tennessee.
He is also No. 2 on the list for receptions in a season with 67 in 2007 (behind only Julio Jones's 78 in 2010).
D.J. Hall was the most successful bust on this list. It's hard to believe a household name could be defined as a bust, but Hall did it.
He did it with his off-the-field decisions and his terrible attitude. After displaying immense talent on the collegiate field for a couple of years, he simply disappeared.
With all the plays he did make for the Tide, just imagine what he could have done if he hadn't been a bust.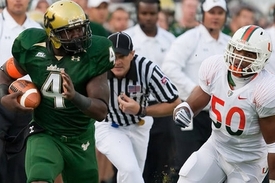 Mike Ford was a 4-star running back recruit back in 2005. He could have been the featured back on the 2008 offense that only lost two games.
The Tide may have had a different season in 2008 with him on the field. Instead, Ford failed to qualify academically for the Tide roster.
He eventually went on to the University of South Florida and was released from that team following a violation of team rules.
Ford's bust combined with that of D.J. Hall ensured that what could have been a one-two knockout punch on the Tide offense was nothing more than a jab and a whiff.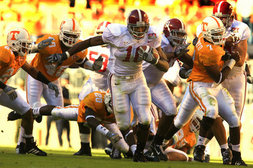 Johns carries against Tennessee. (Press-Register/G.M. Andrews)
Jimmy Johns was the seventh quarterback overall in the 2005 class, according to rivals.com. As a seriously talented athlete, he was moved around at the Capstone for three seasons before being arrested for drug-related charges in 2008.
Johns was a quarterback, then a halfback, then a fullback, and finally, a linebacker before landing himself in jail.
He could have been great on the field and could have had a ring in 2009 if he had stayed out of trouble and remained in Tuscaloosa for his senior season.
The good news for fans of men who turn their lives around is that Johns is now doing great things for kids that are about to be in the same position he was in so few years ago. Whether you're a Tider or not, that's something to respect.
Keep it up, Johns!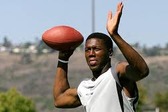 The 2008 class was legendary. It brought Mark Barron, Marcell Dareus, Mark Ingram, Terrence Cody, Dont'a Hightower, Barrett Jones, Julio Jones, Robert Lester, Brad Smelley and Courtney Upshaw to the Capstone in one fell swoop...and those are just the household names.
Star Jackson was ranked the fifth-best quarterback in that class, and he was expected to be the starter one day soon. (Greg McElroy had arrived in 2006 as the 11th-best of his class.)
Jackson could have stayed in Tuscaloosa, and we would probably be seeing him in this year's NFL draft if he had.
As it was, after falling behind A.J. McCarron on the quarterback depth chart, Jackson decided to leave Tuscaloosa.
No one can know if he would have even stayed behind McCarron, but leaving certainly ensured he would never start for the Tide.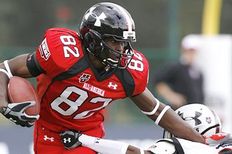 Speaking of the legendary 2008 class, there were three recruits that were rated No. 1 at their position that signed with Alabama: Julio Jones, Tyler Love and Burton Scott.
All Tide fans know Julio Jones, and though Tyler Love was a bust as well, he wasn't nearly as big a bust as the potential difference-makers on this list. (Although another superstar on the offensive line would have been an asset, indeed.)
Burton Scott was the top-ranked athlete in the 2008 class, and could have played just about any position. After moving his way up the chart to starting corner for a brief moment (part of a spring), he fell behind. He fell some more, and he fell again.
His list of accomplishments was not empty, but it was not worthy of a top-ranked recruit, either. We're talking about an athlete here that, in theory, should have been jelly to Julio Jones', Mark Ingram's or Dont'a Hightower's peanut butter.
He transferred to South Alabama, and the rest of the class ensured that he wasn't missed all that much in Tuscaloosa.