MSU Football: Basic Goals Michigan State Must Focus on for 2012 Season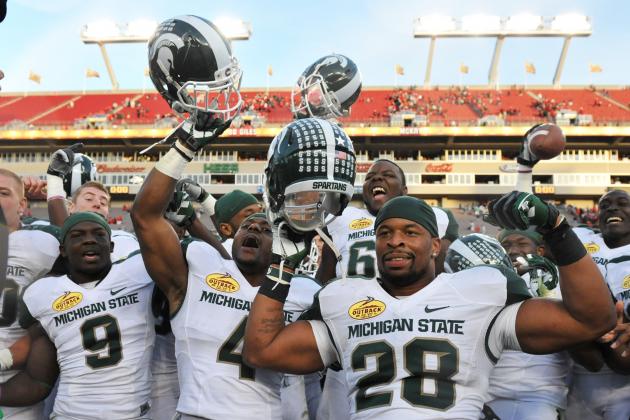 Al Messerschmidt/Getty Images

Michigan State has to be feeling good about their football program right now after producing the two most successful seasons in their program's history. They exceeded expectations and remained strong after some difficult losses. As much as these past two seasons have been great for State, they could have been better.
Little and basic mistakes have kept this team from reaching the highest achievements in college football, and here are some goals Michigan State can set in order to achieve more success next season.
Begin Slideshow

»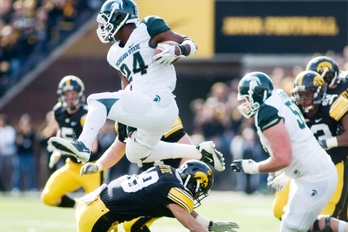 Since Michigan State will be dealing with a brand-new passing game this season, growing pains could be inevitable for this offense. It will be interesting to see what head coach Mark Dantonio has planned for his offense, but right now it seems that the running game might be the best bet for this offense to develop. Michigan State has been known to produce a strong offensive backfield; they love to run the football.
"Pound green pound!" may be the Spartan way this season. They will have to become a strong force with the running game once again in order to get the passing crew to adapt to the experience.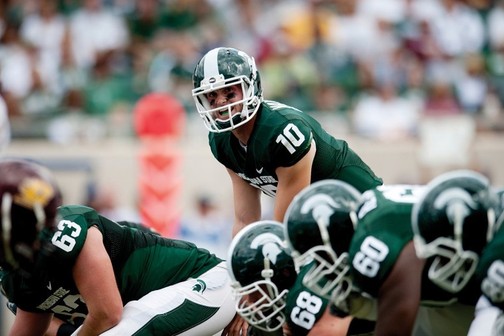 If you enjoyed Michigan State winning the big last-minute matches the past two seasons, imagine how it would have been if they converted their third-down situations more often? Michigan State has struggled tremendously with keeping their offense on the field, especially the past two seasons.
In 2010, they converted only 63 of 168 third-down attempts. Unfortunately, 2011 was no better, as they converted only 78 of 202 attempts. Both of these records produces an average of 38 percent each, and that's usually not an elite team.
MSU will have to find a reliable set of plays or players that can get them past the third-down blockade, at least the majority of the time. It will be very interesting to see a young offense try to do better than the most successful offense in MSU history.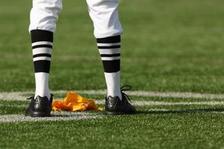 Every team suffers from penalties, but Michigan State has been troubled by the yellow flags at the worst of times more often than they should. The Spartans produced 95 penalties for 775 yards in 2011, that's 6.8 penalties a game for 55.4 yards. The 2010 season was just as bad, as they produced 87 penalties for 754 yards, 6.7 penalties a game for 58 yards.
The Spartans could have been a much more dominant team if they didn't have to fight themselves, plus their opponent. Lowering the penalties should be a crucial focus for this team if they want to become a top-tier team.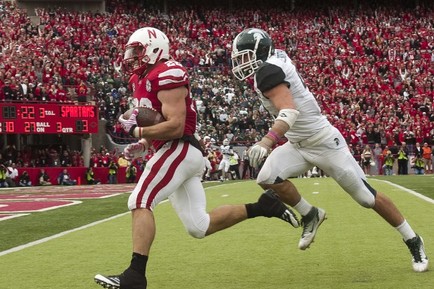 One weekend you would see Michigan State look like a championship-caliber team, but then the next weekend you would be shockingly disappointed. Michigan State won many thrilling games the past two seasons, but too many of them were closer than they should have been. Some were just plain terrible to watch, especially some of their road games.
If MSU want's to be a dominant force, they will have to show up guns blazing from start to finish. They tend to play conservative while maintaining a big lead, giving their opponent a chance to catch up. Some games they just had no answers at all. MSU can't sleep on any opponent on the schedule—that's what a bye week is for.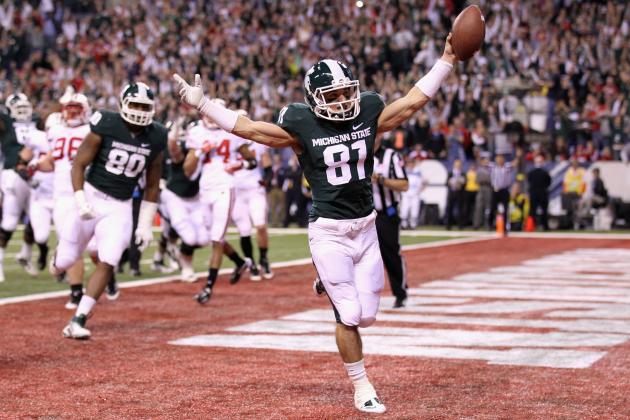 Andy Lyons/Getty Images

Trick plays, fake field goals, Hail Mary. You name it, Michigan State is not afraid to throw a wild play out there, and the majority of the time they succeed with it. Believe it or not, these plays have produced the foundation of this team. They may be classified as tricksters, but I tend to call it a gutsy team that likes to make a huge statement to the nation.
As much as these calls can do more bad than good for a team, Michigan State should stick with them. This not only demoralizes their opponent during a game, it also sets a strong confidence and attitude for their season.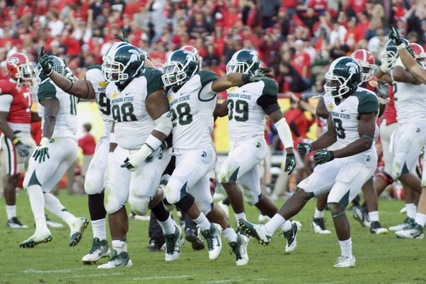 The Spartans may never be like their arch-rival Michigan when it comes down to popularity and history, but they can certainly continue to earn the respect from the nation, like they have the past two years. Doubt and criticism has surrounded this program every season regardless of their past and current accomplishments, and that just might be the extra push they need to get motivated for the next season.
Being a Top 25 team, they are expected to be good, but will they fulfill the expectations again?
Michigan State should continue to overcome adversity and use doubt and criticism as fuel for their season. Making a goal to prove the critics wrong will only make this team stronger.