NHL Free Agency: Can the Washington Capitals Afford to Let Tomas Vokoun Walk?
April 25, 2012

Elsa/Getty Images
Last summer, the Washington Capitals were widely considered to be one of the biggest winners on the free agency market, as the team came away with three coveted pieces to add to their lineup.  
Easily the most heralded of the four unrestricted free agents the Caps picked up was former All-Star goaltender Tomas Vokoun, who was coming off another stellar season for the Florida Panthers.  
In a perfect world, Vokoun was supposed to bring a level of stability in between the pipes that the Caps had lacked in previous years, and maybe even lead them to the franchise's first Stanley Cup.  
In fact, Vokoun seemed so confident in his ability to put up impressive numbers with a legitimate Cup contender that he signed a one-year, $1.5 million deal, meaning he'd be playing in order to earn his contract once again.  
Unfortunately, the plan failed for all parties involved, as the Caps stumbled to their worst record in five seasons, and Vokoun posted a mediocre 25-17-2 record while battling a nagging groin injury that has kept him sidelined since late March.  
Though it's clear that Vokoun's season is over, Washington's George McPhee will have an interesting decision to make prior to July 1 regarding Vokoun's future with the organization.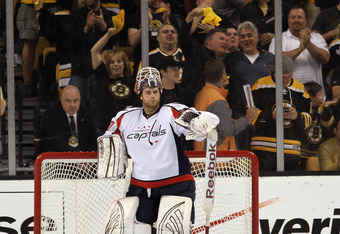 Bruce Bennett/Getty Images
At first glance, it seems ludicrous that the Caps would want to retain a 35-year-old goaltender who wasn't a difference-maker on a consistent basis, and had more than his fair share of issues with durability.  
However, the lack of goaltending depth on the free agency market makes the situation a little less cut-and-dry.  
If Vokoun wants to remain on a playoff-calibre team, which is presumably a big selling point for the Czech Olympian, he'll more than likely have to accept another one-year deal, which is something the Caps should at least be open to considering. 
At this point, the Caps are set to enter next season with Braden Holtby and Michal Neuvirth between the pipes, who have a combined 16 games of postseason experience between the two of them.  
A year ago, Neuvirth was presumed to be the Caps' goaltender of the future, but that situation has changed drastically in a year as well due to Holtby's playoff performance.  
Looking ahead to next season, it doesn't make a whole lot of sense for the Caps to continue to bury Holtby in Hershey when he's arguably the best netminder in the organization, which means either Neuvirth or Vokoun won't be back.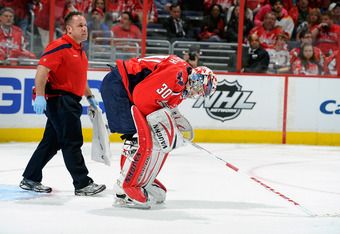 Greg Fiume/Getty Images
If the Caps choose to keep Neuvirth and Holtby, Washington will likely enter 2012-13 without a clear-cut starter, which is a risky proposition.  
Instead, it might be better for the team to deal Neuvirth (as they did with Varlamov last summer), and retain Vokoun as a mentor to Holtby, who is quickly emerging as the team's goaltender as the present and future.  
Keeping Vokoun around would mean that Holtby only has to play 45-50 games during the regular season, thus keeping the 22-year-old fresh for the postseason.
While Neuvirth still has the potential to be a No. 1 goalie in the National Hockey League, is he necessarily a top guy on a good team? At this stage, no.  
Holtby has displayed the type of game-breaking talent and composure that Neuvirth didn't in last year's playoffs. Neuvirth was consistently solid, but never exactly stole a game the way Holtby did in Games 2, 4 and 5 of the Caps' current quarterfinal matchup with Boston.  
Furthermore, if Neuvirth could fetch a roster player or even a first round pick, why wouldn't the Caps take such a deal, and re-up Vokoun for another year rather than having to reward Neuvirth with a sizable raise next summer?  
If Vokoun is willing to take a one-year contract worth $1 million to $2 million, it would make sense to bring him back to take pressure off Holtby, but his health remains to be a big question mark.  
Assuming the groin injury he re-aggravated in March isn't of the career-threatening nature, at the very least, the Caps should consider bringing back the veteran goaltender as an insurance policy for the team's budding star in Holtby.