Metta World Peace Suspension: Updates, Reaction and Playoff Impact
April 24, 2012

Stephen Dunn/Getty Images
The Los Angeles Lakers are anxiously awaiting the league office to inform them of Metta World Peace's punishment for his elbow to Oklahoma City Thunder shooting guard James Harden's head.
Update: Tuesday, April 24 at 10:25 a.m. ET
Alex Kennedy of HOOPSWORLD is reporting that the league will likely render their decision today and announce it this afternoon.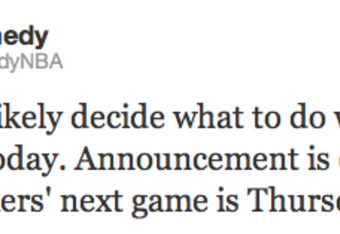 There is no doubt that the player formerly known as Ron Artest will be forced to sit some games out for his actions.
The question that remains to be answered: how many?
Because of World Peace's long history of suspensions and fines handed down from the commissioner's office—including 73 games for his involvement in the brawl at the Palace of Auburn Hills, the longest in league history not involving drugs—it's possible that he could be facing a stiff penalty.
On the other hand, Artest/World Peace has been a model player since joining the Lakers in 2009. He's only been disciplined once—for a single game—for swinging an arm that struck J.J. Barea in the face back in May of 2011.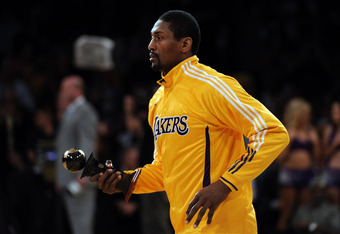 Harry How/Getty Images
In fact, MWP is the most recent recipient of the J. Walter Kennedy Citizenship Award, an honor given for "outstanding service and dedication to the community," for his efforts in improving mental health awareness.
Commissioner Stern and his advisors will have to factor in all of that, plus do the unenviable job of determining if World Peace had intent to maliciously and willfully hurt Harden with that elbow.
That will be tough to gauge, considering the Lakers swingman had just finished slamming home a vicious dunk and was understandably fired up about it.
The punishment will likely fall between two separate and completely different incidents in league history. 
One would be what Paul Pierce did in the 2010 Finals.
It's clear there was no intent, but he did land a punch right into a referees face. If he had thrown an elbow as part of his celebration and inadvertently knocked the ref out, it's still unlikely he gets punished.
Now compare it to Kermit Washington's infamous punch on Rudy Tomjanovich.
This is a blow that nearly killed a man, was fully intentionally and Kermit was only suspended a paltry 26 games back in 1977.
Obviously, Washington might be banned from the league if that were to have happened today, but from watching the footage of that hit, one can plainly gather that the intent in that circumstance is much different than Metta's blow to Harden's head.
Ultimately, it will be up to the league to decide and World Peace is at the mercy of their ruling. It could have a major impact on the Lakers' chances in the 2012 playoffs, or it could be a slight bump in the road.
We will keep you updated right here with any breaking news, updates, opinion and analysis on Metta World Peace's possible punishment for elbowing James Harden's head.