Chelsea FC: Expect Didier Drogba to Stay at Stamford Bridge
April 24, 2012

Mike Hewitt/Getty Images
"I love this club. You know I've won so many things with Chelsea like FA Cups, English Premier League titles, everything, so my heart is blue. I will still (be) blue for years and years and years." —Didier Drogba
It seems football clubs on almost every continent are now seeking the services of Chelsea forward Didier Drogba with teams from the China Premier League, Major League Soccer, Qatar, the Russian Premier League, Serie A, Ligue 1 and the English Premier League have all been linked with the talented Ivory Coast international in recent months.
And often, it seems the only people who seem to think the 34-year-old Drogba is washed up, along with a couple others in the club's so-called "old guard," are die-hard Blues fans themselves.
Just read some of the comments from readers on this website in the past, and you'll see what I mean.
Now, before you go pegging me as a Drogba apologist, know that I'm quite aware of his faults. He's definitely no spring chicken anymore. He's been injury prone the last two seasons and spends way too much time writhing in imaginary pain on the sod.
But, after playing in the 2010 World Cup and the 2012 Africa Cup of Nations for his native Ivory Coast, where he's captain, as well as for Chelsea in the EPL, the FA Cup, the Carling Cup and UEFA Champions League over these last two years—and being the primary offensive cog on all those sides—you can't blame Drogba for feeling a bit worn down both physically and psychologically right about now.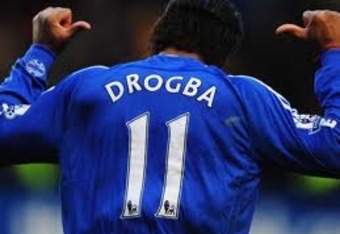 Drogba, who is Chelsea's fourth-leading scorer ever, was also has bit anemic when it came to notching goals and assists in the EPL this season with a paltry five goals (on 62 shots) and just one assist in 22 matches.
Consider that Manchester City's Carlos Tevez—who has spent more time on golf courses in Argentina than on a football pitch this year—by comparison, has four goals (on 17 shots) and two assists in his nine games since returning to the Sky Blues.
But Drogba's worth to the club comes not just in the form of goals and assists. He, along with Blues captain John Terry, is the team's leader and a player who brings out the best in his teammates like Michael Jordan did for the Chicago Bulls.
Quite simply, No. 11 is the straw that stirs Chelsea's drink.
And though his scoring statistics in the Premiership have been sparse this season, Drogba, who scored his 100th Chelsea goal vs. Stoke City in March, has scored a couple really big goals out of the league in the last eight days.
On April 15, Drogba scored the match's first goal late in the first half which helped propel Chelsea to a 5-1 win over Tottenham Hotspur in the FA Cup semifinals at Wembley Stadium, then three days later notched the only goal in a 1-0 win over Barcelona in Leg 1 of the UEFA Champions League semifinals at Stamford Bridge.
Not a bad week's work, eh?
Well aware of the critics Drogba said his goal against the Catalans proved he's not finished and the center forward said he will be ready for today's crucial Leg 2 at Camp Nou against Barcelona (FSC, 2:45 pm EDT/11:45 am ET) despite injuring his knee against them last Wednesday.
Drogba—who was named one of the world's 100 most influential people by Time magazine in 2010—is as productive a human being off the field, as he is on it.
After Ivory Coast qualified for the 2006 World Cup, Drogba helped bring peace to the war-torn country by making a desperate plea to the combatants to lay down their arms resulting in a cease-fire after five years of a bloody civil war.
Drogba, who has a small town named after him called Drogbakro Village near his hometown and birthplace of Abidjan, also showed how big his heart was in 2009 when he used a £3 million signing  fee for his endorsement of Pepsi to build a much-needed hospital in Abidjan through his recently created "Didier Drogba Foundation."
The father of three and husband to Diakité Lalla, a Malian woman he met in Paris—Drogba, whose full name is Didier Yves Drogba Tébily—made his professional debut with Ligue 2's Le Mans at age 18, but didn't really put himself on the map until 2002-03 when he scored 17 goals in 34 appearances for Guingamp in Ligue 1.
 
The 6-foot-2, 185-pound Drogba then left for Olympique de Marseille in 2003 for £3.3 million where he scored 19 goals and helped the club to reach the 2004 UEFA Cup Final before moving to Chelsea the following season for a record breaking fee of £24 million making him the most expensive player in Ivory Coast history.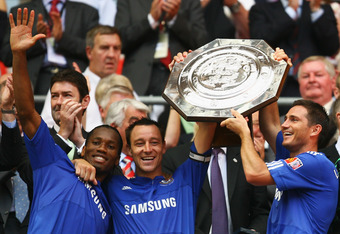 Paul Gilham/Getty Images
Drogba flourished in his next five years in west London, where he was the EPL's leading scorer in 2006-07 (20 goals), a year he also scored the winning goals in the 2007 Football League Cup Final and the FA Cup Finals.
Drogba helped Chelsea win the FA Cup again in 2009 scoring the equalizer in the final. He then had a monster year in 2009-10 helping the Blues win their first double ever and, in the process, winning his second Golden Boot with 29 goals and scoring the lone goal in a 1-0 win over Portsmouth in the 2010 FA Cup Final.
That goal made Drogba the only player to ever score in six English Cup finals.
With all that success, it's no wonder at least 10 clubs have been linked to Drogba in the last six months.
Among the many organizations around the globe that have shown an interest in the striker are the Los Angeles Galaxy, the New York Red Bulls and the Chicago Fire in the MLS; Al-Sadd in Qatar; Shanghai Shenhua (where former teammate Nicolas Anelka now plays) and Guangzhou Evergrande (where he has been offered the largest contract in soccer history) in China's Premier League; Anzhi Makhachalaka (the club which is paying Samuel Eto'o a record £320,000 a week) in the Russian Premier League; AC Milan in Serie A; Paris St.-Germain in Ligue 1; and Tottenham Hotspur in the EPL, which reportedly can't pay the salary Drogba is seeking.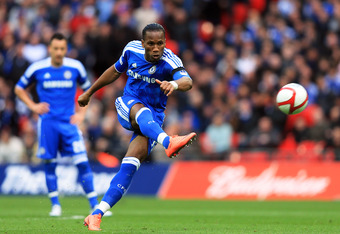 Clive Rose/Getty Images
Drogba's agent, Thierno Seidy, recently told The Daily Mail a new offer is coming from Chelsea to try and retain the star's services.
"I believe what Didier is currently showing will lead the club to a new thought," Seidy said. "Didier loves Chelsea and he wants to stay, but if things have to happen another way, he will leave. This time, we can make the decision by ourselves."
As much as Anelka—who has recently been appointed to management at Shanghai Shenhua—believes he is a magnet in China for Drogba, consider Sunday's report from the team where a female reporter was beaten by a Dalian Football Association official.
I highly doubt, no matter how much money the club throws at Drogba, that he will leave the friendly confines of London town for China, and a league less renowned than those in Europe.
Some have read into the release of last week's photo of Chelsea's new 2012-13 kit which pictured Fernando Torres but not Drogba as a sign that El Nino will be back and Drogba may not, but I think—and really hope—it's just silly speculation.
Drogba told Trans World Sport, "I will still (be) blue for years and years and years," and I, for one, am taking him on his word, no matter how much his agent or Chelsea management continue posturing.
Without Drogba to start the 2012-13 season, the Blues would be at a big disadvantage no matter how many big names they sign over the summer and key cogs like interim manager Roberto Di Matteo and owner Roman Abramovich know it.
His performances over the last two weeks show he still has the ability to score that match-changing goal and his emotion—like he showed encouraging the Stamford Bridge crowd in the second half of Chelsea's UEFA Leg 2 match against Benfica—is crucial for a team many believe need to start the rebuilding process with legends like Frank Lampard, Terry and Drogba getting older.
But like The Rolling Stones, Drogba, Terry and Lampard are doing just fine for their age and like "The World's Greatest Rock n' Roll Band," I think these three have at least a couple more years left in them.
And if Terry is Keith Richards and Lampard is Ronnie Wood, then Drogba is definitely Mick Jagger, and we all know The Rolling Stones would be nothing without their lead singer's unique presence.
I think the same thing holds true with Drogba and Chelsea. I'm not sure if Drogba needs the Blues more or if Chelsea needs Drogba more, but one thing is certain: I don't want to find out what the club is like without him for at least a few more years.
> For the Odds Preview of Tuesday's Chelsea-Barcelona semis match simply click here.

Follow me on Twitter: @KevinStott11