Kentucky Derby 2012: Sights, Sounds, Smells, and Tastes from the Grandstands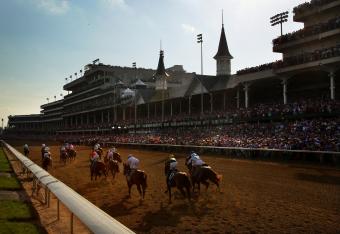 Rob Carr/Getty Images
The last time I was dressed up for a sporting event, I was technically working. I don't consider it work, but I was doing play-by-play for the Penn State Lady Lions.
I never thought I would get dressed up to just watch a sporting event, it didn't matter to me. The Kentucky Derby is an event I hope to go back to one day. It really is that fun.
Sights
Hats, hats, hats, and more hats. Women were looked down upon if they did not have a hat. It was more about the hat than the dress. Men needed a collared shirt. In all seriousness, t-shirts and jeans were unacceptable.
The horses are beautiful animals up close. They are so tall and lean. When they go by you at full gallop, the sound is beautiful. The power that they have is just unbelievable, too.
What is even more amazing is seeing them before the race. Some of them get nervous. They know they are going to race and have to beat the horses around them. In a way they communicate with the escort horses next to them on the post parade.
If you go and you are female, do not wear high heels. You do a lot of walking on Derby Day. A countless number of women were carrying their shoes and went barefoot or bought a cheap pair of flip flops from vendors at inflated prices. Does $20 or $30 for a pair of flip flops sound reasonable?
Sounds
All day there was the The Call to Post, ringing of the gates opening, and galloping which are pretty standard at horse races. The buzz in the air at the Derby is hard to compare to anything I've ever experienced. People were more anxious as it got closer and closer to the race.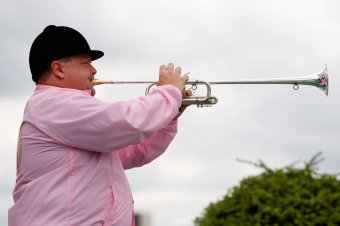 Jamie Squire/Getty Images
They were in a hurry to get their bets in. People in the betting line were talking about only one thing. Who's your horse? Bodemeister was very popular despite Union Rags being the favorite. Who could be the underdog who would stun everybody and result in a big payout for a lucky person wasn't really on people's minds.
My Ole Kentucky Home is hair raising. Their are few songs that can do that. The National Anthem is always played or sung so it has lost its mojo, so to speak. Really, the only time the Star Spangled Banner raises the hair on the back of my neck is when it's played at the World Cup every four years or the Olympics every two years.
Sure enough, when I'll Have Another passed Bodemeister in the final furlong, there were plenty of swear words being shouted out.
At the end of the day, people were carrying out glasses from the mint juleps and some were dropped, so glass breaking was more than you would normally hear.
Smells
Dirt/Mud
The surface of the track closest to the grandstands is dirt, so naturally you could smell it. It didn't help that it was more than 80 degrees.
Horse Dung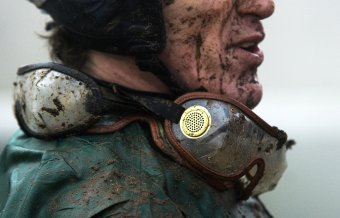 Alan Crowhurst/Getty Images
Remember when I mentioned that horses were beautiful animals. Well this was one of the cons amongst all the pros.
Some horses would just go right on the track. They are animals, so how are they supposed to know the difference? Whether or not it was nervousness on part of the horses is easy to understand, but it was devastating. The heat didn't help either. The sun baking it was the real appetite killer. I won't go into further detail.
Cigars
Smoking is allowed in the grandstands. Instead of cigarettes, cigars were mostly smoked. They are sold inside the track and by seat-side vendors. I do smoke cigars on occasion so the smoke didn't bother me at all, but had it been cigarette smoke, it probably would have bothered me.
Roses
Since this was the Run for the Roses, it did smell like roses. They were all around on Derby Day. Not a single rose was fake either so the smell was all over and cancelled out all of the bad smells.
Tastes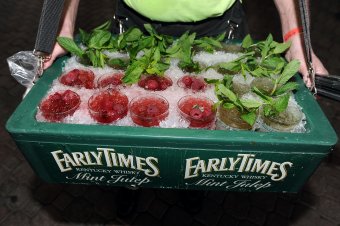 Harry How/Getty Images
Food
Burgers and Hot Dogs were amongst the standard stadium foods at the Derby. It has other favorites as well, such as bumble bee stew (doesn't have actual bees in it). Drunken chicken is another favorite. It's simply chicken marinated in bourbon.
The bourbon adds kick and spice to the chicken. It's pretty good.The dessert that was different and popular was cheesecake. When was the last time you had cheesecake outside of a restaurant or at home?
Barbecue is everywhere inside Churchill Downs and the surrounding areas. There are blue collar neighborhoods surrounding the track, so the neighborhood takes advantage of the opportunity for some simple entrepreneurship. Food and drink were the most popular items to sell. Some of the barbecue from the people on the street was the best you can find anywhere.
Drink
The mint julep is the drink of the Kentucky Derby. It comes in a collectible glass and is made of bourbon, sugar, and mint. It was similar to washing your mouth out with rubbing alcohol after brushing your teeth. Or perhaps liquid toothpaste mixed with gasoline?
This drink is definitely an acquired taste. Then again, beer is an acquired taste and, like beer, the mint julep tastes better the more you drink it.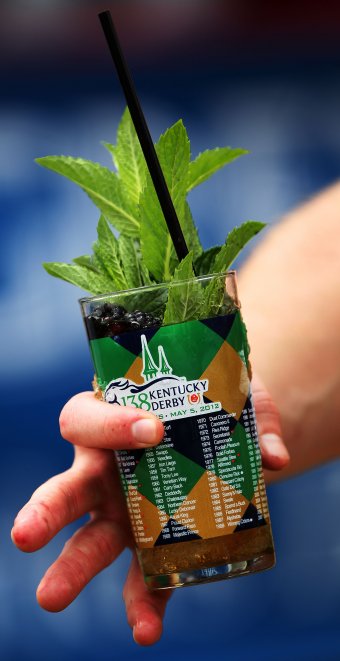 Jamie Squire/Getty Images
Luckily for me, I like bourbon, so I had two of these. I would've had more but I wanted to remember my Derby experience so I switched to beer and water (not mixed together).
An Oaks Lily is the drink of the Kentucky Oaks. It's a combination of vodka, cranberry ,orange, and lemon juices. It's really sweet, the vodka gives it that last little kick.
Both drinks were sold at the Derby as well as beer. If you are under 21, it's best you wait until you turn 21, otherwise you will not get the full derby experience.
Derby Pie
This deserves its own category because it was just so good. The recipe is a secret but you can find it Online somewhere. It's a combination of cookie dough, chocolate, and nuts. It's served hot and just melts in your mouth.
The best part about it is that it is served all year round in Louisville. It is something that once you try it, you cannot get enough of it.
The Race
There are races all day during Oaks and Derby Days. The Derby, in a sense, is very similar to all of the other races.
The crowd gets louder and louder in anticipation of it. Once you hear "And They're Off" from track announcer Mark Johnson, you cannot hear anything until the horses reach the backstretch. Then, when the horses come around the final turn the crowd gets loud again.
Soon, you just look on and hope that the horse you bet on is in the lead or making a charge towards the front. Once the horses cross the line, it's pretty anti-climatic. All of the buzz is gone and you just wait until the media finishes its coverage and interviews.
Conclusion
If you are a sports fan, you have to see at least one Kentucky Derby in your lifetime. It's a completely different type of sporting event.
The atmosphere is just so different from a big playoff game. People are drunk like normal, but classier. Overall, people are classier in the way they dress and behave. The clientele is just totally different from the NFL or MLB.
The infield is a completely different experience and would be better suited to have its own separate article.
This article is
What is the duplicate article?
Why is this article offensive?
Where is this article plagiarized from?
Why is this article poorly edited?