New York Yankees Look to Stay Hot Against Yu Darvish and the Texas Rangers
April 24, 2012

Ronald Martinez/Getty Images
The Texas Rangers have become one of the top dogs in the American League for the past few years. They are coming of two consecutive World Series appearances and, despite coming away empty handed both times, they don't seem to be distracted by the disappointment.
The Rangers were coming off an 8-1 road trip, which set a franchise record, before their 7-4 loss on Monday night in a nationally-televised game against the New York Yankees.
The Yankees are familiar with the feeling of being hot, as they have have won 6 of their last 8 games.
After spoiling Fenway's 100th anniversary in Boston last Friday, and mounting one of the most memorable and crazy comebacks against the Red Sox the next day, the Yankees came into Arlington looking to ride the wave of momentum and continue their hot bats.
According to the MLB.com's Bryan Hoch:
The Yankees believed their trip to Texas could be a good measurement of how they would stack up against the American League's best competition thus far, and the early results suggest they're doing just fine.
C.C. Sabathia had his best outing of the season, where he pitched eight innings to capture his second win of the season. Alex Rodriguez continued to climb the home run charts with his 632nd blast in his career. Derek Jeter also continued to prove that his career is not in trouble, as he went a perfect 4-4 at the plate and increased his batting average to .411 which is good for second best in the AL.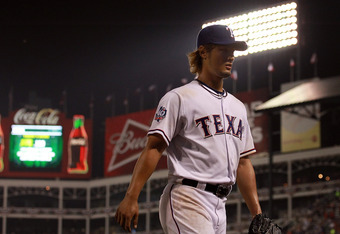 Ronald Martinez/Getty Images
Tonight, the Yankees face the much-hyped righty Yu Darvish. Darvish has a 2-0 record with a 3.57 ERA and is presumed to be one of the most solid starters in the league, so the Bronx Bombers must continue with their hot bats.
Currently, the Yankees' offense is ranked third in runs in the league, second in batting average, first in on base percentage and third in slugging percentage.
Meanwhile, their pitching has been performing below expectations, with a 22nd ranking in the MLB of a 4.36 ERA, a 27th ranking of a 1.44 WHIP and a 29th ranking of a BAA of .281. Hiroki Kuroda's ERA of 5.00 and a somewhat inconsistent performance thus far will need to stay in check to calm the Rangers' tendency to hit relentlessly.
It is very early in the season, and there are still plenty of ball games left to play, but facing one of the elite teams in the majors always bring out the competitive drive. For the Yankees' fanbase, that always make for great baseball.