Detroit Red Wings: 7 Reasons It All Fell Apart Against Nashville Predators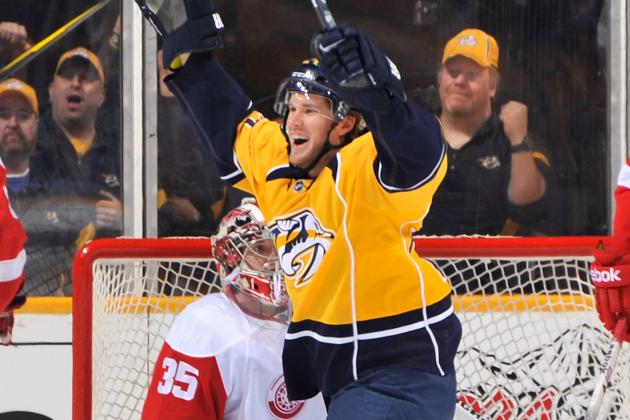 Frederick Breedon/Getty Images

The Detroit Red Wings and their fans have had a weekend to digest the cold hard reality of being eliminated from the playoffs.
Detroit dropped the last three games of their quarterfinal series against the Nashville Predators (two of those games being at "The Joe") and didn't seem to have much left to give when it was all said and done.
But digging a little bit deeper, one can find much more insightful reasons why the Red Wings lost to the Predators in five games.
Here are seven reasons Detroit is not playing in the second round this year.
Begin Slideshow

»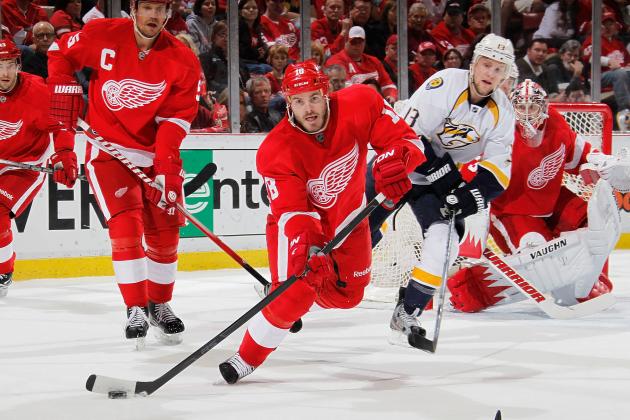 Gregory Shamus/Getty Images

The Red Wings had two first-period goals in the five playoff games against Nashville.
Yikes.
It wouldn't have been that bad, but both of those first-period goals were in Game 2, the only game that Detroit won in the series.
To make matters even worse, Detroit gave up a first-period goal to Nashville in three of the five games.
Nashville in the regular season won 81.5 percent of its games that the Predators led after one period.
The Red Wings really got no sustained pressure on Pekka Rinne in the first period of any game other than Game 2. This allowed Rinne to settle in and play his game.
Detroit, on the other hand, although fourth in the league while trailing after one period, only won 42 percent of games in which they trailed after the first period.
Against a superior goaltender like Pekka Rinne, the Red Wings didn't really have a chance.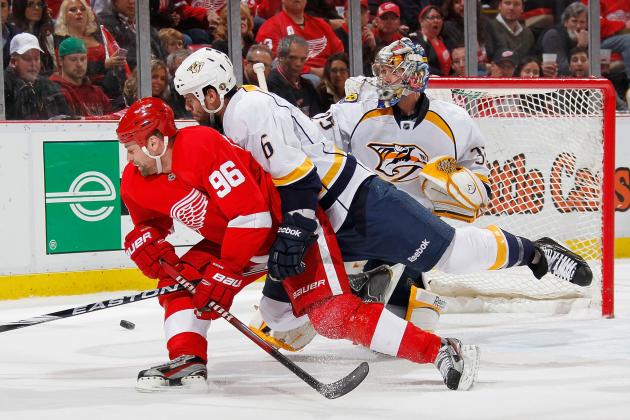 Gregory Shamus/Getty Images

This picture is pretty much the story of the series.
Either the shot doesn't get through to Rinne, or he has a wide open view to see it.
That wide open view (usually obstructed by Tomas Holmstrom) was cleared courtesy of Shea Weber.
Weber, Suter and Rinne made up a "triangle" of sorts down low by the net, and Detroit did not get many opportunities inside that triangle.
The Red Wings also had a problem getting rebounds of shots that did get through.
This problem was a main cause of Detroit being unable to score for four out of the five first periods.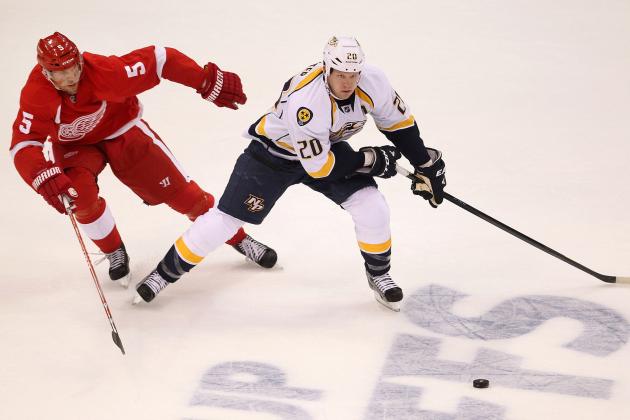 Gregory Shamus/Getty Images

I can't blame the series' loss on injuries.
But injuries certainly played a part in preventing key players in producing like they should or even playing at all.
Of course, I am referring to Nick Lidstrom being unable to play on the penalty kill due to his ankle bruise and Darren Helm having his season ended due to a tendon in his wrist being sliced by a skate right after returning from an MCL injury.
Detroit had no real energy in this series, and the lack of Darren Helm was a big factor in that lack of energy.
The Red Wings also did not have a full lineup until the last week of the season after having the injuries start mounting in February.
That may have factored into the chemistry (or extreme lack thereof), as some plays looked like Detroit was completely lost in coverage defensively.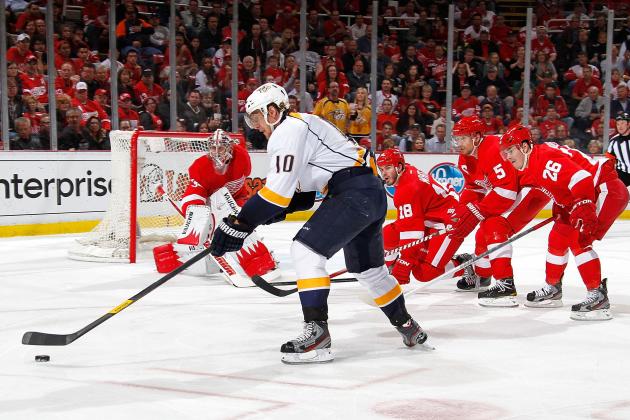 Gregory Shamus/Getty Images

See the picture above?
You can see a video of it here.
There's just no reason for Detroit to have three players and goaltender Jimmy Howard in coverage of Martin Erat.
It's like they think he's Pavel Datsyuk or something.
Erat's assist to Klein to a wide open net was one of many defensive-zone breakdowns that ultimately cost Detroit the series.
Frederick Breedon/Getty Images

Jimmy Howard had to be better in this series.
Pekka Rinne faced 160 shots and gave up nine goals. He had a GAA of 1.81 and a save percentage of 94.4.
Jimmy Howard faced 116 shots and gave up 13 goals. He had a GAA of 2.64 and a save percentage of 88.8.
Howard wasn't helped out by his defensemen as they left the slot wide open on numerous occasions, but to win in the playoffs, the goaltender is supposed to make a couple saves that he wouldn't make normally.
Rinne made those saves; Howard simply could not.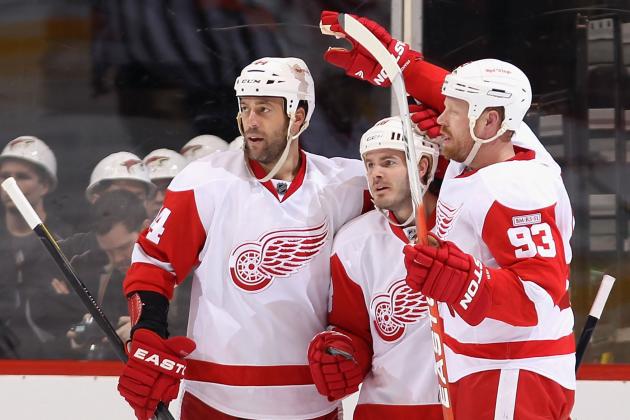 Christian Petersen/Getty Images

Big players are supposed to make big plays.
Right?
Well, the Red Wings' top line of Pavel Datsyuk, Johan Franzen and Todd Bertuzzi had a grand total of four points and a minus-six rating.
They were completely shut down by the top pairing of Ryan Suter and Shea Weber (and Rinne, of course) and had largely little impact on the play.
Franzen is a player that usually comes out for the playoffs, but he just didn't seem to have the gusto this year.
Bertuzzi, 34 points and a plus-23 in the regular season, found himself held off the scoresheet completely, while going minus-five by himself.
Top-line players have to put up top-line statistics, and that just didn't happen in this series.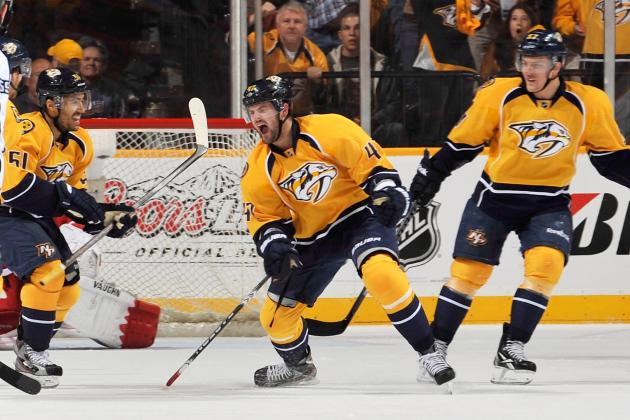 Frederick Breedon/Getty Images

Whether it is the puck hopping over one's stick, hitting a goalpost, tripping over your own two feet or something else, the value of "puck luck" cannot be underestimated.
The Red Wings would agree.
With 13:45 left in the third period of game four in Detroit, Jiri Hudler hit a goalpost. The puck careened around the end boards and ended up on the stick of Martin Erat.
Erat drew three Red Wings players as well as goalie Jimmy Howard towards him, and then hit Klein for a tap in goal.
In Game 5, with just under four minutes to go in the first period, Detroit defenseman Kyle Quincey mishandled a puck as he tried to pass it to Jonathan Ericsson behind the net.
Nashville's David Legwand stole the puck and dished it out front, where a wide-open Alexander Radulov wired it into the top corner.
The Red Wings would never lead in that game.
Detroit failed for many reasons, but now is not the time to dwell on those failures. It is now up to head coach Mike Babcock and general manager Ken Holland to figure out what it will take to get Detroit back to their winning ways in the playoffs next season.
For more article updates, follow @isaacesmith91