NBA Draft 2012: Michael Kidd-Gilchrist and the 15 Most Athletic Prospects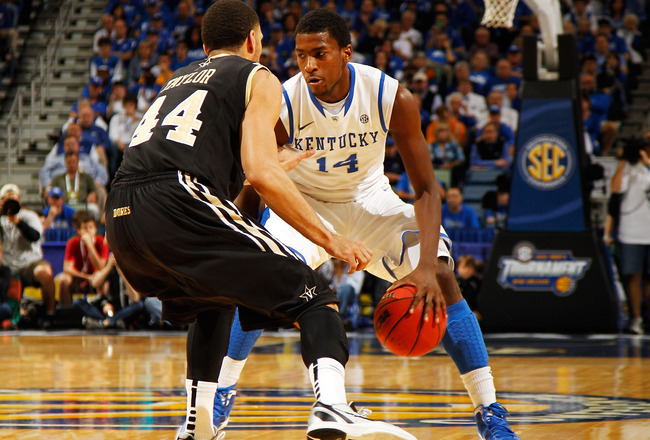 Chris Graythen/Getty Images
Michael Kidd-Gilchrist is a freak!
Throughout most of the 2011-12 season, MKG had his way with just about anyone who tried to guard him.
On a regular basis, he blew past defenders and threw down thunderous dunks. Or he rose up and knocked down shots from all over the court.
Kidd-Gilchrist has fantastic size (6'7", 232 pounds) for a SF and a relentless motor that helps him dictate action at both ends of the court.
The 2012 NBA Draft will be full of elite-level physical specimens.
Along with MKG, here are the 15 most athletic prospects.
15. Meyers Leonard (Illinois)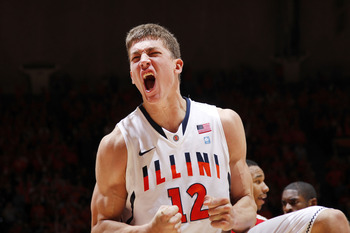 Joe Robbins/Getty Images
Meyers Leonard, at first glance, looks like another big-bodied Big Ten center.
But, after further review, he demonstrates skills of explosiveness that help him take advantage of his next-level size.
Leonard has no problem "body-ing up" on either end of the court.
14. Jeffery Taylor (Vanderbilt)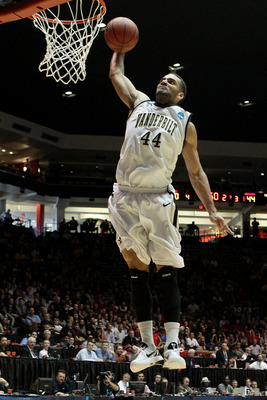 Christian Petersen/Getty Images
Jeffery Taylor has the whole package to be a super-solid player at the next level.
Taylor's nice size is accentuated by his excellent lateral quickness.
Great anticipation creates lots of deflections and steals on D.
He is adept at drawing contact and dropping shots when taking the ball in the lane.
13. Fab Melo (Syracuse)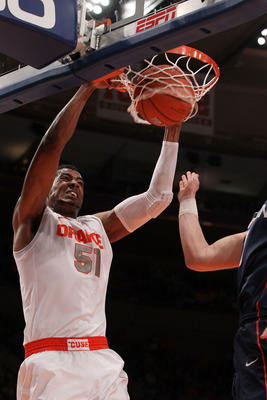 Jim McIsaac/Getty Images
Fab Melo may be raw still but he has the athleticism to become a productive post in the Association.
Melo makes something out of nothing on the offensive end because he has good anticipation.
His mobility helps him to be an above average shot-blocker.
12. Arnett Moultrie (Mississippi State)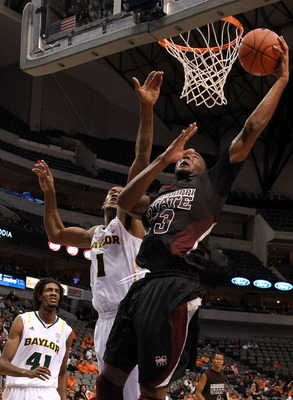 Ronald Martinez/Getty Images
For many college basketball fans, Arnett Moultrie came out of nowhere in 2011-12.
The truth is: he just started showing up on Sports Center because he transferred to Mississippi State.
Moultrie runs the floor like a guard and has a motor that doesn't shut down.
He is explosive in the paint, which helps him on both ends of the court.
Moultrie has the rare ability for a Big (6'11") to hang in the air and make adjustments.
11. Tony Wroten (Washington)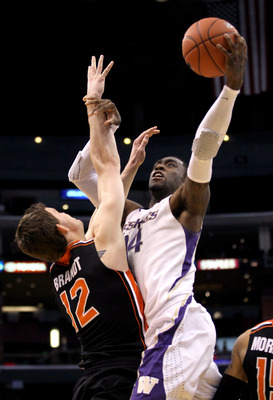 Stephen Dunn/Getty Images
Tony Wroten makes full use of his great size and strength for a PG.
Wroten is a punishing penetrator who fearlessly gets into the lane and causes all kinds of trouble for opponents.
He is always in attack mode and has no problems finding the open man.
In 2011-12, Wroten was one of the best back court offensive rebounders in college hoops.
10. Darius Miller (Kentucky)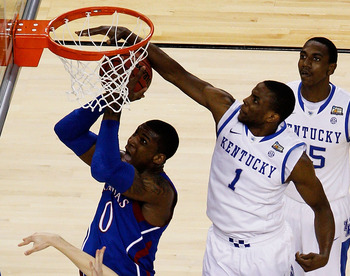 Chris Graythen/Getty Images
At 6'7" and 235 pounds, Darius Miller is a great combination of size and skills.
He has enough agility and lateral quickness to guard all the perimeter positions.
Miller puts an extreme amount of pressure on his opponents and uses his length to get a hand on tons of passes.
Because of his under-developed offensive game at this time, he may still be a second-rounder. But Miller also may be a more productive player long-term in the Association than some of the other wing prospects who will be selected ahead of him.
9. Terrence Ross (Washington)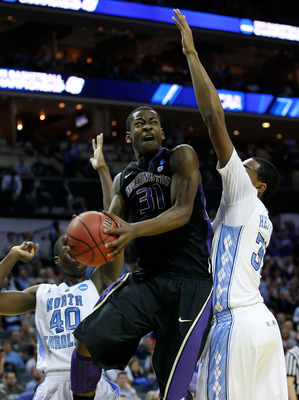 Kevin C. Cox/Getty Images
Terrence Ross is a protype NBA SG.
He has nice length (6'6", 197 pounds) and a silky-smooth shooting touch.
Ross doesn't just stand flat-footed waiting for a kick-out. He is always moving and cutting.
When defenders don't keep a close eye on him, he will go back door for an alley-oop jam.
He consistently competes on the glass and rebounds well for his position.
8. Jeremy Lamb (UConn)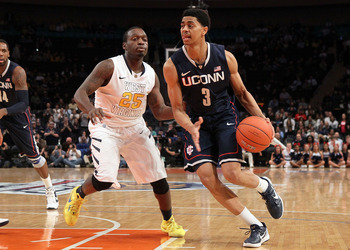 Jim McIsaac/Getty Images
Jeremy Lamb may be a little on the thin side (6'5", 185 pounds), but he uses his freakish wingspan (7'1") to create all kinds of havoc.
Though he is more known for his offensive excellence, Lamb can defend all three perimeter positions.
He has a sweet shooting touch, but is very capable of putting the ball on the deck and getting into the lane for a pull-up or getting to the rim.
7. Marquis Teague (Kentucky)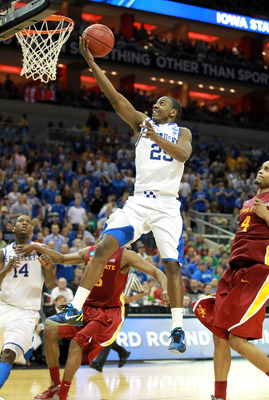 Andy Lyons/Getty Images
Marquis Teague may have struggled with consistency early in his freshman season, but it was not due at all to his lack of physical skills.
Teague is deceptively strong and uses his body to punish opponents who try to body-up.
He is an aggressive slasher with a dangerous first step.
Teague will become an excellent on-ball defender at the next level.
6. Moe Harkless (St. John's)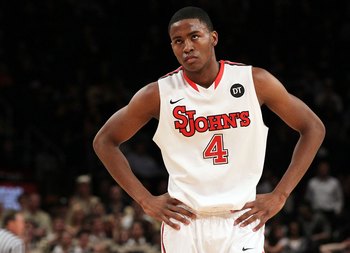 Jim McIsaac/Getty Images
Moe Harkless could be a monster SF at the next level.
He has an NBA-ready body (6'8", 220 pounds) with great length (7'2" wingspan).
Harkless is sturdy enough to absorb contact and has enough agility to make off-balance shots in the lane.
He runs the floor like a deer and gets off the ground quickly, which helps him to be a above-average offensive rebounder.
5. JaMychal Green (Alabama)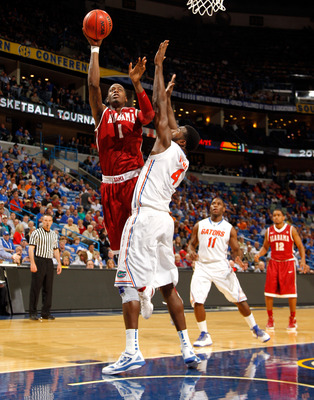 Chris Graythen/Getty Images
JaMychal Green may not be a first-round selection, but he is one of the more athletic PFs in the 2012 NBA Draft.
He is extremely explosive and aggressive, which helps him to throw down some scary dunks.
He is a quick leaper, which helps him on both ends of the court.
Green gets out on the fast break like a wing and is a nice finisher.
4. Perry Jones III (Baylor)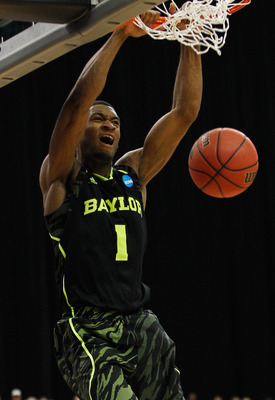 Streeter Lecka/Getty Images
Perry Jones III is a rare combination of size (6'11", 235 pounds) and athletic ability.
He can post up down low or step out and knock down shots from the perimeter.
PJ3 is incredibly mobile and uses his quickness to leave his opponents standing flat-footed.
Jones anticipates where the ball is going and finds all kinds of ways to disrupt.
3. Andre Drummond (UConn)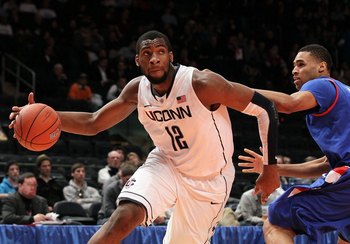 Jim McIsaac/Getty Images
Andre Drummond = Man-Child.
He is still not even 19 years old but has the size and body (6'11", 270 pounds) to step in and compete in the Association from day one.
Drummond is a tough and tenacious defender.
His quick leaping ability and anticipation make him a dangerous shot blocker.
He will only get better as he develops and his overall game matures.
2. Thomas Robinson (Kansas)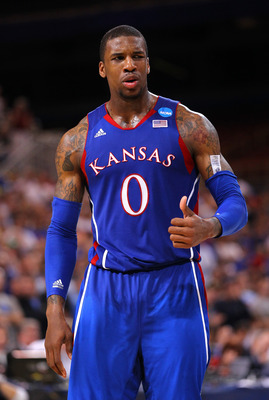 Dilip Vishwanat/Getty Images
If MKG is a freak, then TRob is beast!
Robinson's chiseled physique is not just for show. He has all the tools.
An extremely powerful post, he battles down low with the best.
Robinson not only cleans the glass on the defensive end but also runs the floor like a maniac to be a part of what happens on the break.
He uses his body well on both ends. He has a great first-step and isn't afraid of putting the ball on the floor to get his shots.
1. Anthony Davis (Kentucky)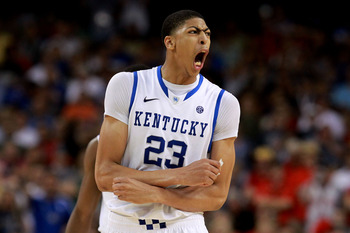 Ronald Martinez/Getty Images
What more can be said about Anthony Davis that hasn't already been said?
Davis has the skills of a wing but the length of a prototype PF.
His shot-blocking anticipation may be the best since Russell.
His vertical leap and quick-jumping ability make him lethal anywhere around the basket.
Even though he will always be lean, Davis will be unstoppable when he adds a bit of bulk.
Keep Reading