Who Should Tim Hudson Replace in the Braves' Rotation?
April 23, 2012

Scott Cunningham/Getty Images
The Braves have a difficult decision to make in a matter of weeks.
Tim Hudson is coming up from Triple-A Gwinnett where he has spent his 2012 season pitching in three rehab starts coming off surgery for a herniated disk in his back. Hudson recorded 16 wins in 2011 to lead the Braves' young pitching staff, and his arrival in the 2012 rotation is heavily anticipate by Braves fans because an important decision needs to be made before he can come back. The Braves' front office and manager Fredi Gonzalez must decide which pitcher in the current rotation that Tim Hudson will replace. 
The young guns of the staff have performed well this season and have held offenses in check long enough for the Braves' electric offense to break out and stack runs against opposing pitchers. Brandon Beachy, Mike Minor and Randall Delgado have combined for six wins and three losses in 2012, and they have given the Braves great confidence for the future. 
Tommy Hanson, the Braves' ace, struggled in his first two starts, but has turned a corner and won two games in 2012 with a 3.38 ERA. Hanson will lock down Atlanta's rotation and will be a solid force in the playoffs. The Braves' main concern at this point is the development of Jair Jurrjens.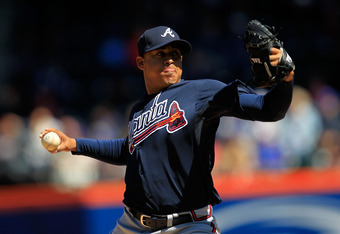 Chris Trotman/Getty Images
Jurrjens was an early Cy Young candidate in the 2011 season, and ended up winning 13 games with a 2.96 ERA. He was selected to his first All-Star game, and if not for a knee injury that limited his second half of 2011 to a Triple-A Gwinnett start and a disabled list stint. Jurrjens doesn't seem as if he's recovered fully from the injury, but if he has, he hasn't settled his mechanics and regained his command of the strike zone since the injury. 
With the Braves' offense torching opposing pitching for more runs than any other National League team, all there pitching needs to do is keep offenses under five runs. Delgado, Minor, Beachy and Hanson have been able to do that, and Beachy and Minor have kept hitters in the dark with impressive starts this season. Jurrjens has not had any success against any hitters this season.
Jurrjens has pitched 13.1 innings in 2012 and has given up 12 runs, registering an 8.10 ERA in the process. He has just eight strikeouts this year, compared to nine walks, and he has gone no later than the fifth inning in any of his three starts this season. The numbers stack up against Jurrjens in an extremely unflattering way, and the rest of the Braves' rotation has, for the most part, performed well and kept Atlanta in games.
Randall Delgado, the young right-hander who will likely be sent down to Triple-A Gwinnett when Hudson is re-inserted in the lineup, has made the decision very difficult for Braves management. Delgado has two wins in three starts this season, striking out 17 hitters in 15.2 innings. Delgado has given up 10 earned runs on 15 hits and nine walks in those innings, but has been able to record two wins in games where the Braves went off on Johan Santana for six runs in the second innings, and a game against the Houston Astros that the Braves lead 4-2 by the time Delgado was replaced by the stellar Braves bullpen. 
I was starting to think that Randall Delgado should retain the fifth spot in the Braves' rotation and Jurrjens should be sent to Gwinnett to work out his mechanics and figure out where things went wrong. Jurrjens hasn't looked the same since his injury and a minor league stint may greatly benefit his career in the long run. But then it occurred to me that Jurrjens' 13 wins in 2011 were second only to Tim Hudson's 16.
If the Braves are putting the trust in Hudson to come up from the minors and perform the way he did in 2011, they have to be willing to put the same confidence in Jurrjens' Cy Young abilities. Jurrjens needs time and starts to turn his season around and regain the form Braves fans grew accustom to seeing in 2011. He is fully capable of putting the beginning of the 2012 season in his rear-view mirror and moving on to a productive season for a pennant-chasing team. Jurrjens will face the Dodgers in Los Angeles on April 23, in a start that may sway Braves management's mind one way or the other in terms of the Hudson decision.
Los Angeles sports an offense as hot as Atlanta's, topped off by MVP lock Matt Kemp and right fielder Andre Ethier who have 22 and 21 RBI, respectively, which leads MLB. The Braves' offense will look to attack Chris Capuano, Los Angeles' starter on April 23, early and often to provide plenty of run support for Jurrjens. 
Jurrjens will need to perform well against the Dodgers, and take hold of his season before it gets away from him.