2012 NHL Playoffs: The 5 Most Dangerous Teams Left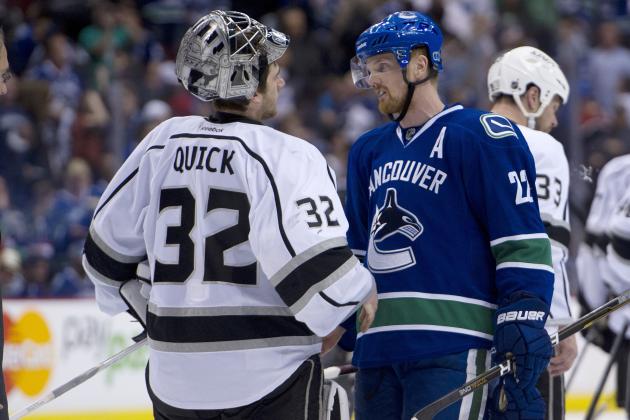 Rich Lam/Getty Images

Four series are in the books. The remaining four are all playing elimination games from now on.
So far, the 2012 playoffs have been everything we always hope for. Overtime games, fighting superstars, rookies emerging and stars developing have been just a few of the story lines.
The best thing about the NHL is the playoffs. The best thing about the NHL playoffs is that seeding means nothing. I love when I am done crumpling and un-crumpling my NCAA men's tournament brackets, the NHL playoffs are around the corner.
Unlike the second best tournament in sports, the NHL playoffs see top seeds fall in Round 1 over and over again. If you are lucky enough to have your team make it in, you know they have a legitimate shot at advancing.
The most talented team doesn't always win a series. In fact, they often don't. What matters most in the playoffs is goaltending. If you can get your goalie to peak and play his best at playoff time, you're looking good.
Here are the top five most dangerous teams left in Lord Stanley's chase.
Begin Slideshow

»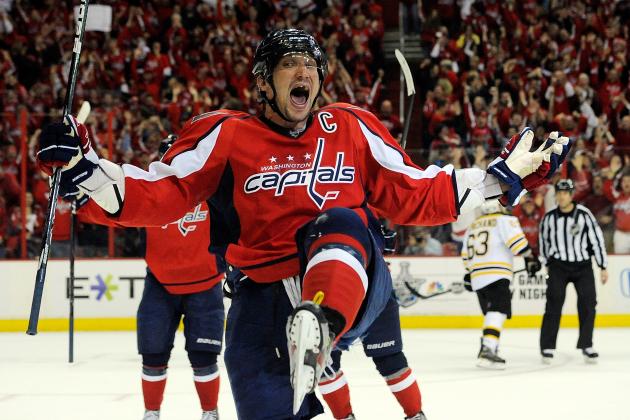 Patrick McDermott/Getty Images

The Capitals, on paper, have a crazy-talented team. They, namely star forward Alex Ovechkin, have under-performed this season. So much so, they nearly missed the playoffs entirely.
The Caps are riding the goaltending of youngster Braden Holtby. He played a bit during the regular season and was thrown into the starter's role to begin the playoffs due to injuries to Tomas Vokoun.
He is playing out of his mind, with a 1.93 goals against average so far. Anytime a goalie can keep an opponent under two goals, and often at or under one, you have a chance to win every night.
With Ovechkin starting to get back to his normal scoring prowess, this is a team that can get far, provided they get past the Bruins in Game 7.
Other stars like Mike Green and Alex Semin are also stepping up and re-establishing themselves as dominant players.
I definitely don't want to run into Holtby and the rest of the Caps on my way to the Stanley Cup.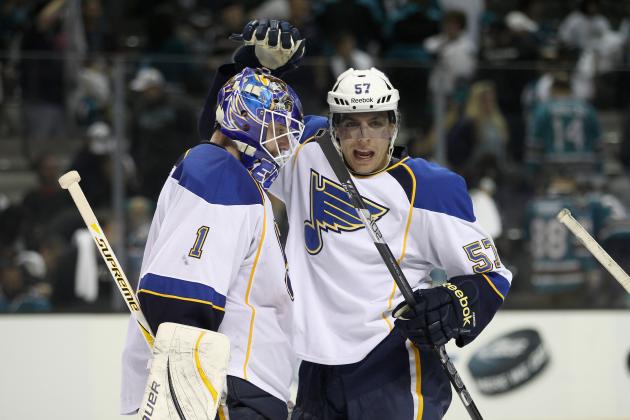 Ezra Shaw/Getty Images

What a story this team has been all season. After starting the season a disappointing 6-7 for 12 points, head coach Davis Payne was fired. A younger coach, his players viewed him as a 'player's coach'. That usually means 'undisciplined', and that usually leads to sloppy play and losing hockey games.
In comes new coach Ken Hitchcock. In come veterans Jamie Langenbrunner and Jason Arnott. In comes the winning.
With a new level of leadership and discipline, the Blues took off. They dominated the league and were the first team to reach 100 points in 2012. They are led by Minnesota natives T.J. Oshie and captain David Backes, both of whom are incredibly talented players.
The Blues are loaded with talent and are now being coached to use that talent as a deadly weapon. This team has come together and is firing on all cylinders. They are powered by the best goaltending tandem in the NHL in Jaraslav Halak and Brian Elliott.
Halak will sit out the first two games of the upcoming Kings series, making Elliott the starter. Should that worry Blues fans?
Not at all. Elliott led the NHL with 1.56 goals against average and nine shutouts.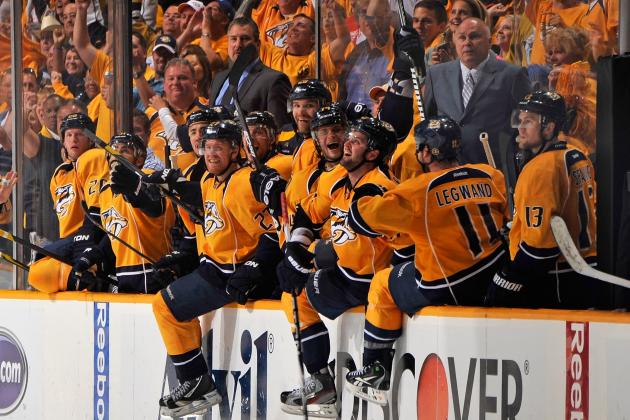 Frederick Breedon/Getty Images

After sending the Detroit Red Wings home early, the Nashville Predators are starting to put a frog in the throats of their doubters.
Pekka Rinne is the reason to fear Nashville. The 6'5" netminder has been superb so far, including a 40-save performance in Game 4. Considering Rinne was this year's NHL wins leader with 43, we shouldn't be too surprised.
Shea Weber and Ryan Suter make up the best defensive pair in hockey. Both players are Nashville-drafted players, proving that teams can definitely rebuild through the draft, if you can hit on some picks.
Weber and Suter are playing great hockey right now, and the late-season addition of Alexander Radulov helped the team offensively. He has fit right in, after returning to Nashville after playing in the Russian KHL league late in March.
The Pred's have all the weapons in place to make a run at the Stanley Cup, and their goaltending is rock-solid right now.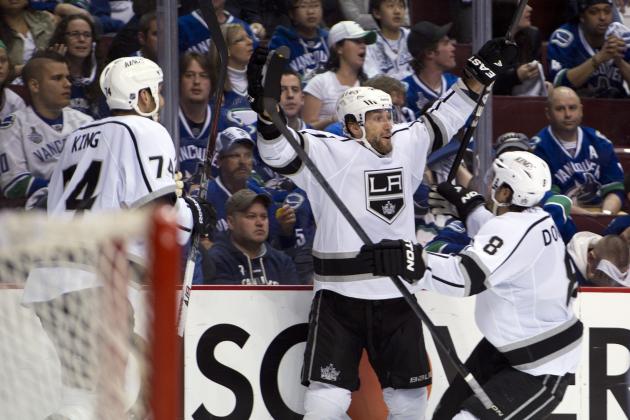 Rich Lam/Getty Images

Los Angeles is an offensively-built team, but it's their defense that is allowing them to win games in the playoffs.They smacked the No.1 seed Vancouver Canucks in the face, wiping them away in only five games.
Goalie Jonathan Quick is moving very well in the crease and getting to most shots. He is the big reason this franchise is back in the playoffs since 2001, and even this season they just squeaked in. In the Western Conference quarterfinals he notched a .953 save percentage.
Captain Dustin Brown had four goals in the series and is starting to come on strong. He is looking for his shot whenever he touches the puck, and that is a dangerous thing for opponents.
Anze Kopitar didn't score as much as he'd like, but he got great looks and forced a few breakaways. Scorers like that break out at some point, and it could very well be in this next series.
They can win big games on the road and have the personnel to score a lot of goals, even though they didn't show much of that in the Vancouver series.
Quick is a hot goalie right now, and we saw last year what that can mean for a team when the Boston Bruins won it all behind the goaltending of Tim Thomas.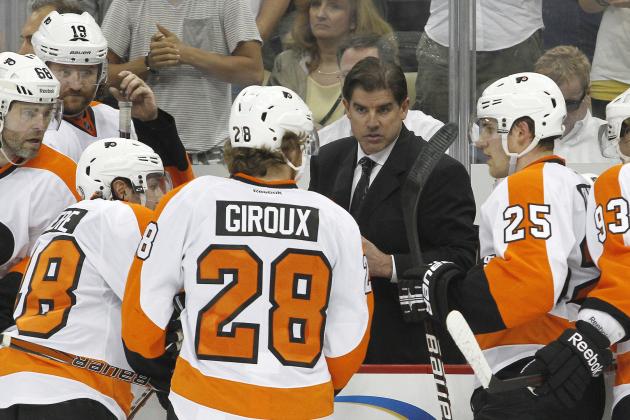 Justin K. Aller/Getty Images

No team is hotter than the Flyers. Everything is working for them, even though their goaltending seems a bit shaky. Few things restore a goalie's confidence like winning a series.
If you go to NHL.com and check out the playoff scoring leaders, only one guy is listed for all four offensive categories. That guy is Claude Giroux.
Giroux is defining himself as a dominant player in this league, and the 2012 playoffs is his coming-out party. He has recorded 14 points so far to lead the league, with his closest competitor five points back.
The Flyers have so many weapons, but their first line is the best. Scott Hartnell, Giroux, and Jaromir Jagr are three players that are scary enough by themselves, let alone on the same line. They made Penguins goalie Marc-Andre Fluery look so bad, there's speculation he might be traded.
Throw in players like Danny Briere and rookie sensation Sean Couturier, and this team will be tough to beat. Even if you can contain Giroux, they have five other pure scorers on the ice.
The Flyers are rolling right now, and I think they will be back in the Stanley Cup Final. They're just that talented.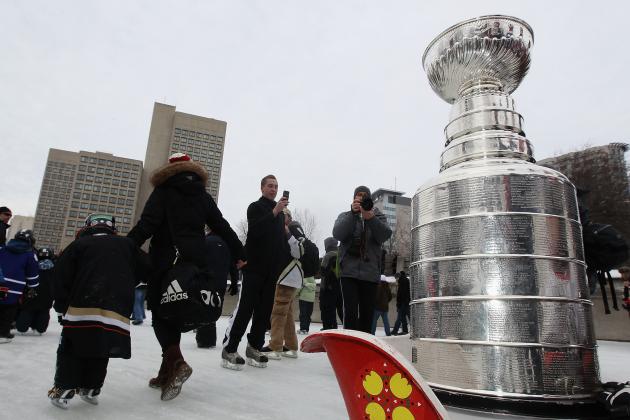 Christian Petersen/Getty Images

As we near the second round of the playoffs, the matchups already have us drooling. There is no other sport in the world where the intensity is ramped up more than in the NHL playoffs.
For my money, I want to see the Kings face the Flyers in the Stanley Cup Final. I think the teams balance each other out very well and would make for an intense, high-scoring series.
The playoffs have been great so far, we'll see which team wants it most as the rest of Lord Stanley's playoffs continue. I, for one, will be glued to my television.