New Orleans Saints: Alleged Wiretaps Add Another Black Eye to Franchise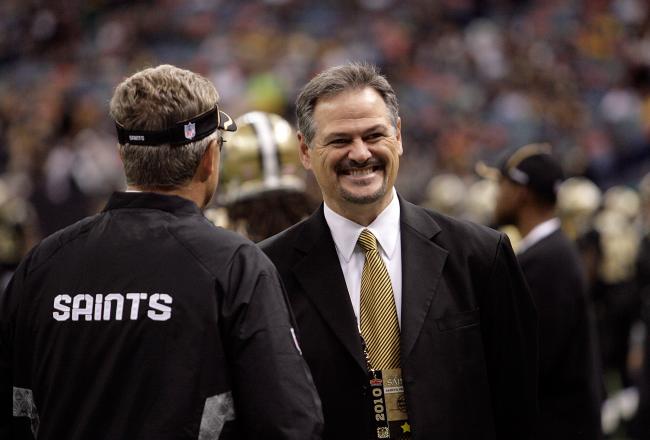 Matthew Sharpe/Getty Images
Oh, boy. As if it couldn't get any worse for the New Orleans Saints franchise.
ESPN is reporting that disgraced general Manager Mickey Loomis allegedly had an illegal wire-tap allowing him to secretly listen in on the coaching staffs of visiting teams between the 2002-2004 NFL seasons.
Sources familiar with Saints game-day operations told "Outside the Lines" that Loomis, who faces an eight-game suspension from the NFL for his role in the recent bounty scandal, had the ability to secretly listen for most of the 2002 season, his first as general manager of the Saints, and all of the 2003 and 2004 seasons. The sources spoke with "Outside the Lines" under the condition of anonymity because of fear of reprisals from members of the Saints organization.

Jim Letten, the U.S. attorney for the Eastern District of Louisiana, acknowledged being told of the allegations Friday and has briefed the FBI in New Orleans about Loomis' alleged activity, according to sources. If proven, the allegations could be both a violation of NFL rules and potentially a federal crime, according to legal sources. The federal Electronic Communications Privacy Act (ECPA) of 1986 prohibits any person from intercepting communications from another person using an electronic or mechanical device.
Chirp, chirp..That's the sound of the entire state of Louisiana wailing like a newborn infant.
It will take a few moments for folks down in the Bayou to be able to utter a single syllable after these latest allegations, and like a newborn, they are still screaming at the top of their lungs without the benefit of sound escaping their lips.
The FBI is involved. That's never a good thing.
Apparently, Loomis' predecessor Randy Mueller had the tap installed before he ever got to the organization, but only to listen in on his own team. When Loomis got there, he allegedly made the switch to spy on opposing teams' coaching staffs:
There was a switch, and the switch accessed offense and defense. When Randy was there, it was the Saints offense or defense, and when Mickey was there it changed over so it was the visiting offense or defense.
While nothing has been proven so far, you have to at least consider that these allegations are true after the news and fallout of the recent bounty scandal.
Remember, Loomis was aware of the investigation into the bounty issue and was told to put an end to it, but he never did (H/T New York Times).
Will Mickey Loomis Ever Participate in the NFL Again?
It's clear to me that Loomis didn't give a hoot for the rules—whether they be NFL rules or Federal law—and was willing to do whatever it took to win. If you thought Roger Goodell was harsh to Gregg Williams and Sean Payton, you haven't seen anything yet.
This allegation is the last straw for Loomis. If Loomis was getting information about the other teams, there is no way he would just keep the news to himself.
Someone else must have known about these wire-taps.
Heads are going to roll.
If the investigators do find evidence to support these claims, Loomis and anyone else involved will be punished severely by both the NFL and in our federal courts. What he allegedly did is a federal crime, and he shouldn't ever be allowed to participate in the NFL again in any way, shape or form.
This article is
What is the duplicate article?
Why is this article offensive?
Where is this article plagiarized from?
Why is this article poorly edited?

New Orleans Saints: Like this team?