5 Kicks to the Groin from the Angels Trade of Mike Napoli
Jim McIsaac/Getty Images
Ouch! The Angels traded Mike Napoli to Toronto in January of 2011 and have been regretting it over and over since that day.
One huge pain that isn't even listed among these five throbbing reminders of the foolish deal is that, in 2011, they gave 535 at-bats at the catcher position to Jeff Mathis, Hank Conger and Bobby Wilson. Conger hit .209, Wilson hit .189 and Mathis hit .174. Like I said, that's not mentioned in the coming slides, and that's a sign of just how bad this deal worked out for the Halos.
Also not mentioned in the coming slides is the additional production of Juan Rivera, who was also dealt to Toronto and finished 2011 at .258 with 74 RBI for the Jays and Dodgers.
Vernon Wells of 2011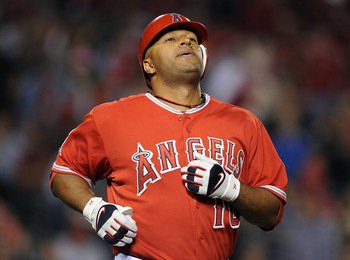 Harry How/Getty Images
When the Angels traded for Vernon Wells, he was coming off a career year. In 2010, Wells batted .273 with 31 home runs, 88 RBI, 79 runs scored and an .847 OPS. It was his best year since 2006.
In 2011, Wells batted .218 with a .660 OPS. He did hit 25 home runs, but that only translated into 66 RBI and 60 runs scored. He also played in just 131 games. His on-base percentage was over 80 points below his 2010 number, and slugging percentage dropped over 100 points.
Wells' four defensive assists were his least since 2006 to add insult to injury.
Mike Napoli Flipped to Texas Rangers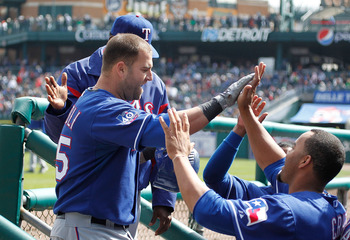 Gregory Shamus/Getty Images
The very day after the Angels announced their trade of Napoli to Toronto, the Blue Jays turned around and flipped him back into the Angels division with their trade for Frank Francisco.
Of course, at this point, the Angels had no idea what was about to happen to the newly-motivated Napoli, but the Rangers were already defending AL Champions, with the defending AL MVP Josh Hamilton, and a lineup stacked with mashers.
It took all of 20 hours for the Angels to regret their decision.
Mike Napoli's 2011 Explosion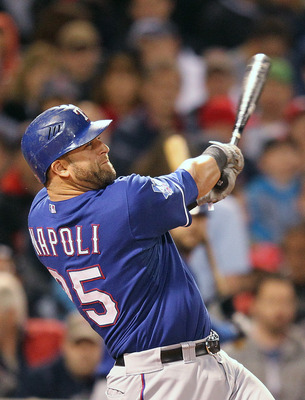 Jim Rogash/Getty Images
In the three years leading up to the trade, 2008-2010, Napoli batted .258 with an .843 OPS in 332 games. He had three straight 20 home run seasons, had scored 60 runs in each of the previous two years and his on-base percentage went from .374 to .350 to .316.
In 2011, Napoli batted .320 with 30 home runs, 75 RBI, 72 runs scored and an OPS of 1.046. In 113 games, he walked 16 more times and collected 10 more hits than in 2010, when he played 140 games.
Napoli also boosted an already potent offense to another division title, and eventually, another World Series appearance, while the Angels watched from home.
Lighter Wallets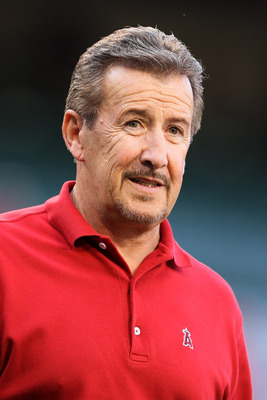 Jeff Gross/Getty Images
Mike Napoli made $5.8 million in 2011 for his .320 and 30 home runs. Vernon Wells made $26,187,500 for his .218 and accompanying numbers. Wells will make $24,642,857, according to Baseball Reference, this season. Napoli will make $9.4 million.
This would be even more painful if the Angels and owner Arte Moreno hadn't shelled out the money to CJ Wilson and Albert Pujols that they did this past offseason, even moreso if they had lost a bidding war for either player in the process. But regardless, the weight of such a contract from a player like Wells will doubtless impact the Angels' cash flow, having unforeseen ripple affects for years.
Mike Trout Roadblock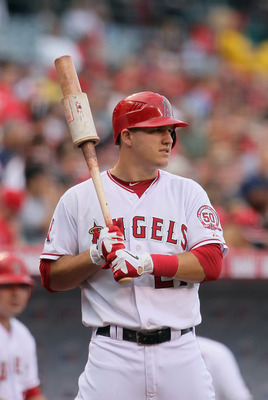 Jeff Gross/Getty Images
Mike Trout, the Angels' super-prospect, is batting .400 with 11 RBI, six SB and an OPS of 1.063 in 18 games at Triple-A Salt Lake. In four minor league seasons, Trout is a career .341 hitter with a 9.38 OPS. In other words, Trout has nothing left to prove.
Unfortunately, Vernon Wells' salary makes it hard to bench him. The Angels also have Peter Bourjos, Torii Hunter, the unhappy Bobby Abreu in a part-time role and the 29-home run, 87-RBI rookie sensation Mark Trumbo, who they are trying to work into the lineup wherever possible.
Trout will inevitably force his way into the Angels lineup, as the Rangers are off to a torrid start and Los Angeles won't want to get left behind when it has a clear upgrade ready in the minors. But the absence of Wells would certainly make that easier, not to mention cheaper.
Keep Reading

Los Angeles Angels of Anaheim: Like this team?