PFA Young Player of the Year: Was Sergio Aguero Robbed?
April 23, 2012

Jamie McDonald/Getty Images
Last night, as expected, Robin van Persie won the PFA Player of the Year award. He beat out Wayne Rooney, Sergio Aguero, David Silva, Scott Parker and Joe Hart for the prize.
RVP's selection was hardly a surprise. David Silva had put in some magical performances at the start of the season, and Wayne Rooney's scoring has picked up lately, but no player had been as consistently magnificient over the course of this EPL season than Van Persie.
What was a huge surprise was Kyle Walker's selection as the PFA's Young Player of the Year. Walker beat out Daniel Sturridge, Danny Welbeck, Alex Oxlade-Chamberlain, teammate Gareth Bale and Sergio Aguero for the prize.
Walker's selection ahead of the first four was understandable. Sturridge and Welbeck have put in many promising performances, but have not been consistent starters or scorers for their teams this year. The same applies for Oxlade-Chamberlain.
As for Bale, his form has dipped since the end of January. Prior to that, he'd been almost unstoppable; since then, he's been mildly threatening at best.
But selecting Walker ahead of Aguero? Walker has had a good season, but he's been very ordinary as of late. He's been powerless to stop Tottenham's slide down the table, and against Manchester United, he was easily Tottenham's worst defender, so much so that some said he deserved to be benched.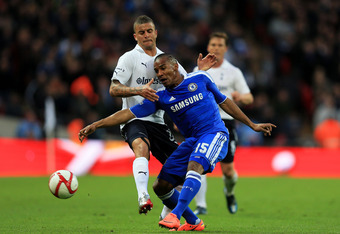 Clive Rose/Getty Images
Aguero, on the other hand, has quietly gone about his business this season, scoring 22 goals for Manchester City despite this being his first season in the EPL.
He's also had to adjust to different strike partners throughout the season, with Roberto Mancini consistently rotating between Mario Balotelli, Edin Dzeko, and, recently, Carlos Tevez.
Walker's selection boggles the mind, if you really think about it.
On Whoscored.com, Sergio Aguero's EPL performances this season have given him an average rating of 7.5, while Walker's performances have earned him an average rating of 6.89.
On Goal.com, Aguero's EPL performances have led Goal.com to rank him as the EPL's third-best striker, while the same ranking system doesn't even rate Walker as a top-20 defender in the EPL.
Obviously, both of these ratings systems are arbitrary to varying degrees, but they both illustrate the fact that there is a massive disparity between how successful Walker and Aguero have been this season, at least when analyzed on their game-to-game performances.
And honestly, the mere fact that Aguero was up for nomination for both the PFA Player of the Year and PFA Young Player of the Year should've guaranteed him the latter award.
If Walker did indeed have a better season than Aguero, why wasn't he nominated for PFA Player of the Year like Aguero was? Again, it makes no sense.
For the readers who know me, and know of my deep-seated allegiance to Tottenham, it may seem kind of strange for me to be discrediting an award received by a member of my favorite team.
But although I'm happy that Walker has received an award, and will surely have his confidence boosted as a result, it's ridiculous that Aguero was so blatantly snubbed in the process.
Then again, maybe it shouldn't be too big of a surprise, considering Cristiano Ronaldo and Cesc Fabregas are the only two non-English players to win the award in the last 10 years.
It's often said in football that the English think they're the best footballing country in the world because they invented football. The ridiculous selection of Kyle Walker as PFA Young Player of the Year ahead of Sergio Aguero only serves to confirm that notion.