WWE Extreme Rules 2012: Chris Jericho Destined to Destroy CM Punk on PPV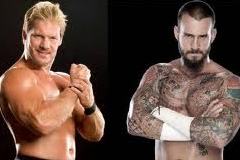 There is no way Chris Jericho is losing to CM Punk at Extreme Rules.
Ever since his return to the ring at the very beginning of the year, Jericho hasn't had much success. All of the hype and buildup for his feud with CM Punk has been fun, but Jerichoholics have yet to be treated with a big win.
With time running out on his contract with WWE (set to expire this summer), now is the time for Jericho to win the championship belt at Extreme Rules in Chicago.
Why in the world would Jericho agree to a comeback only to lose every big match? There was no question that Jericho-Punk at WrestleMania was outstanding. The two wrestlers are perfect compliments to each other.
Clearly they are two of the best WWE has to offer right now and milking this feud for all it's worth has to be the plan for the WWE creative team.
The way I see it, Jericho wins Extreme Rules, then Punk turns into the aggressor for another rematch. For the past month Jericho has been digging into Punk's family problems with alcohol, pouring whiskey and beer on him and calling him out on Monday Night Raw for entering a London pub.
Once Jericho wins and knocks Punk off his perch, the tables will turn. Punk can use Jericho's ridiculous blinking jacket, or his rock band, as ammunition to rile up Y2J for a third round.
Who Wins at Extreme Rules?
If Jericho loses, the WWE isn't going to have many options for him. He is too big of a star to deal with a guy like Sheamus or Daniel Bryan, and a feud with John Cena would feel forced at this point.
Jericho and Punk are connected at the hip in 2012, and prolonging one of the juiciest feuds to come along in a while can only happen with a Jericho win at Extreme Rules.
Remember, these superstars all have mega egos. There is no way Jericho would agree to return unless he was guaranteed some sort of success.
Beating Punk in Chicago, followed by the eventual rubbermatch at SummerSlam, makes all the sense in the world and I'd be shocked if everything didn't pan out this way.
WWE fans only have a limited amount of time with Jericho and deserve to see him on top, if only for a month or two.
This article is
What is the duplicate article?
Why is this article offensive?
Where is this article plagiarized from?
Why is this article poorly edited?