Boston Red Sox: Larry Lucchino Should Be Held Most Accountable for Lousy Start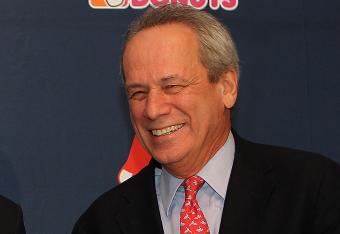 Jim Rogash/Getty Images
Larry Lucchino should be The Guy on the hot seat in Boston right now.
Nothing has gone right for the Red Sox on and off the field at the start of the 2012 season, and new manager Bobby Valentine has been a lightning rod for much of the fans' negative reaction. Yes, the team has played miserably and now has a record of 4-10. Its starting pitching and bullpen rank among the worst in all of baseball.
Yet, it's still incredibly early for fans at Fenway Park to be raining boos on Valentine, as they did last weekend, when the New York Yankees shelled the Sox pitiful pitchers, particularly on Saturday, when, the Yanks, remarkably, came back from a 9-0 deficit to score 15 unanswered runs against the Sox pathetic bullpen - the worst in baseball.
So far, fans and the baseball media have not been too critical of new general manager Ben Cherington and they've been relatively easy on some of the poorly-performing players, including many who came back from last year, when the team went 7-20 down the stretch and fell out of playoff contention on the last day of the season.
If more fans followed all the facts, however, they probably would have directed more venting at Lucchino.
Lucchino, the team's powerful CEO, has made all the big decisions since the Red Sox experienced a radical transition at the end of the 2011 season when GM Theo Epstein and manager Terry Francona both departed after a successful run that brought two championships.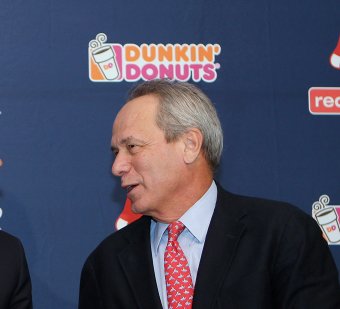 Jim Rogash/Getty Images
Consider what Lucchino has done and said since then.
First, Lucchino handled Francona's departure very awkwardly when he chose to emphasize public relations at the expense of candor. Instead of acknowledging that the team's ownership/management group had wanted Francona to leave, Lucchino harped on saying it was Francona's decision, etc.
Next, Lucchino very quickly chose Ben Cherington to replace Epstein as the new GM, and, then, within weeks, chose to badly undermine Cherington. Cherington inherited the task of conducting a search for a new manager. After a lengthy, thorough process, Cherington decided to select Dale Sveum as the next manager. Then, at the last minute, Lucchino, with Henry and co-owner Tom Werner joining him, vetoed Cherington's decision, abruptly ending the new GM's search. Lucchino then took steps to ensure that Valentine would get the job. In doing so, he severely undermined Cherington and put the team on a very different course. Valentine was the polar opposite of Sveum, who reportedly was respected by at least some of the players.
Lucchino's response to the now-infamous, controversial Boston Globe article - written by Bob Hohler and published after the 2011 season - has not seemed to remove all speculation that either he or someone in ownership or upper management had some kind of influence on the events that led to the leaks of information that showed up in the Globe article, which described the team's clubhouse problems.
Larry Lucchino like Cherington and other higher-ups has been in puzzling, extreme denial about the limited talent on the Red Sox roster ever since the end of the 2011 season. Lucchino and Henry apparently concluded that the Sox didn't need any major additions or subtractions in the offseason despite their historically bad finish in 2011. So, they gave Cherington instructions to avoid big spending on acquisitions (supposedly to reduce the team's luxury tax) and Cherington made only "small" deals - like acquiring the now-injured closer, Andrew Bailey, outfielder Cody Ross and several forgettable pitchers for the bullpen. Mark Melancon, viewed as a key, new set-up pitcher, is now in the minors due to a horrendous start.
Lucchino,meanwhile, was solely responsible for bringing Valentine here, yet he seems strikingly absent from any public comments in recent days about the skipper whether in support or criticism.
Lucchino has created a very difficult set of conditions for Cherington to be a strong, successful GM in his first months on the job during a season. He should empower Cherington more than ever, but, instead, one gets the sense that Lucchino enjoys "overshadowing" Cherington and the speculation that he now has regained at least some influence over baseball operations matters. Lucchino already has made more remarks about on-the-field matters during spring training and the first few weeks than he typically did when Epstein was here.
Lucchino, overall, has failed to sense the ongoing dynamics of this team. The team stunk at the end of 2011; but, Lucchino didn't seem to "get it" and he and Cherington left the roster largely untouched.
Of course, the area most neglected by Lucchino and Cherington was the bullpen, which many fans predicted would falter immediately in 2012. The team has no depth in its bullpen and appears unlikely to be capable of "remaking" it in the course of a half-season. Lucchino apparently thought the team could survive the loss of former closer Jonathan Papelbon. Well, it has been laughably unable to cope without Papelbon or more than two or three half-decent relievers. Most of the bullpen is simply poor or mediocre at best.
Larry Lucchino, in summary, cannot have it both ways. Since October, 2011, Lucchino has been a "hands-on" CEO who has intervened in the GM's business. So, if he wants to be "the guy who's running it all" on the Red Sox, he should be held a lot more accountable to "fix" things. Lucchino - not Valentine or Cherington should take heat and then, support them and empower them to do a better job.
If Valentine cannot improve his performance and win the support of his players, then Lucchino will have to take responsibility and fire him. It's too early to think about that, but it's not too early to view Lucchino in the central role he holds right now.
This article is
What is the duplicate article?
Why is this article offensive?
Where is this article plagiarized from?
Why is this article poorly edited?

Boston Red Sox: Like this team?