UFC 145 Results: Will Jon Jones Go Down as the Greatest UFC Champion of All Time
April 23, 2012

Kevin C. Cox/Getty Images
It was business as usual Saturday night as Jon Jones successfully defended his UFC Light-Heavyweight title against former champ Rashad Evans.
In a dominant, five-round affair, Jones picked his ex-teammate apart, demoralizing Evans to take the unanimous decision victory.
Knocking a fourth ex-champion off his list, there is no question that the reigning 205 lb king is one of the best in MMA today.  But the question remains: will Jones go down as the greatest UFC champion of all time?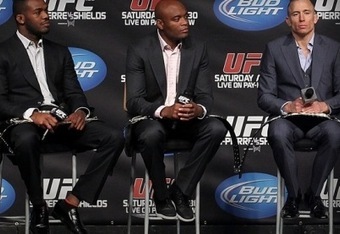 In the current landscape of the UFC, there are only two fighters who can match the dominance that Jones has shown in the Octagon: Georges St-Pierre and Anderson Silva.  While early on in his career, comparing Jones to either of these men would be premature, with his latest victory over another formidable former champion, Jones has more than earned his spot alongside these greats.
In terms of straight dominance over the competition as a champion, St-Pierre, Silva and Jones are virtually equal.  Despite a near loss against Chael Sonnen for Silva and a temporary setback against Matt Serra for St-Pierre, these two greats have rarely even been challenged inside the Octagon.  
If Jones can go the length of his career without even being challenged or comes back during a fight in an even more impressive fashion, he will overtake the other two in terms of pure dominance as a champion.
Another area that must be explored before labeling Jones as the G.O.A.T. is the quality of competition he defeats.  Finishing fighters such as Matt Hughes, BJ Penn, Dan Henderson, Rich Franklin and Vitor Belfort, both St-Pierre and Silva possess lengthy resumes that make it hard for any fighter to top.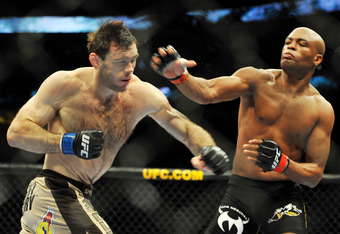 Jon Kopaloff/Getty Images
But Jones is on his way.
With wins over Evans, Shogun Rua, Lyoto Machida and Rampage Jackson, Jones has decimated the top tier of the light-heavyweight division, making former champions look like rookies in the process.  If he can continue taking out top-level opponents, Jones will easily surpass St-Pierre and Silva in this category.
When it comes down to it, though, what really will determine Jones's legacy will be his evolution in the Octagon and his ability to finish opponents in spectacular fashion.
In comparison, St-Pierre has been somewhat of a safe champion in recent years.  While there is no question that he has dominated some of the best in the sport, rarely do we see the welterweight champion go out of his way to stop an opponent.
However, St-Pierre does continue to evolve as a fighter, adding in moves that he spends countless hours refining, such as his brutal jab that dismantled Josh Koscheck at UFC 124.  But rarely do his moves match the flashiness of Jones.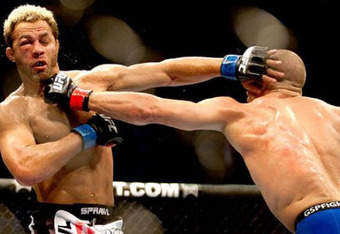 This strategy certainly works in retaining the title, but finishing fights, specifically in spectacular fashion, is the difference between greatness and legendary status.
On the flip side, Silva has defeated many opponents in unconventional ways, from standing upward elbows to front kicks to the face.  The list of amazing wins has earned Silva the title as the pound-for-pound king as well as G.O.A.T. status.
For Jones to surpass Silva, the difference will be the integration of various styles into his game.  While certainly a well-rounded fighter, there has always been one area that Silva has never really excelled—offensive wrestling.
What I mean by offensive wrestling is the ability to take down others at will, a skill that the likes of Jones and St-Pierre possess.  And that's why Jones will overtake Silva's legendary status. Not only does he have the great, unorthodox striking skills and great submission game, but he also has the top-level wrestling ability to control an opponent from any area.
As of today, Jones still has some work to do before his resume overtakes that of Silva or St-Pierre.  But if he stays on track and keeps taking out top-level guys in spectacular fashion while continuing to evolve as a fighter, there is no reason why he wouldn't go down as the greatest UFC champion of all time.
Be sure to Like Matt on Facebook or Follow @MattJuulMMA