UFC 145: Why Jon Jones Needs Anderson Silva to Move Up to Light Heavyweight
April 23, 2012

Kevin C. Cox/Getty Images
As the months pass by and Jon Jones keeps dominating every light heavyweight in front of him, it is apparent that UFC has to do something drastic in order to keep people interested in who he is going to fight, like convincing Anderson Silva that 205 pounds is the place for him. 
Both Jones and Silva have upcoming fights that have to take place before we can think of getting to a contest between these two. 
Jones will have to tangle with 41-year-old Dan Henderson later this year, while Silva has to overcome his nemesis, Chael Sonnen in June. 
Assuming both Jones and Silva get through those fights unscathed, it is time for UFC to make a dream fight that every fan would pay to see.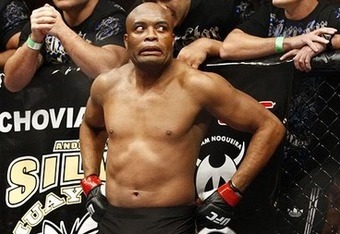 Mixed martial arts fans love to see great fights even more than they love to see great fighters. We are fascinated by Jones and Silva because of how dominant they are, but they aren't drawing as well as certain fighters because they don't have that personality to draw you in. 
The only huge drawing card that UFC has right now is Georges St-Pierre, and a lot of that drawing power comes because he is so popular in Canada. 
Silva would have to agree to move up to light heavyweight in order to fight Jones. He has made the move up a few times in the past, but UFC president Dana White said late last year that this potential matchup would not "happen anytime soon."
But when you look at what's left in their respective weight classes should they win their next fights, how do you possibly convince people to tune in to see it?
Jones and Silva are the most dominant fighters in UFC today. Georges St-Pierre belongs in that class, but he is out with a knee injury. They have taken every challenge put in their way and come out on top every time, most of them in dominant fashion. 
If ever there were a time to convince Silva that the best fight for him was at 205 pounds, it would be now against Jones.