Metta World Peace: Bring World Peace to the New York Knicks
April 25, 2012

Harry How/Getty Images
Metta World Peace may not be welcome in Los Angeles for much longer.
The elbow that Metta World Peace delivered to the back of the head of the Oklahoma City Thunder's James Harden will cost him seven games, and he just may have cost the Los Angeles Lakers their entire season.
World Peace has declined in production in all three seasons with the Lakers, but he is still under contract for next year with a player option for 2013, at a salary over $7 million per year. 
If his elbow directly results in a first-round exit for the Lakers, it is entirely possible that he will be amnestied: It's not like Kobe Bryant or general manager Mitch Kupchak are rushing to World Peace's defense, either.
If so, the New York Knicks should prepare another homecoming party for a local-born small forward.
Imagine one of the most feared scorers in the NBA subbing out of the game, only to be replaced by one of the most feared players in the game?  And both are native New Yorkers?
Last year, the Knicks rolled out promotional videos for Carmelo Anthony backed by a very mellow chorus from Diddy on Dirty Money's "Coming Home featuring Skylar Grey."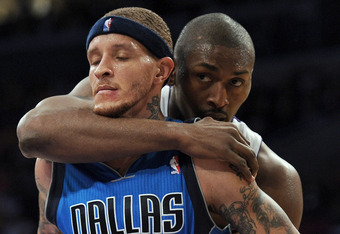 Harry How/Getty Images
World Peace might be better matched with grittier early-1990s hip-hop tracks such as Nas' "N.Y. State of Mind" or my personal favorite, "Halftime."  His general attitude and style of play would have Knicks fans reminiscing about their team from the same era.
The confrontations that those Knicks teams had ran the gamut from highly competitive (John Starks vs. Reggie Miller, John Starks vs. Michael Jordan) to highly comical (Anthony Mason vs. Manute Bol, with Bol attempting one wild swing-and-a-miss), and they were often labeled as a dirty team. 
Yet no one can deny that those Knicks played defensive-minded, playoff-ready basketball.
World Peace may be best known for his transgressions, but he has also built up a reputation as a defensive stopper.  He is adept at creating turnovers, as evidenced by his career average of 1.9 steals per game.
In late-game situations, a Knicks defense anchored by Iman Shumpert at the two, World Peace covering either the three or the four and Tyson Chandler manning the middle could make up for any defensive liabilities (real or imagined) created by having Jeremy Lin and either Carmelo Anthony or Amar'e Stoudemire on the floor.
And, as Mike D'Antoni's tenure and eventual ouster from New York imply, New York is a city that demands strong defense.
World Peace would have the added incentive of playing before his home crowd, in the same arena where he played many home games with St. John's.
At only 32 years old, World Peace still has much to offer to any team willing to take a chance on him.  If the Lakers do part ways with him, however, I expect that list of willing suitors to be very, very short.
His track record will work against him, as will this latest elbow.
Yet the elbow he threw, while more reminiscent of Jon Jones' work against Rashad Evans this past weekend, did not seem intentional despite how damaging it could have been.
His general good behavior in LA is evidence that Metta World Peace has tried to distance himself from controversy, but it will not be enough to convince most teams to add him to their roster.
The Knicks should use this to their advantage to address a need. 
World Peace might be had for a small price.
Next year's Knicks team only has one backup forward under contract (Josh Harrellson) and most of their salary cap tied up in their three frontcourt starters, so they will have to get creative in filling out their bench.
Signing him represents a calculated risk, but one worth taking—if the Lakers make him available.