UFC 145 Results: The Rise of Jon Jones, from Unpolished Gem to an All-Time Great
April 23, 2012

This past Saturday, UFC Light-Heavyweight Champion Jon Jones once again successfully defended his title in a brilliant five-round affair against Rashad Evans.  Despite not finishing his opponent for the first time since January of 2009, the reigning 205 lb king put on one of the best performances of his career.
At just 24 years old, the rise of "Bones" remains one of MMA's most amazing stories, made even more incredible considering that, at one point in his career, this young star was once an underdog.
In the summer of 2008, a wiry 20-year-old Jones made his UFC debut against Andre Gusmao at UFC 87.  A late replacement taking the fight on two weeks notice, Jones was actually the heavy underdog despite amassing a 6-0 professional record in just three months.
But once those cage doors closed, fans learned just how special Jones was as his spinning elbows, back kicks and insane take downs earned him a unanimous decision victory.  Proving that this win wasn't a fluke, "Bones" put on a show against Stephan Bonnar at UFC 94, throwing the TUF veteran around like a rag doll and landing a ton of powerful strikes.
Following up the win with a second-round submission victory over Jake O'Brien and the then undefeated Jones became an instant top prospect.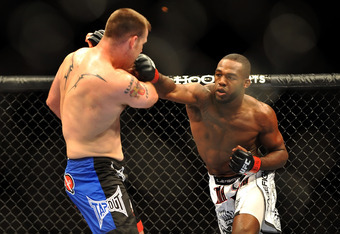 Jon Kopaloff/Getty Images
While his early wins were full of pizzazz, what Jones lacked was a certain refinement in his fighting style, something that the young champion has added to his game and shown in his recent wins.
Jones's first "setback" came opposite Matt Hammill in 2009.  While again dominating his opponent, the future champion got a little overzealous in his attack, landing a couple of powerful 12-to-6 elbows that caused Jones to get disqualified.  
Overall, Jones put on another dominating performance against a top-level light-heavyweight, but the disqualification highlighted "Bones'" inexperience and need to pick his shots more during his fights rather than constantly firing at all cylinders.
The loss, Jones's first of his career, was truly a turning point for him.  In his next two outings, Jones would once again use his elbows to batter Brandon Vera and Vladimir Matyushenko, but the 205 lb king showed that he learned from the Hammill fight and picked his shots better.
After a Submission of the Night win over Ryan Bader at UFC 126, Jones's well-rounded game and absolute dominance over the division earned him a shot at then champion Shogun Rua.  It would be this win that would start the reign of Jon Jones as well as showcase just how good this kid is.
Rua, coming off a brutal knockout win over Lyoto Machida, was the reigning champion as well as a legend of the sport, stemming from his dominant days in Pride.  In just under 15 minutes, Jones made one of the best of all time look like a rookie.
Throughout the fight, Jones displayed a whole gamut of techniques and strategies that have never been seen inside the Octagon before.  Once again utilizing his trademarked spinning back elbow, Jones effectively transitioned from striking to the ground game, throwing strikes from everywhere, to tire out the champion before dethroning Rua in humiliating fashion.
Rua, a striking master, just could not contend with Jones in any area of the fight.  While certainly using his reach to keep Rua at bay, Jones also out-techniqued the champ, a testament to his rapid growth in skills.
In his subsequent title defenses against Rampage Jackson, Lyoto Machida and now Evans, Jones just keeps getting better and more refined, making him virtually impossible to beat.  While the champion keeps adding new skills and strategies to his arsenal, what's even more impressive is his ability to adjust to any opponent.
The first time fans saw Jones face any sort of trouble was against Machida at UFC 140.  Many analysts would agree that Machida took the first round, using his karate style to make Jones keep guessing.  But the truly incredible thing about Jones is his ability to switch things up during a fight, an asset that would lead to another submission win for the champion.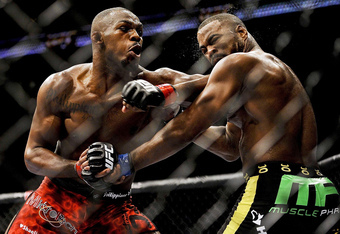 Even this weekend, Jones was hit with a heavy head kick and body shots early on by Evans.  However, Jones was able to once again adjust and attack, leading to an utter dismantling of the former champion.
Once an unpolished gem, Jones has turned into one of the best fighters, not just in the light-heavyweight division, but possibly of all time.  And the scary thing is, at just 24 years of age, "Bones" has at least a decade of growth left in his MMA career.
Be sure to Like Matt on Facebook or Follow @MattJuulMMA