LSU Football: 5 Biggest Recruiting Commit Busts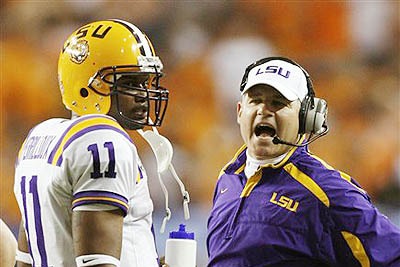 With the LSU Tigers recently wrapping up their spring football practices, the attention now goes back to filling the 2013 recruiting boards.
But anyone who follows college football knows that recruiting isn't the same as it once was back in the day.
Nowadays, every major college football website has its own set of recruiting rankings, and fans put a ton of stock in how high or low their school's recruiting class ranks. More often than not, these recruiting websites are pretty good about ranking players coming out of high school, but there are certainly a few highly-touted players every year who don't end up living up to expectations.
Let's go ahead and take a look at the five biggest LSU recruiting busts over the past decade, Bleacher Report style!
Begin Slideshow

»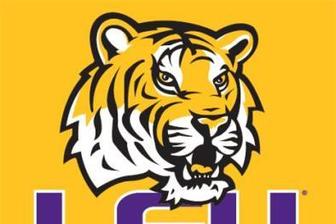 Back in 2003, LSU scored a huge commitment on the defensive side of the ball when highly-roted defensive end Sean Merrill committed to the Tigers.
Merrill was ranked as the No. 4 defensive end in the country coming out of high school, according to rivals.com. He was considered to be the No. 2 prospect in the state of Mississippi and a huge score for the Tigers' staff.
Merrill redshirted for the Tigers in 2003 and then that was it in Baton Rouge for the once-promising defensive end product. He transferred back home to Mississippi State Golf Community College so he could play the following year and then enrolled at Southern Miss after that.
From being considered as one of the top defensive lineman in the nation to not playing a single snap in an LSU uniform, Merrill is certainly looked at as one of the biggest busts in program history.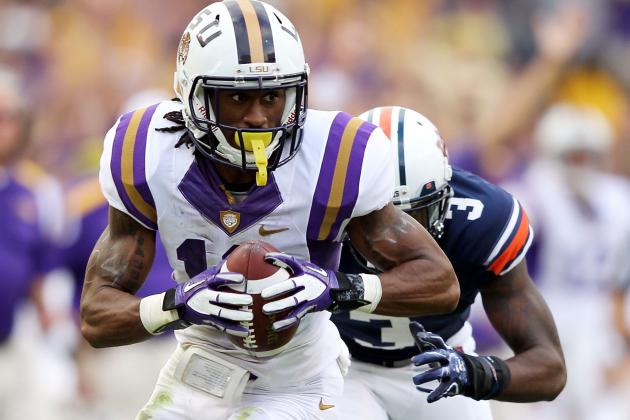 Jamie Squire/Getty Images

LSU brought in a loaded recruiting class in 2007 with three players ranked among the top 50 high school players in the nation, according to rivals.com.
But while Terrance Toliver and Chad Jones did just fine in an LSU football uniform, the same cannot be said for wide receiver prospect DeAngelo Benton.
Rivals.com ranked Benton as the No. 3 prospect in the state of Louisiana and the No. 7 wide receiver prospect in the country in 2007, but the name never lived up to the hype.
Benton signed with LSU in 2007, but fell short of qualifying because of his poor academic scores. He spent a semester at Hargrave Military Academy and actually moved to Baton Rouge to be close to the team because he felt he was going to academically eligible, but that ended up not being the case.
Benton ended up transferring to Auburn where he has totaled 14 catches over the past three seasons.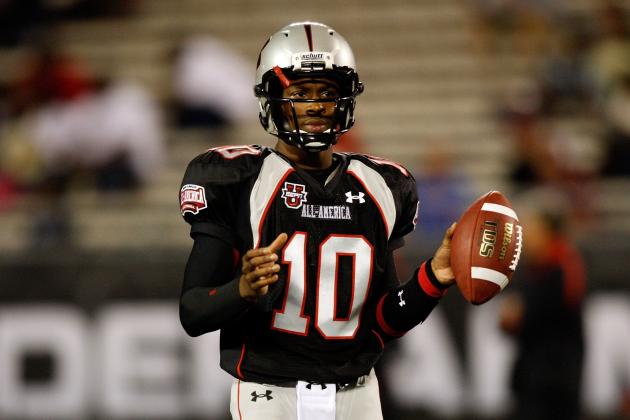 J. Meric/Getty Images

Les Miles came to LSU in 2005 and quickly brought in an incredible recruiting class two years later, which nearly every major recruiting website in the nation ranked as the top class in the country.
In that 2007 class, LSU had two players ranked in the top-10 in the nation.
But while Rueben Randle ended up being a stud wide receiver at LSU, Russell Shepard never even played a down for LSU at the position he was recruited to play. Shepard was recruited as an option quarterback, but changed to wide receiver once he arrived in Baton Rouge.
In his three seasons at LSU, Shepard has totaled just 52 catches for a lousy 473 yards and five touchdowns. Last season, when many predicted him and Randle to form one of the top receiving cores in the nation, Shepard hauled in just 14 catches for less than 200 total yards.
Of course, Shepard could have a breakout senior season this year and this could all go for naught, but as of right now, these are certainly not numbers expected from the No. 7 recruit in the country.
LSU fans can all agree that Russell Shepard has defined the word "bust" in his first three seasons at LSU.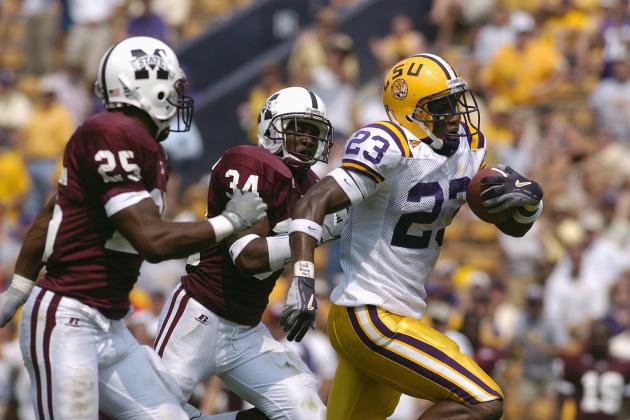 Chris Graythen/Getty Images

Back in 2004, Nick Saban and his LSU staff pulled in the top-rated receiving duo in the country.
Early Doucet and Xavier Carter were ranked as the No. 1 and 5 wide receivers in the country, according to rivals.com.
While Doucet made a name for himself at LSU and went on to be a starter in the NFL, the same cannot be said for Carter.
This former five-star recruit was considered to be one of, if not the fastest players in the nation. He was a member of LSU's track and field team as well as the football squad. But after just two years in the program, where he failed to produce much of anything on the football field, Carter left the LSU football program to join the professional track circuit.
Carter finished his LSU football career with totaling just nine catches.
Can you say "BUST."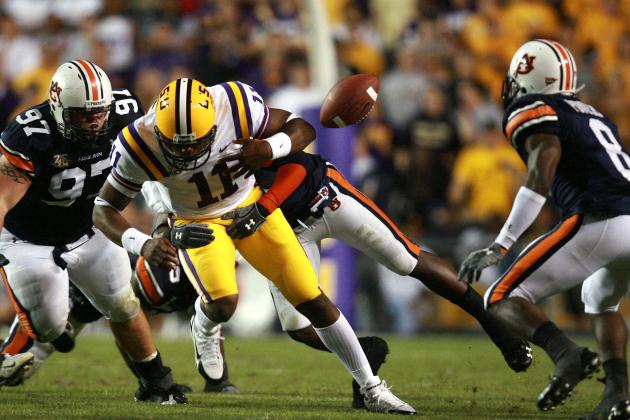 Doug Benc/Getty Images

When talking about the biggest busts in college football history, it's tough not to mention Ryan Perrilloux in that sentence.
The toughest part of this one is because Perrilloux was so very talented, but he had a head filled with crap. His off-the-field troubles proved to be too much and it put an end to what was once a very promising college football career.
Perrilloux arrived at LSU in 2005, ranked as the No. 1 dual threat quarterback prospect in the nation by nearly every major recruiting website. Expectations were off-the-chart for this kid heading into college, and he showed signs of greatness when he got into the game as a backup in 2007.
But while at LSU, this gifted kid simply couldn't stay out of trouble. First, he was involved in a counterfeiting investigation and was caught trying to enter a Baton Rouge casino with false identification.
Then, he was involved in a nightclub fight, which led to a suspension. But, shortly after that, Miles suspended Perrilloux again for missing a team meeting, skipping some classes and being late for conditioning workouts.
The final straw came in May of 2008, when Perrilloux tested positive for a drug test and Miles dismissed him from the team for good.
It's one thing to be considered a bust when your skills just don't add up to the hype, but in Perriloux's case, he had all the skills in the world just not the smarts to make it all work.