Javy Guerra: Could the Dodgers Trust Him to Close Pressure Playoff Games?
April 24, 2012

Thearon W. Henderson/Getty Images
After a mediocre 2011 season, the Dodgers have come out strong so far in 2012 and are currently one of the hottest teams in baseball.
Although it's just the beginning of the season, the Blue Crew is set to be the top team in the National League West and has the early makings of a playoff-bound team if Dodgers' superstars Matt Kemp and Andre Ethier can stay healthy and uphold LA's offense.
With the hype aligned, the Dodgers would need a solid bullpen in order to not only get them to the playoffs but, more importantly, to win games if the Dodgers end up making it to the postseason.
The Dodgers' current closer, Javy Guerra, is a young guy who has been a decent closer for the Blue Crew last year and this season as well. However, would he be able to come up clutch under pressure and close out a game for the Dodgers in a playoff atmosphere?
Here's why the answer to that question is "no" and why the Dodgers should bulk up their bullpen if they want to make a deep playoff run:
Youth
Although he remains relatively composed during high-pressure situations, Guerra is only 26 years old. While age and experience aren't the only determining factor in a closer's viability, he still has some work to do before he becomes a dominant closer.
The playoff atmosphere is much different than that of the regular season, and it's uncertain whether Guerra would be able to maintain his composure if he was in a tight situation with the entire season riding on the line.
The Dodgers experienced that kind of breakdown with former closer Jonathan Broxton who, after making the All-Star team in 2010, panicked and broke down with runners on base, often losing control and literally breaking into a heavy sweat.
Broxton was also young at the time (25 years old) and didn't have enough experience under his belt to be the Dodgers' everyday closer.
Another fan favorite currently in the Dodgers' bullpen who some feel should be the closer instead of a set-up man is 6'5" Kenley Jansen.
Although Jansen throws well and has good movement on his fastball, he isn't a very multidimensional pitcher and wouldn't do well as the Dodgers' closer.
Like Guerra, Jansen is a youngster at 24 years old and simply doesn't have the experience that is required to make it through the playoffs.
With that said, who could the Dodgers pursue in order to bulk up their bullpen?
Potential Options
Francisco Cordero (TOR)
He has a price tag that's probably higher than what the Dodgers would be willing to pay ($4.5 million) but Cordero has been one of the most consistent closers in baseball in his 14-year career with over 300 saves.
At 36, Cordero would only be able to give the Dodgers a year or two, but he proved with Cincinnati from 2007 up until last season that he can close out games effectively.
He's no Eric Gagne in his prime (with over 80 consecutive saves) and will blow a save every now and then, but he's been around the block and knows how to remain composed under pressure.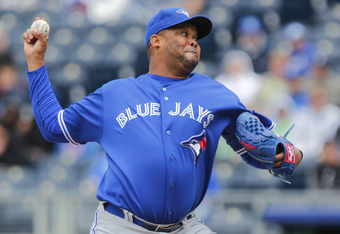 Kyle Rivas/Getty Images
Chris Perez (CLE)
Despite being the same age (26) as Guerra, Perez has an established MLB career with four seasons under his belt. After being one of the top closers in baseball last year with 36 saves, Perez is off to a good start in the 2012 season with six saves.
His downfall is that he has a high ERA for a closer (3.15 career), which is cause for concern in tight situations when the closer can't give up any runs.
Fernando Salas (STL)

Another closer the same age as Guerra but with vital playoff experience. Salas came up big last year in the Cardinals' World Series run and proved that he could come through when needed.
The Cardinals have stellar set-up man Jason Motte, who they may eventually transition into the closer role, and would probably be willing to deal Salas with a replacement behind him.
In addition, he has started off the 2012 season poorly and may be on his way out of St. Louis regardless whether he maintains his current trend.
Jason Motte (STL)
Although the Cardinals would most likely prefer to deal Salas over Motte, if the Dodgers could pull a deal for Motte, Los Angeles would breathe a sigh of relief for its bullpen.
The 29-year-old has primarily served as a set-up man in his MLB career, but he would make for a great closer, as we saw in the Cardinals' World Series run in 2011.
He has good command of the strike zone, has overpowering velocity and his salary isn't too steep as well ($2 million).
Conclusion
While Guerra may eventually prove to be a reliant closer for the Dodgers, there is too much uncertainty surrounding his ability for Los Angeles to rely upon him going into the playoffs. 
He has shown impressive composure for the Dodgers during the regular season and has fared well so far as a closer, but the postseason is an entirely different atmosphere that can take toll on unprepared or inexperienced players.
It's uncertain as to whether the Dodgers front office would be willing to spend good money on an experienced closer, so they may end up sticking with Guerra for the rest of the season.
In that case, Dodgers fans would just have to wait and see if Guerra can hold his worth in the playoffs with the risk for failure—but the potential for success.