Boston Red Sox: 7-Game Road Trip Will Decide Sox's Season, Bobby V's Future
April 23, 2012

Leon Halip/Getty Images
The Boston Red Sox appear to have hit rock bottom after losing five games in a row. Their series finale against the New York Yankees was rained out on Sunday night in what might end up being a blessing in disguise.
It could also be a day off to reflect on their abysmal 4-10 record and the challenges ahead of them.
Their biggest challenge on the young season will take place over the next week when they hit the road to take on the Minnesota Twins and Chicago White Sox.
The Red Sox are only 1-5 on the road this season. They need to turn that around if they want to remain a viable playoff contender after their seven-game road trip.
The Twins are also a disappointment this season at 5-10. They are fighting to keep their heads above water, and Justin Morneau looks like he is coming back into form. They are not great, but they will pose a challenge to the Red Sox in a difficult ballpark.
Boston then heads to Chicago to take on the White Sox in a four-game series. This is when things can get dicey for Boston.
The White Sox have a team that can contend this season and are backed by a solid pitching staff. They will oppose Philip Humber in Game 1, Humber's first start since his perfect game.
Realistically, the Red Sox have to hope for two out of three in Minnesota and a split in Chicago before returning home to face the Oakland A's followed by the Baltimore Orioles. They would be retuning home with an 8-13 record if they pull it off. A 4-3 road trip will be more than a plus for the Red Sox.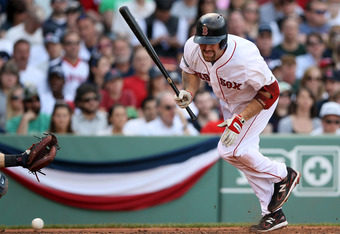 Elsa/Getty Images
But the way Boston's playing, they might return with a 2-5 record on the trip—or worse. A 6-15 record returning to Fenway might have fans calling for Bobby Valentine's job more than they already are.
The next week might determine the team's season and the manager's job.
After the Red Sox collapsed against the Yankees on Saturday, Valentine told reporters, "I think we've hit bottom. That's what I told them after the game. You have to sometimes hit bottom. If this isn't bottom, then we'll find some new ends to the earth, I guess."
A losing record on this road trip and Valentine might have a new job searching for the new ends to the earth.