UFC 145 Results: 5 Things Stephen Thompson Needs to Improve on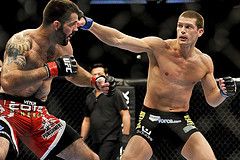 Welterweight Stephen Thompson lost by unanimous decision to Matt Brown at UFC 145, dropping his MMA record to 6-1. Brown improved to 14-11 for his MMA career.
The result was no doubt disappointing for Thompson, who took home the Knockout of the Night for kicking Dan Stittgen in the head at UFC 143 in Las Vegas two months ago.
Here are five things Thompson needs to improve on before stepping in The Octagon again.
Begin Slideshow

»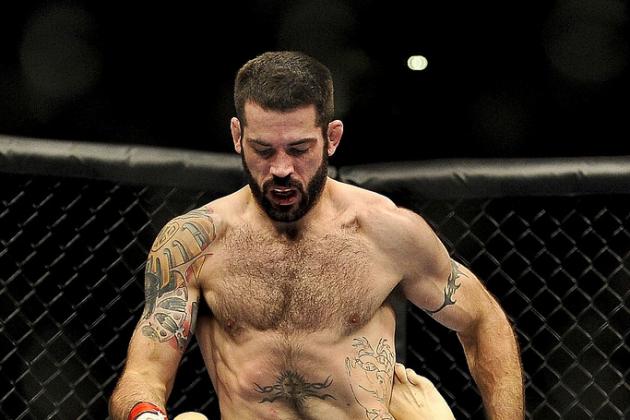 It's not rocket science; the man who controls where the fight happens is usually the man who wins it. Wrestling is the tool that allows a man to do that, and it's the tool most glaringly absent from the Thompson toolbox.
The inability to stop Brown, a solid judoka with limited wrestling of his own, from taking him down hurt Thompson badly.
He needs to work on takedown defense and some offensive strategies as well, or he's not going to last long in the UFC.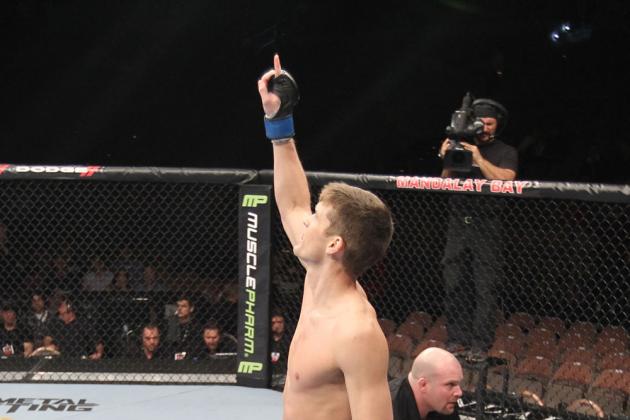 As a highly touted kickboxer, anyone lining up with Thompson is going to have a pretty basic game plan—get it to the ground, where his kickboxing can't hurt you.
If he can't learn the wrestling required to keep that from happening, he at least needs to upgrade his jiu-jitsu game as soon as possible. Blue-belt-level grappling from someone with a striking base has never shown to lead to success, and Thompson will be no different.
Either stop guys from taking you down or make them pay for it when you get there by threatening with submissions.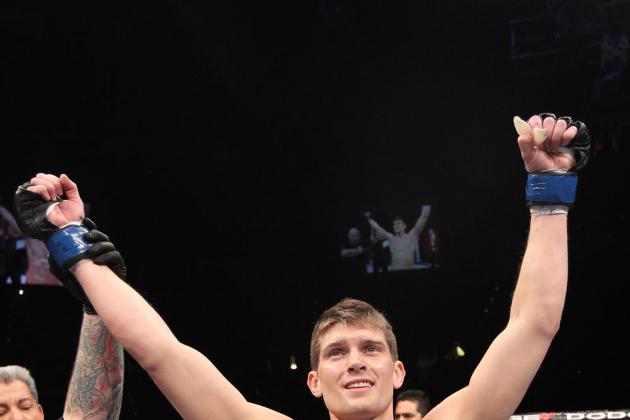 Courtesy: UFC.com
The most significant problem Thompson had with Brown was how much damage he sustained once the fight hit the ground. Brown would fold him up and rain down punches and elbows, most of which "Wonderboy" seemed content enough to take.
For a gatekeeper like Brown, in no way known for his particularly excellent ground-and-pound, to do so much damage with very little pushback is indicative of an area that needs work.
Thompson needs to learn the right ways to protect himself on the ground, or it'll only be more unpleasant the further he goes up the ladder.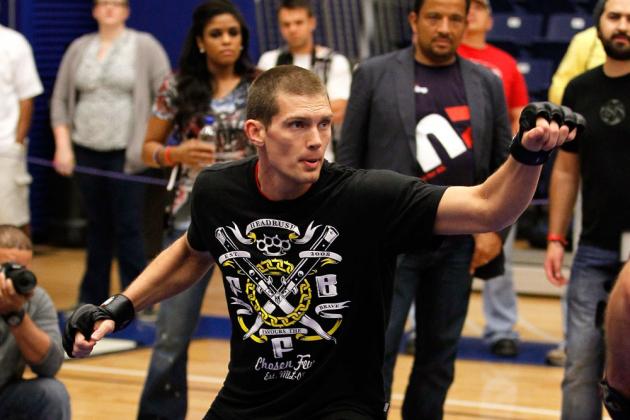 Courtesy: UFC.com
While it's more of the media's fault than his own, it seemed like Thompson really took off between his UFC 143 win and his UFC 145 appearance.
People were fascinated by his knockout of Stittgen and wanted to talk to him about his background in sport karate and kickboxing, in which he'd never lost any of his 63 pro fights.
That's all well and good, especially for a guy who was 6-0 in MMA before the Brown loss, but his mind needs to be on adapting his tools to MMA and adding others that will allow him to maximize his potential.
It's hard to say for sure that he wasn't focused on Brown or was looking past him, but less interviews and more time on the mat won't hurt going into his next fight.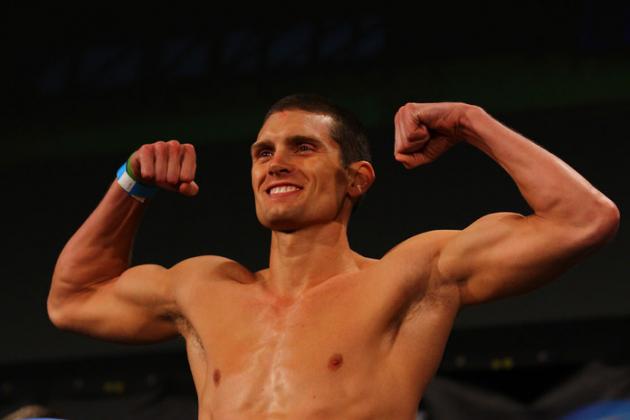 Courtesy: UFC.com
This will come as somewhat of a surprise considering the ridiculous kickboxing record Thompson has amassed and the titles he's won, but one of the biggest concerns anyone looking for him to succeed has to be the style of striking attack he used against Brown.
Standing flat-footed in a sidekick stance is absolutely not a recipe for success in MMA. It's sometimes successful as a timing mechanism or to give an opponent a different look, but once Thompson got in deep against Brown, he started falling into old habits that he got away with in the ring.
Against a skilled wrestler with a good shot from outside, Thompson would be on his back in a hurry. In fact, it didn't even seem to bother Brown to any great degree of concern.
It's not about what Thompson can do, it's about what he can do that works in MMA. He needs to get those kinks ironed out if he plans to be successful in his latest foray into combat sports.