Why Napoli Have Been the Most Exciting Team in Football This Season
April 23, 2012

Mike Hewitt/Getty Images
On May 20th, the long wait for a trophy may come to an end for a storied Italian football club.  It was the home of Diego Maradona, Ciro Ferrara, Careca and Alemão in the eighties when the Argentinean firmly cemented his legend with the passionate fans of this southern city, leading the club to it's only two Italian Scudetto titles.  
After enduring financial collapse and nearly two decades of irrelevance, Napoli has now reemerged at the top of Serie A and back into European competitions. A new group of talent, playing an exciting brand of football, are presently writing a new legacy for Napoli.
While Napoli's rise from oblivion is due in large part to the financial rescue of the club by current president, film producer Aurelio De Laurentiis, their on-the-field renewal is the work of manager Walter Mazzarri. Mazzarri joined the club in October of 2009 and guided Napoli to a sixth-place place finish that season and a third-place finish last year in the Italian top flight.  
This year, Napoli returned to the Champions League for the first time since 1990.  Not only qualifying out of the "group of death" with one semifinalist, Bayern Munich, but impressing in the round of 16 despite falling to another current semifinalist, Chelsea, 5-4 on aggregate after extra time at Stamford Bridge.
Mazzarri's deployment of a 3-4-3 formation, with Edinson Cavani, Ezequiel Lavezzi and Marek Hamšík spearheading the attack is the cornerstone of Napoli's success.  Within Italy's conservative catenaccio  footballing tradition, Mazzarri's tactics are viewed as nothing short of revolutionary. The team has fully welcomed and thrived under Mazzarri's system and embraced his counter-attacking philosophy.  Transfer targets are now keen to join the club like Chilean Eduardo Vargas, who shunned a number of higher profile offers to join Napoli back in January.
Starting with the back line, the back-three is an ideal defense against the 4-4-2 formation favored by so many Italian (and for that matter, English) clubs.  It's as effective as a back-four with one less player so Napoli can move up and dominate the midfield.
Napoli's Italian international midfielder Christian Maggio revels in this role. He (or Dossena/Zuñiga, on the left) can drop back to help his defense should numbers dictate, but can also move up and down the wing with a more attacking-oriented outlook. Napoli consistently exploit their advantages over opponents based on the tactical mismatches naturally born of Mazzari's bold strategy.    
Just the expanded highlights from the Champions League group stage 1-1 draw with Manchester City are enough evidence of Napoli's devastating employment of the 3-4-3.  But watch the full 90 minutes and you'll be rewarded with a more comprehensive appreciation of all the elements that work harmoniously together. Additionally you'll recognize why the "Tre Tenori" is such an apt moniker for Cavani, Lavezzi and Hamšík, who blend perfectly into the system Mazzarri crafted around their versatile football talents. 
Cavani was a €17 million purchase from Palermo in the summer of 2010. After two straight 20+ goal seasons in the league, Chelsea is amongst a flock of suitors who are considering €50 million bids this summer for "El Matador's" services.  The fluid Uruguayan striker is comfortable up top in Napoli's formation where he can utilize his height to turn his back to goal, hold up play and comfortably deliver passes to teammates.  Likewise the 25-year old can also play from the wings, deftly cut inside defenders and shoot with power and accuracy from range.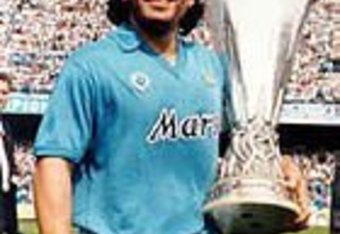 Lavezzi joined I Partenopei back in 2007 for €6 million from San Lorenzo in his native Argentina. Lavezzi's pace, skill and hustle quickly earned him the respect and the unrivaled devotion of the San Paolo faithful.  This year his partnership with Cavani up front has been behind many of Napoli's 58 goals in Serie A (second most behind AC Milan) and the club's run in the Champions League.
Hamšík, the 24-year old captain of Slovakia, sits just behind Cavani and Lavezzi in the formation, feeding balls to the strikers.  Dropping into the midfield to initiate Napoli's dangerous counter attacks, he epitomizes the new breed of attacking midfielders, playing wide AND operating proficiently in the center of the pitch, also a player who can break down defenders one-on-one.  
Napoli's counter-attacking breaks, initiated from the back line to fluid passing sequences through the midfield up to the dangerous trio, when executed efficiently is arguably the most appealing manifestation of offensive football. Mazzarri summed it up succinctly when he told FIFA.com in an interview, "The ideal thing for me is to play elegant, dynamic football that's easy on the eye, but it goes without saying that we're doing our utmost to get results at the same time."
The results speak for themselves. Sixth in 2009-10 and UEFA Europa League qualification. Third in 2010-11 and Champions League group stage qualification.  And with five matches to play this year, Napoli sits in fifth position in Serie A, only four points adrift of the final Champions League spot.  They've already secured a Europa League spot based on their date in the Coppa Italia final.
On two occasions Napoli have scored six goals this season. In the three main European leagues only Manchester City (twice also) and Real Madrid (four times) can claim similar goal outbursts. According to Whoscored.com, Napoli has scored 36 times from open play (second only to Juventus in Serie A), a stat which is the residual effect of their offensive-minded perspective. 
Recently the wear of a long season has taken its toll and exposed Napoli's lack of depth; the squad becoming particularly susceptible to conceding late goals.  The 2-0 win over relegation-bound Novara on Saturday halted a three-game losing streak.
Still, no one's excitement has abated one bit around this club.  The city pinched between Mt. Vesuvius and the sea always stood by its azzurri.  Perhaps no other city residents wrap more emotion, overtly display more loyalty and live vicariously through the fortunes of their team than Neapolitans to Napoli. The San Paolo has once again become a feared destination for away sides.   The atmosphere and noise during games, even despite its obvious signs of decay, is the very pulsating heart of the city.
For a place which is so often associated with organized crime, and still is dealing with a tangled complexion that's the result of Italy's deep societal divide, the presence of the light blue shirts playing a beautiful game both domestically and internationally is a source of profound, shirt-tugging, identity-reinforcing pride.
Not since the Maradona glory days, when Napoli became only the second Southern Italian team to win the Scudetto have the team and city felt this good. Only Napoli (in 1986-87 and 1989-90) and Cagliari (1969-70) have broken an otherwise Northern stranglehold on Serie A hardware.  
So on May 20th, Napoli will face one of those giants of the North, Juventus, in the Coppa Italia final. A new trophy to open a new era of distinction at the San Paolo may be in the offing, something to parade through Naples' richly textured streets and share with their loyal tifosi as well as the growing admirers of this exciting team.