Tampa Bay Bucs Final Mock Draft 2012: 7-Round Predictions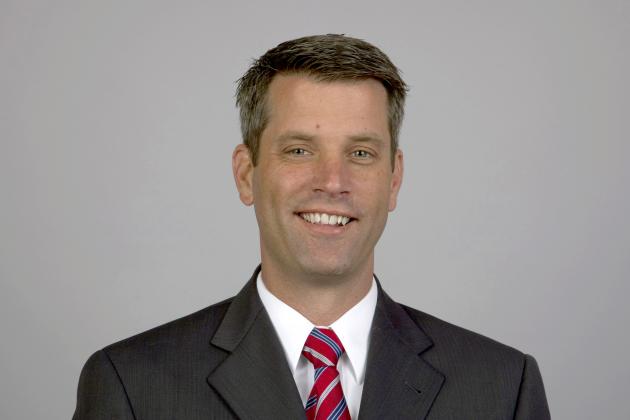 Handout/Getty Images

We are now just a few days away from the 2012 NFL draft. The Tampa Bay Bucs have been quite busy in free agency leading up to the draft.
The Bucs went out and signed WR Vincent Jackson, OG Carl Nicks and CB Eric Wright the first week of free agency and most recently signed DT Amobi Okoye a couple of weeks ago.
A solid draft could move the Bucs back into contender status in the very tough NFC South.
I did a mock draft for the Bucs almost two weeks ago. There will be a couple of changes in this mock draft. For one, I'm going to have the Bucs trade back in the third round and pick up a fourth-round pick that they lost when they moved up to select TE Luke Stocker in the draft last year.
Bottom line, GM Mark Dominik knows this is a huge draft for the Bucs. Dominik has admitted making some errors in other drafts he has presided over. That can't happen this year.
Begin Slideshow

»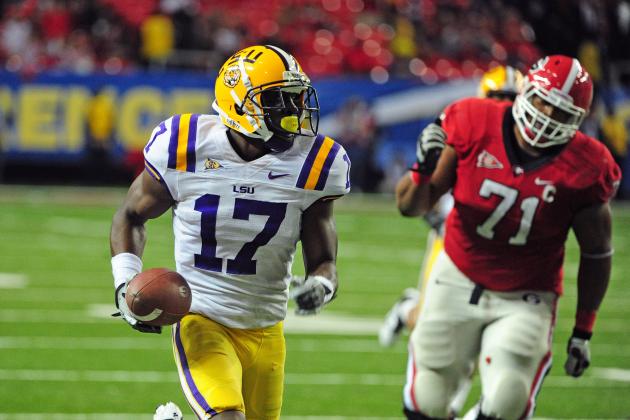 Scott Cunningham/Getty Images

Height: 5'11"
Weight: 190 lbs

Combine 40-Time: 4.50
With the fifth pick of the draft, the Bucs will most likely have to choose between RB Trent Richardson and CB Morris Claiborne. We know that head coach Greg Schiano loves to run the football. A talent like Richardson would be appealing. Richardson is also a three-down back. However, the Cleveland Browns may not give the Bucs an opportunity to even consider Richardson.
In fact, I'm guessing that the Browns will draft Richardson. That would make the choice of Claiborne very simple. Even with the low score on his Wonderlic test. Chris Landry of FOX Sports Radio was on the Steve Duemig show a couple weeks back and he talked about this situation. Bottom line, the Wonderlic is not an intelligence test; it's a cognitive thinking test. Landry gives excellent insight about the whole Wonderlic test process.
The Bucs also have first-hand knowledge about what to expect from Claiborne if they indeed draft the talented CB. Why? The Bucs hired Ron Cooper as part of Schiano's coaching staff. Cooper was Claiborne's position coach at LSU.
There are other reasons why the Bucs should select Claiborne. For one, CB Ronde Barber is no spring chicken, even though he is coming back for the 2012 campaign. Secondly, the status of Aqib Talib is up in the air.
The Bucs and Talib may not even have a choice in the matter (whether he is wanted back or released) depending on what happens with his court case for charges of aggravated assault with a deadly weapon, which has been postponed again until June. An NFL suspension is also a possibility.
Yes, the Bucs did sign Wright as a free agent as well, but Claiborne is a talent a team can't pass up. Teams in the NFL can never have too many quality CBs on their rosters. Not in this pass-happy league.
The bottom line is, the Bucs need a CB of Claiborne's talent badly. Claiborne led LSU with six interceptions this season and returned one for a touchdown, and he also won the Jim Thorpe Award as the nation's top defensive back.
As a kick returner, Claiborne averaged 25 yards per return and had one touchdown that went 99 yards.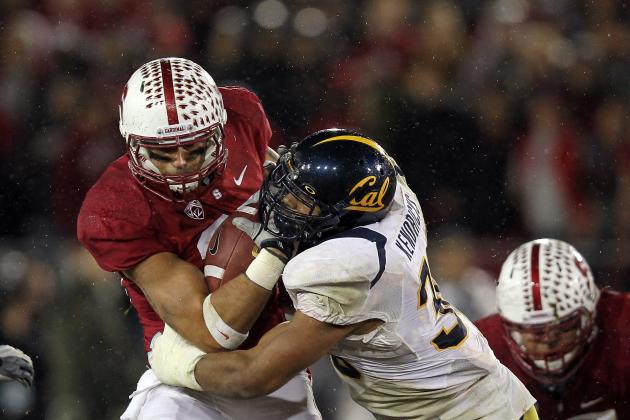 Ezra Shaw/Getty Images

Height: 5'11"
Weight: 240
Combine 40 Time: 4.47
Mychal Kendricks had a fantastic showing at the combine. He ran the fastest 40 time of any LB in the past 12 years of the combine. Kendricks also led all linebackers in the broad jump and the vertical jump as well. He also looked very good in other drills.
Kendricks has also looked good when it counts...game day. Had 107 tackles with 14.5 tackles for a loss, three sacks, two passes broken up and two interceptions in 2011 for Cal. In 2010, Kendricks had 66 tackles, 15 tackles for a loss and 8.5 sacks.
Kendricks was named Pac-12 Defensive Player of the Year in 2011.
He played OLB at Cal in 2010 before moving to MLB in 2011. That versatility will be a big plus in the NFL with the defensive coaching staff.
Some scouts have questioned Kendrick's coverage ability, but the fast LB did have four career interceptions.
Kendricks is a bit undersized in terms of his height, but plays bigger because of his relentless motor and speed. The size issue never hurt Derrick Brooks when he played with the Bucs. Brooks will soon be getting a bust in Canton, Ohio as a matter of fact.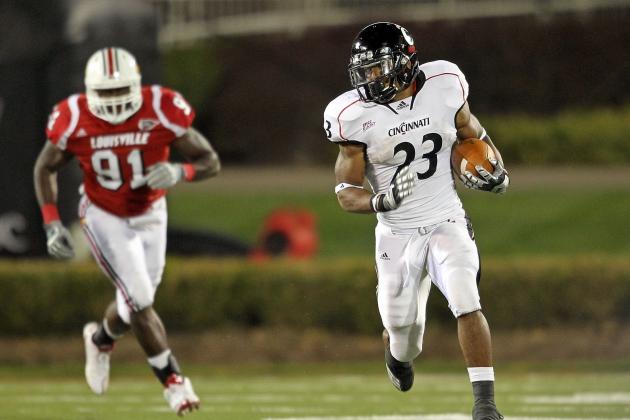 Andy Lyons/Getty Images

Height: 5'10"
Weight: 197
Combine 40 Time: 4.47
The Bucs will trade back to the middle of the third round to garner a fourth-round pick. The Bucs will choose a game-breaking RB/PR in Isaiah Pead.
Pead averaged 5.3 yards per carry with 1,259 yards rushing and 12 touchdowns in 2011. He is also very effective in the passing game, catching 39 passes for 319 yards and three scores.
Would be a great third-down back, but has the ability to be a full time back if needed. Can go the distance on any given play.
Pead was also the MVP of the Senior Bowl, as he excelled as both a running back and punt returner.
He also ran for 149 yards and a touchdown as the Bearcats edged Vanderbilt, 31-24, in the Liberty Bowl.
Pead also had back-to-back 1,000-yard seasons for the Bearcats and had 3,288 yards rushing in his career, along with 27 TDs. Had 87 career receptions for six additional TDs.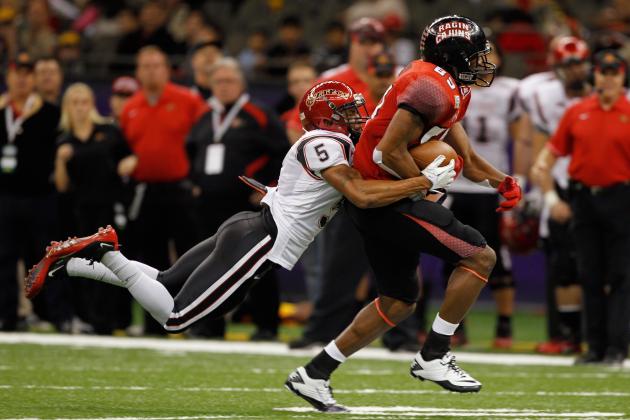 Chris Graythen/Getty Images

Height: 6'6"
Weight: 238
Combine 40 Time: 4.53
By acquiring a fourth-round pick, the Bucs will utilize this selection and pick an athletic TE in Ladarius Green. Green has been a big-play receiver in college who caused matchup headaches for DBs and LBs.
In his career at Louisiana-Lafayette, Green had 149 receptions for 2,201 yards and 22 TDs.
Looked solid at the Senior Bowl and then followed that up with a good showing at the Combine, especially with the 40 time he ran.
Green has the ability to stretch the seam in the middle of the field.
Needs to get stronger to become an effective NFL blocker.
The Kellen Winslow, Jr. era at TE will probably be ending soon for the Bucs, so the Bucs need to find a heir apparent in terms of making big plays catching the football.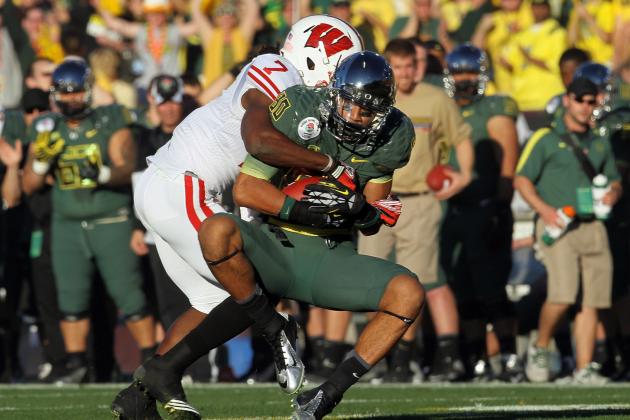 Stephen Dunn/Getty Images

Height: 6'0"
Weight: 208 lbs

Pro Day 40-Time: 4.54
A first-team All-Big Ten at safety, Aaron Henry had 66 total tackles, three tackles for a loss and four interceptions, including one in the 2012 Rose Bowl.
Henry is a solid run defender who also has shown nice instincts in tracking the football through the air. In 2010, Henry's first year as a starter, he had 58 tackles, broke up seven passes and had two picks, both of which were returned for TDs.
Henry played solidly for the Badgers in big games in 2011 and is developing nicely at the safety position after starting off his career at Wisconsin as a cornerback.
He also impressed the coaches at the East-West Shrine game.
Jonathan Daniel/Getty Images

Height; 6'4"
Weight: 297 lbs

Combine 40-Time: 5.34
John Cullen was named to the All-Pac-12 second team at LT in 2011. He has the ability to play both LT and RT in the NFL. Though he's quick and athletic, he does need to get stronger. The new offensive line coach of the Bucs, Bob Bostad, will make that happen. Bostad has an excellent track record of developing excellent offensive linemen at Wisconsin.
Cullen was a two-year starter at Utah, and before that, played two years at a junior college. With the proper development, Cullen could become a steady performer in the NFL.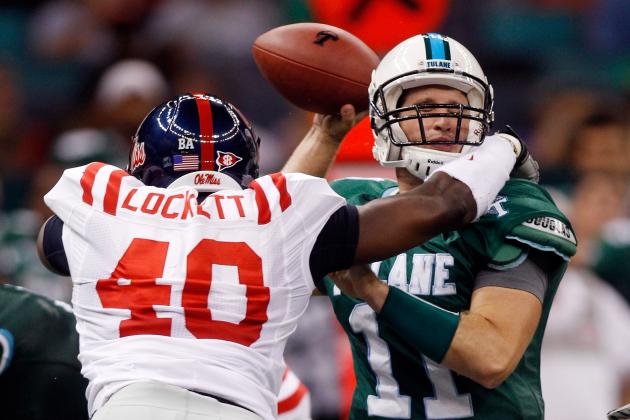 Chris Graythen/Getty Images

Height: 6'5"
Weight: 245
Pro Day 40 Time: 4.98
Kentrell Lockett has had an injury-plagued career at Mississippi, but has shown flashes. Had nine career sacks at Ole Miss. Looked good at the East-West Shrine game.
Needs to get stronger. Lockett is still trying to regain his quickness after tearing his ACL in 2010.
The late rounds in the draft are where folks like Mark Dominik try to find some hidden gems. Players who have a lot of potential, but who may also have been held back due to injury issues. Lockett is that type of player. If nothing else, Lockett could contribute on special teams right away.