Rick Nash Trade Talk: 5 Reasons a Deal Away from Columbus Isn't Likely
Doug Pensinger/Getty Images
After the trade deadline passed, Rick Nash, the most talked about player rumored to be on the move, remained in Columbus with the Blue Jackets.
Jackets' general manager Scott Howson was looking for a specific return for the team's star player and had no plans of accepting anything less.
Howson wanted an immediate impact player, two to three top prospects, and a team's first round draft pick.
All the teams interested in Nash were in the heat of a playoff push and did not want to rip apart their roster mid-season.
However, even though a deal was not done, several teams told Howson that they would be willing to meet his demands after the season had ended, closer to the 2012 Entry Draft.
Nash, the face of the franchise, seems to be good as gone come June and fans will have to say good-bye to their beloved captain.
There seems, though, to be a glimmering hope that Nash may stay in Columbus, as there are several problems associated with trading Nash for prospects.
Here are five reasons why trading Rick Nash this summer seems unlikely.
It's Risky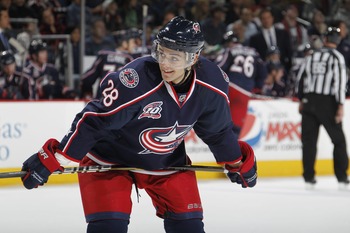 Gregory Shamus/Getty Images
When it was first revealed that Rick Nash was on the trading block before the February deadline, Columbus Dispatch journalist Bob Hunter published an article that talked about why trading Nash was a risky move:
Prospects are prospects. They aren't stars. They aren't sure things. They are glorified lottery tickets. Even the best of them—and no team is going to give the Blue Jackets the best of them in this kind of deal—are gambles with a capital G.

Nash is a star. Prospects are guys somebody says are going to be stars. There's a big, big difference.
The Jackets have not had great luck when it comes to prospects. They have had 11 picks in the top eight spots over 12 years and only have one true star to show for it in Rick Nash.
Players like Nikita Filatov (pictured above), Nikolai Zherdev, Gilbert Brule, Alexander Picard, and Pascal Leclaire were all cast as future stars in the NHL. However, not one of these players is on the Blue Jackets or playing a starring role for another team.
The bulk of what Columbus is looking for in return for Nash is prospects.
The Jackets would be taking a huge risk in trading Nash for two or three players that have yet to prove their mettle in the big leagues.
If even one of the prospects Columbus receives in return does not pan out, the deal would have to be considered yet another setback for a franchise that cannot afford to go backwards.
Columbus Could Address Biggest Needs by Trading Draft Picks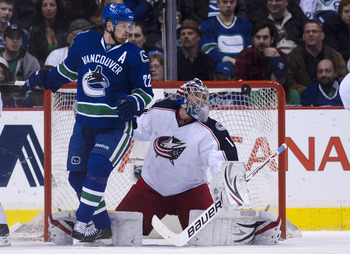 Rich Lam/Getty Images
Clearly the team's biggest need heading into the offseason is finding a No. 1 goaltender for the future of the franchise.
After winning the Calder Trophy in 2009, the Jackets believed that Steve Mason was that guy for them moving forward. However, Mason has since struggled with consistency and has yet to approach his 2009 form.
Unfortunately for the Jackets, the options at goaltender available via trade or free agency this offseason are slim.
One player that has been linked to the Jackets for some time is Vancouver Canucks goaltender Cory Schneider. Schneider is set to become a free agent this offseason and the Canucks already have starter Roberto Luongo locked up for the long-term.
However, after Luongo struggled in a first round playoff series against Los Angeles, Schneider stepped in and won Game 4, perhaps causing Vancouver to reconsider its goaltender situation.
With Schneider possibly off the board, the remaining goaltenders are not worth trading a player like Rick Nash for.
Instead, the Jackets could use their second overall pick in the 2012 Entry Draft to acquire the next best available goaltender.
Blue Jackets Showed Signs of Improvement Towards the End of the Season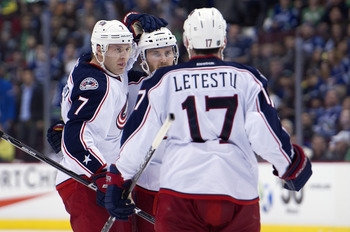 Rich Lam/Getty Images
Not a lot went right for the Blue Jackets this season.
Their two biggest acquisitions in the offseason, Jeff Carter and James Wisniewski, began the season on the sidelines, with Wisniewski serving a suspension and Carter dealing with injuries.
Columbus stumbled out of the gate, quickly slipped to last place in the Western Conference and was never able to recover.
To make matters worse, rumors emerged that Carter wanted out of Columbus and had requested a trade just two months into his first season as a Blue Jacket.
Although Carter denied the rumors, the Jackets were able to move him to the Los Angeles Kings for their first-round pick in 2012 or 2013 and young talented defenseman in Jack Johnson.
With the trade, the Jackets eliminated a player with a bad attitude and brought in someone with a positive one.
After Johnson arrived in Columbus, the Jackets looked like a completely different team. It was clear that the on-ice chemistry, especially between Johnson and Wisniewski, was improving as time went on.
Although the Jackets still finished with the worst record in the league, they finished the season winning five of their last six games.
Columbus has entered the offseason with momentum and trading Nash could hurt the chemistry the Jackets established towards the end of the season.
Blue Jackets Are "Reshaping" Not Rebuilding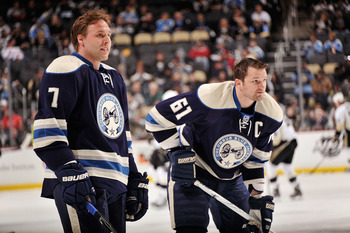 Jamie Sabau/Getty Images
After the Jackets traded Jeff Carter to the Los Angeles Kings for Jack Johnson and a first-round draft pick, Scott Howson stated that the team was "reshaping," not rebuilding.
If what Howson said is true, the Jackets are not necessarily looking to trade all of their top players for prospects and draft picks, which could include not trading Rick Nash.
With the acquisition of Johnson, Columbus added an important piece to its struggling defense, and could improve it even more through free agency.
Reshaping would require only a few key moves in the offseason to make the team competitive for the upcoming year.
One of those key moves would be acquiring a goaltender, a move that should have happened a year ago. Instead of acquiring a top goaltender, the Jackets gave Steve Mason a third chance, signing Mark Dekanich and Curtis Sanford to play behind him.
The plan did not work, as goaltending was clearly the Jackets' worst area last season.
Howson will have to be smarter this offseason when addressing the issue as one more wrong move could cause the end of his reign as the Jackets' general manager.
By adding a top goaltender, a forward or two and keeping Nash, the Jackets could be competitive next season.
Nash Is a Fan Favorite, Fans Don't Want to See Him Leave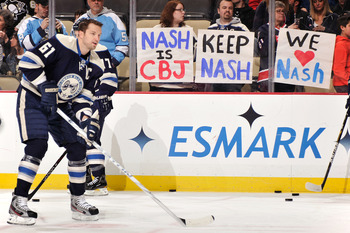 Jamie Sabau/Getty Images
When you walk into Nationwide Arena, about 75 percent of the fans in attendance are wearing a No. 61 jersey or shirt.
Rick Nash has been a fan favorite in Columbus for as long as he has been with the team and there are not a lot of fans who want to see him go this offseason.
After it was announced that Nash was on the trading block, fans would chant "we want Nasher" during games, showing their love and appreciation for their team's captain.
When the Jackets visited one of the teams supposedly interested in Nash, the New York Rangers, fans greeted the 27-year-old with chants of "we don't want you." It is clear where Nash is truly appreciated.
Nash stated in an interview AOL that he loves the city of Columbus and wants to see the Jackets be successful in the NHL.
Having Nash stay in Columbus may be the one of the best ways for the Jackets to be successful in the future.
Although they have only made the playoffs once since Nash was on the team, Columbus has been working on finding the right players to make a push since the trade deadline.
Players like Vinny Prospal, Jack Johnson, and James Wisniewski all bring the right attitude that the Jackets need moving forward.
The front office trading Nash away could cause a major setback in the Jackets' plans moving forward, especially if the players they get in return don't pan out.
Keep Reading

Columbus Blue Jackets: Like this team?