UFC 145 Results: 5 Things We Learned About Rory MacDonald
April 22, 2012

Kevin C. Cox/Getty Images
Rory MacDonald is only 22 years old and he has managed to raise the eyebrows of all that consider themselves UFC fans.  MacDonald has managed to catapult his up the welterweight rankings by demolishing opponents with a solid top game and all around training.  
Though he still has a lot left to show, he demonstrated why Georges St. Pierre views him as a possible heir to his throne.  Here's what we can take away from his fight.
Battle Adversity
It's no secret that Che Mills is a handful in the stand-up department.  MacDonald got caught a few times on the feet, but the mark of a good fighter is recognizing their weaknesses and leaning on their strengths.  
When he saw that Mills was getting the better of him, he took the fight to the ground and began his domination.  That's what smart fighters do. 
Vicious Ground and Pound
Once MacDonald got the fight to the ground, his domination started.  MacDonald may have the best ground in the game today.  The explosiveness of his punches, and his ability to get them off through his opponents defense is uncanny.  MacDonald busted up Mills' face in such a short span of time it had people wondering if he would have to change his nickname from "Beautiful" to "Busted Up".  
Deserves an Upper Echelon Opponent
MacDonald is definitely due a step up in competition.  The time is now to determine whether he belongs with the premier fighters in the division or if he's just a middle-of-the-road fighter. Some seem to forget that he was seven seconds from beating the current interim champion Carlos Condit, so he needs a good litmus test to see where he belongs.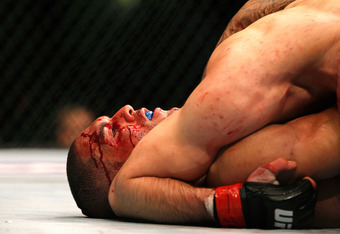 Kevin C. Cox/Getty Images
True Contender
If MacDonald gets a top ten opponent next and puts on the same caliber of performance as he did against Che Mills, there's no denying that he is a true contender in the division.  This would breathe a new life into a division run by one person.   
Future of the Division
If MacDonald does as well as GSP thinks he will, we may look for GSP to move to lightweight as he has slightly implicated before.  Or perhaps, the two teammates will put aside their friendship and fight for the belt.  This is ambitious thinking, but what were people saying back with Jon Jones beat Jake O'Brien?  
You never know.