Derrick Rose Doesn't Have to Dominate for Chicago Bulls to Win
April 22, 2012

Kevin C. Cox/Getty Images
Derrick Rose returned to the court for the third time in eight games against the defending champion Dallas Mavericks and helped his team to a 93-83 victory.
That win coupled with the Miami Heat loss to the Washington Wizards means that the Bulls have a tighter hold on the once up-for-grabs No. 1 seed in the Eastern Conference.
Chicago needs just one more win to sew up home-court advantage throughout the conference playoffs, and they have two more games left to pull it off.
As wonderful as that is for Bulls fans to know, the bigger news was Rose's return.
Looking at the box score, it would be hard to label Rose's performance against the Mavericks as impressive; he played 32 minutes, scored just 11 points and dished out eight assists.
That's a stat line more reflective of a role player than an All-Star and MVP, but there's an underlying implication here.
Since returning against the New York Knicks back on April 8, Rose re-injured himself two other times and missed four of the six subsequent games.
Once could argue that he returned too early and therefore played when he wasn't 100 percent, but the pace of the lockout schedule makes it nearly impossible for any player to completely recover from an injury, let alone prevent new ones from developing.
The biggest issue for Rose wasn't that he returned too soon; for Rose it was that he refused to ease back in form.
Against the Knicks those weeks ago, Rose went full throttle and the rust was obvious.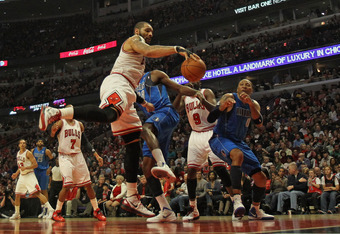 Jonathan Daniel/Getty Images
Still, it didn't stop him from slashing, driving or taking contact in the paint, and he received an overtime loss and injured ankle for his efforts.
Rose sat a game, came back against the Heat and the Pistons and played with the same fearlessness and injured his foot in the process.
Rose went down for three more games; the Bulls went 1-2 over that brief stretch and their top-seeded positioning was slipping away.
When it was announced that he would start against the Mavericks, fans probably held their breath as tipoff approached.
Spectators wondered if Rose would come out again and immediately throw his game into high gear.
Thankfully he didn't. Even more thankfully, the Bulls didn't need him to.
Over the course of this game, Rose was a true facilitator. He didn't force the issue or try to dominate the ball. He stayed in the flow of the game and trusted his teammates to lead the way to victory.
His presence was enough to instill confidence in the team, and they played one of their more complete games of the season.
The importance of this win goes beyond the Chicago Bulls shoring up top conference status; it was a reminder of how good this team can be when they play collectively.
There is no question that Derrick Rose is the leader of this team, but being the leader does not always mean he has to score the most points or give the most assists.
Rose did in this game what all leaders are supposed to do; he kept his team in the best possible position to win.
It can't be said it whether or not Rose was approached by Thibodeau and told to dial it back, but it was obvious that Rose learned from his recent mistakes and was determined to not repeat them.
The game against the Mavs was the result of lessons learned and even an indicator of what is to come.
Considering how the last few games have played out, many started to wonder if Chicago was running out of gas down the stretch.
This win certainly does not mean they are out of the weeds yet, but it shows that they have made significant enough adjustments to get themselves back on the winning track.
Those adjustments were not strategies on how to get Rose going again; rather, they were team-centered strategies that sought to reestablish continuity and chemistry.
It's obvious that the Bulls need Rose in order to have the best chance at winning, but they need his presence more than his contributions.
As the season closes and playoffs approach, don't be surprised if you see a Chicago Bulls team that plays similar ball with Rose that they did without Rose.
There will still be a point guard-oriented, pick-and-roll set, but the finishing options will be more varied than a Rose slash to the paint or a drive and kick.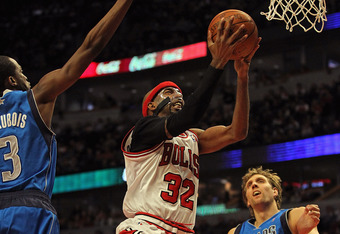 Jonathan Daniel/Getty Images
With Hamilton returning to form and other players maintaining their high level of play, Chicago's offense will have more legitimate options, as opposed to choices Rose can make if things break down.
Now that the Chicago Bulls have rediscovered their rhythm, it will be interesting to see if they can use it to win out and finish the season on high note.
One thing is for sure, if they can put together wins in the postseason where Rose is not the dominant contributor, it spells success for Chicago and problems for their opposition.