London Marathon 2012 Results: Kenyan Domination Continues in England
April 22, 2012

Matthew Lewis/Getty Images
Kenyan marathon-running superstars Wilson Kipsang and Mary Keitany brought home the men's and women's division wins at the 2012 London Marathon presented by Virgin in what was another pure showcase of Kenyan dominance.
With times of 2:04:44 and 2:18:37 respectively, the duo set the pace on a beautiful day and brought yet another title back to their homeland just before the Summer Olympics kickoff.
Kipsang told the Associated Press after his London win:
I knew when I went away they have to work very, very hard to beat me as I was feeling very good in myself. I am sorry I didn't (break) the record but winning is the most important thing for me. I feel a little tired now, but I am happy and tired.
The Kenyan star remained humble in victory and even apologized for not beating the record; maybe the appreciation the runners have contributes to their success.
The African nation has become a hot spot in terms of producing the best long-distance runners in the world. There is hardly a time when you turn to a marathon and don't see a Kenyan knocking on the door at the end for a win.
The Boston Marathon just a week ago was won by the Kenyan duo of Wesley Korir and Sharon Cherop, but the long history of domination goes back much further.
Let's face it, the Kenyans just dominate marathon running. Congratulations to them!
Men's Results:
1) Wilson Kipsang (Ken) 2:04:44

2) Martin Lel (Ken) 2:06:51

3) Tsegaye Kebede (Eth) 2:06:52

4) Adil Annani (Mar) 2:07:43

5) Jaouad Gharib (Mar) 2:07:44
Women's Results:
1) Mary Keitany (Ken) 2:18:37

2) Edna Kiplagat (Ken) 2:19:50

3) Priscah Jeptoo (Ken) 2:20:14

4) Florence Kiplagat (Ken) 2:20:57

5) Lucy Kabuu (Ken) 2:23:12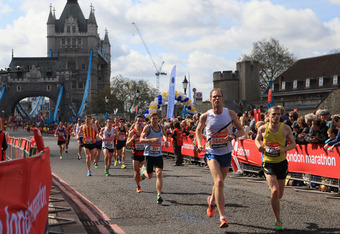 Tom Shaw/Getty Images
Conclusion
The Kenyan domination of marathons is nothing new, but the results of Sunday's race show that it is far from letting up. I don't know what is in the water in Kenya, but it's breeding star marathon runners left and right.
Someone needs to bottle that!
The United Nations needs to find out what makes the Kenyans the best, otherwise the whole leaderboard will be Kenyan instead of just most of it. Can't hate them for being good, and they're damn good.