Euro 2012 Jerseys: The Good, the Bad and the Ugly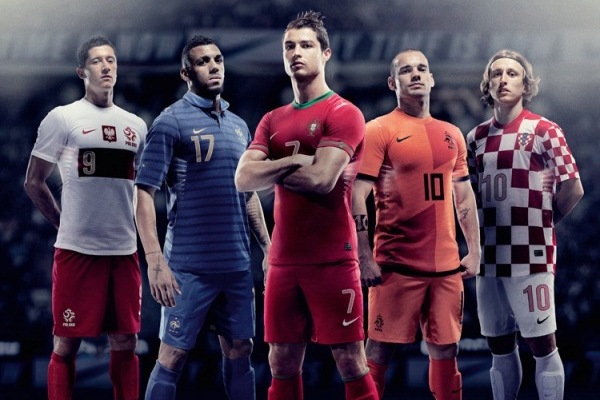 Euro 2012 is almost upon us.
The European football fiesta will command a worldwide audience of half the planet as the best 16 international teams on the continent converge on Poland and Ukraine in June for what is probably the best football competition of them all.
For the moment, anyway, until they increase the amount to 24 for Euro 2016—that's another story for another day.
Anyway, not to miss a chance to sell a few more jerseys—as they have a captive audience—most of the countries involved have released new kits for the competition.
Here, we look at what will be on show—the good, the bad and the downright ugly.
Begin Slideshow

»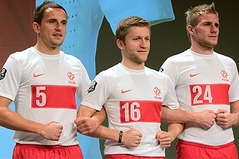 Nike have gone all out in their kit launch for the Polish gear for 2012. The entire squad were brought together to emphasize strength and togetherness by having them link arms.
However, all they succeeded in doing was putting together a photo shoot for a very camp Polish-style can-can.
The jersey is similar to classic Polish jerseys of yesteryear with a thick red stripe across the chest that the number sits into nicely—that's about it.
Anyway, Poland were handed the easiest group—on paper—and they will have to show all that togetherness if they are to make the quarterfinals.
Just don't expect them to go any further.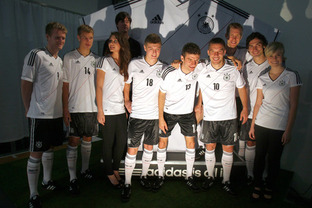 The Germans are really trying to shake off that old robotic and businesslike personality stereotype—just as they have with their style of football—by contriving to put together a photo shoot that looks off the cuff and "cool."
All they've achieved is to look downright scary—except for the blonde girl on the right, who is quite nice.
But I digress, their jersey is as you would expect. Classic white over black shorts, with the small exception of two diagonal tram lines across the chest.
Nice, but I still prefer the classic from 1990.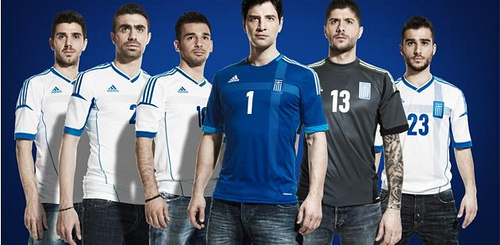 What do you know?
The Germans have gotten rid of that stereotype and sold it to the Greeks, who now look as serious and as characterless and as boring as their football and their jerseys.
Maybe a glass or two of Ouzo would cheer them up.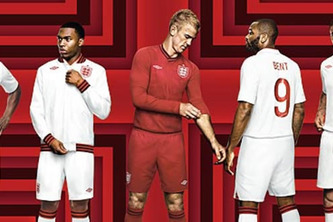 England like using these Usual Suspects-style poses to promote their jerseys.
Maybe it's a subconscious cry for help because usually they are a pre-tournament contender but then depart early due to some suspect football.
In fairness, their gear is actually nice with the big change being their crest has been changed from blue to red—it does make a difference.
For me though. the big story is Joe Hart getting to wear a classic red jersey. No, not because it reminds me of Liverpool—and let's be honest their recent football under Kenny Dalglish is anything but classic—but because it evokes memories of Geoff Hurst scoring the winning goal in the World Cup final in 1966.
Will they win Euro 2012? Probably not, but still a nice gear though.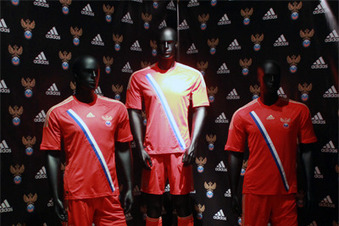 The prize for weirdest kit launch goes to Russia: What the braintrust at adidas was thinking I do not know.
To find out why it went with this kind of launch, I reckon the simplest answer is probably the best place to start.
This orangey-red gear with the blue and white diagonal stripes is gack to say the least, so they probably couldn't get any players to model it.
As if the luminous boots could make this better...
The Boys in Green have put together a pretty nice kit.
Unfortunately you can only buy the one with the big snot-colored "3" on it. The actual players get to wear the sponsor-less ones making them instantly collectable.
For those of you paying close attention, the jersey is similar to the one worn by the Allied football team in Escape to Victory which is a little ironic considering Ireland's rivalry with England.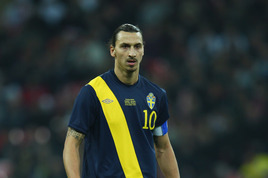 For inspiration for Sweden's away jersey for Euro 2012, Umbro has gone to Argentina.
Football fans will instantly recognise the colours—Boca Juniors.
Look a little closer and you will also recognise the style—River Plate.
Mix the two together and, in fairness, you get a pretty nice jersey that probably would get you hung, drawn and quartered for sacrilege in Buenos Aires.
For me though, the biggest sacrilege of all is letting the lazy lump that is Zlatan Ibrahimovic wear it.
#Overrated, as they say on Twitter.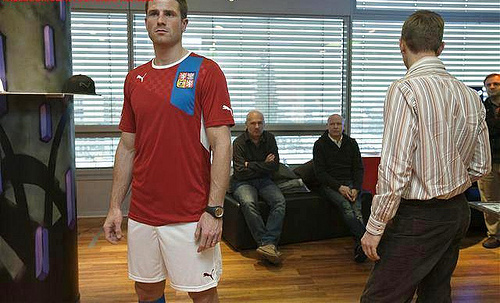 "We don't do fancy photo shoots in the Czech Republic," says my mate Pavel. "For the kit launch we just went around to Steve's house while the lads watched the darts and took a few shots with our phones."
He's not lying.
The darts must have been crap too because the two lads on the couch look bored to tears.
Bit of a rip-off of the Croatia gear but we'll come to that later.
Red, white and a splodge of blue with a cat trying to run away best describes the jersey.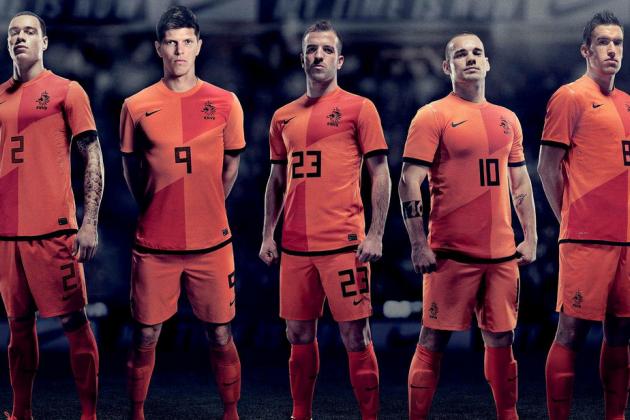 Holland are sporting an all-orange gear with a quartered chest pattern that really does make their chests look bigger—but man, do they look angry.
Considering how they played in the last World Cup final, let's all hope that the go-faster Blackburn stripes don't make the Dutch any more violent.
Actually, now that I think about it, having to wear a jersey loosely based on Blackburn would be enough to turn anyone to the dark side of the force.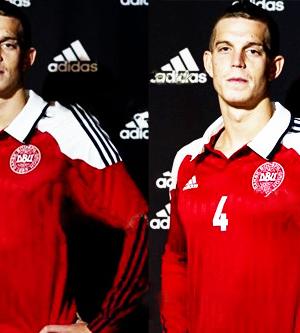 Daniel Agger seems to have robbed William Kvist's No. 4 jersey and is really going to town as he struts his stuff.
The Danes have gone away from the big blocky diagonal numbers that we have all come to love and gone for traditional fonts.
There is also noticeable change in jersey as the Euro 2012 kit is more reminiscent of Arsenal than Liverpool, as in previous gears.
Maybe there is more to Agger's posing than meets the eye, touting for a transfer to North London maybe?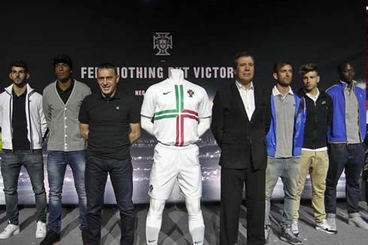 I know that people say Luis Nani plays like a headless chicken, but this is ridiculous.
Brutal looking gear too with a big, horrible two-tone cross across a white jersey.
Enough said.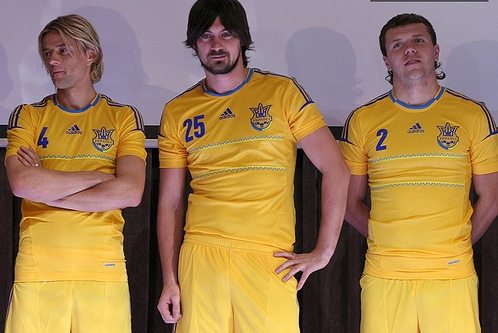 Not to be outdone by their fellow hosts' declaration of campness, the Ukraine have stomped right in and blown their Polish rivals right out of the water.
After looking at this photo shoot I now realise why England always follow the same format—safety.
Why would Ukraine allow their players to pose like this?
Anyone? Anyone? Bueller?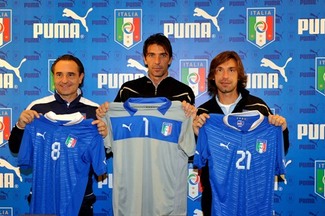 The blue shirt of Italy is one of the most iconic jerseys in international football.
Unfortunately, Puma seems to have done its best to ruin the icon and the brand by whacking in a load of go-faster diagonal stripes of varying blue colors across the chest at angles.
I've watched fashion programs and all that combination of stripes does is direct your attention to the midriff.
Did I say that out loud?
Either way, this contraption is not one of Puma's better efforts.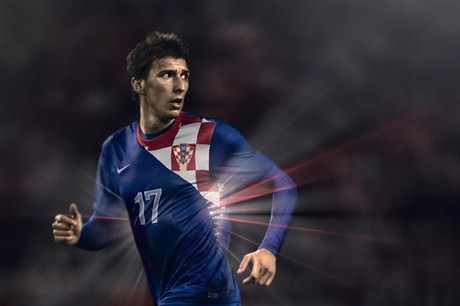 As mentioned before, there are similarities between the Czech Republic's gear and Croatia's but I suppose that's to be expected somewhat.
Look at the picture closely and you'll see some bright, shining lights. They are Nike's secret weapon for Euro 2012 as all its jerseys in the competition "feature a lightweight heat-transfer printed crest to reduce weight and an aerodynamic fit for enhanced movement."
In other words, they're lightweight tight-fitting jerseys.

They also use a "laser-cut ventilation to promote localised cooling and Dri-FIT fabric to wick moisture away from the body, the new jerseys help keep you cool under pressure when it matters most."
In other words, the jerseys have holes in them under the arms.
Still think that's a light you see? Nah, that the smell of B.O.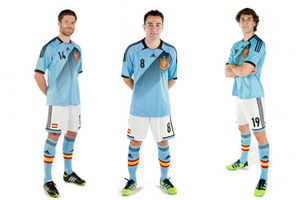 What can you say about the Spain home jersey other than the fact that it follows the traditional kit of red shirt with blue shorts that we have all gotten used to—and will be seeing a lot of at Euro 2012.
I've gone for Espana's second kit here because it's a classic sky-blue jersey that someone has ruined by driving over and leaving tyre marks on it.
It doesn't really make a difference though, Spain could wear lingerie and their football would still be incredible.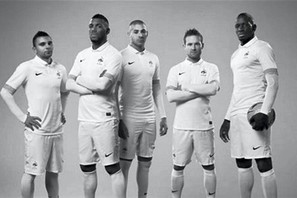 I thought I'd leave the best until last.
Whether it's inspired by The Artist, Real Madrid, the All Blacks or all of the above, the second France kit is easily the best on offer at Euro 2012.
Gone are the pin-striped pajamas of last season and in is a sleek all-white design with a simple ribbed arm band around the biceps.
Will the jersey symbolize a return to the simpler days of football before Raymond Domenech?
France and Laurent Blanc definitely hope so—1984 anyone?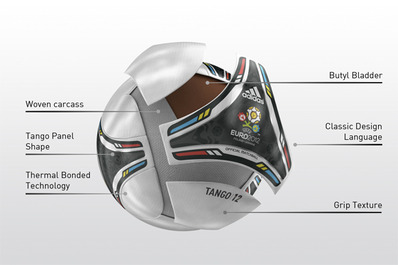 Fresh off the heels of the disaster that was the Jabulani, UEFA have commissioned adidas to come up with a new ball and design for Euro 2012.
Seeing as we're talking about design, I thought I'd throw in the new ball for good measure.
The German company has gone retro and called the ball the Tango 12. Ball enthusiasts will remember that the Tango is the iconic ball that was used by FIFA and UEFA exclusively between 1970 and 1998.(History of the World Cup Football.)
Adidas, knowing that the Jabulani was an unmitigated disaster, has developed a new ball with technology similar to the aforementioned nightmare.
However, it insists that the new ball—which each country has been able to get since last December—will be better than ever.
Here's hoping...