Philip Humber Perfect Game: White Sox Pitcher Dazzles Fans with MLB History
April 22, 2012
Otto Greule Jr/Getty Images
It's a beautifully brisk afternoon in April, and the city of Seattle is about to witness the 21st perfect game in MLB history.
The pitcher, an unsung hero named Phillip Humber, grabs the ball and begins to enter his final wind-up of the evening. My heart races, and there are two outs in the bottom of the ninth. All of the electricity and intensity of en entire history of sport begins to bubble up in each of the fans that remained at the game, and suddenly—a deep breath.
Alas, with a full count, the last pitch of the afternoon crosses the plate. The umpire rules a swinging strike, and the White Sox bench swarms the field. History has been written, this time in stone, and my disbelief has skyrocketed. On a whim, I just witnessed the most improbable event in a baseball: a perfect showing.
There's a funny paradox about witnessing a perfect game in baseball. For a genuine baseball fan, even being in the same building as a pitcher that achieved something that less than two-dozen professional athletes have ever accomplished is realistically indescribable. But as the irony exists, there's something inherently contradictory about the entire experience.
You see, for a perfect game, it means that one team did absolutely nothing. For the fans in Seattle on Saturday afternoon, that was the home team. And until we realized that Humber was flirting with destiny, there was nothing to root for in Seattle.
The Mariners offense is abysmal. On the surface, they feel like a college baseball team playing with one star prospect who carries all of the weight—a pitcher in shining armor that strolls through once a week. It shouldn't be a surprise that the team wasn't able to get a hit against Humber, for Christ's sake, at their home stadium.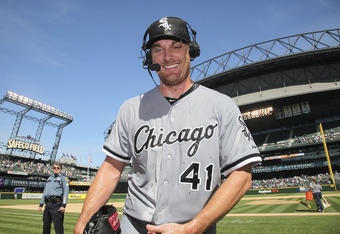 Otto Greule Jr/Getty Images
This was only the seventh time in MLB history that a pitcher on the road recorded a perfect game.
Humber, who had earned only 11 victories in seven previous major league seasons, offered the improbable. His feats were out of this league, and his breaking ball was literally unhittable.
As an adventure-seeking traveler, this was my first experience in Seattle. As a sports fan, however, it was an entirely guiltless treat to root for MLB history on the heels of Humber's dominant slider.
When a perfect game begins, it unfolds as a slow-paced event with little to no commotion. It starts with the same level of enthusiasm in the home crowd as an entry-level sociology lecture: no one is talking, there are lots of people and on the surface, nothing is happening.
The stadium was pretty, and the snow-capped mountains complemented the occasionally noise-induced trains that flanked the stadium. It was a nice day, but something still felt dull. The deeper into the game it went, the fewer things began to materialize for Seattle.
Nobody was hitting the ball. It was that simple. Humber, a 29-year-old wingman who had seen little to no professional success, was finally in his groove.
This was a remarkable change of pace for Humber—in the history of Major League Baseball, Humber's perfect game was among the most unlikely. His 1 wins coming into the game were the second-fewest of anyone who had ever thrown a perfect outing.
For what it's worth, the entire afternoon rang with a hint of improbability. As a fantasy asset, he was owned in less than 2 percent of all leagues on ESPN. No one thought that Humber was going to show up.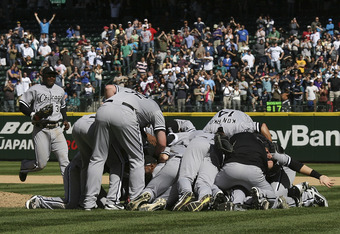 Otto Greule Jr/Getty Images
I didn't even know that I was going to the game.
The experience was entirely a surprise, as I was taken into Seattle for an impromptu retreat from Eugene, OR. I learned about the game, which was a shockingly pleasant gift as well, as I pulled up to SafeCo Field. My initial thoughts, shortly after "this is freakin' awesome!" went directly to checking my phone. I wanted to know who was pitching.
I opened my phone. Philip Humber, it read, to my own surprise.
My history with Humber began in 2004, when my New York Mets drafted him with the third overall pick of the first round of that year's amateur draft. While he first debuted in 2006, he has gained only two years of service time and has bounced around to four different professional organizations. He has yet to turn 30 years old.
Humber is not known for being much of a pitcher, but on Saturday afternoon, his performance was artistic. It gave fans a reason to believe. It gave his confidence a boost through the moon. It gave me the moments for an unforgettable weekend.
The game was boring—until suddenly, it wasn't. The slow game that could be used as a criticism for baseball (there was very little excitement) was packed into an unmatched energy in the ninth inning.
There were three batters left for Humber to retire, and the entire stadium was filled with fans on their feet. Humber was flirting with destiny, and my superstition forced me to refuse to mention the historical truth of the matter. This was a part of baseball history.
"It was arguably the most compelling moment in the park since 2001," writes Steve Kelley, in The Seattle Times.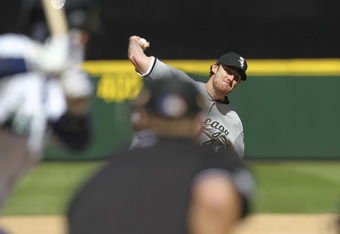 Otto Greule Jr/Getty Images
Just one day before the perfect game, Bill Simmons wrote of the immortality of baseball in his new mailbag column.
"These are the things you think about when your entire life is flashing before your eyes," he wrote. "Football is more popular, basketball is more marketable, hockey is more exciting, soccer means more throughout the world. But baseball has a way of making you think about everything that ever happened to you, every conversation you ever had, every place you ever lived, everything."
As Humber put his fame on the line, in front of an entire stadium of fans and on national television, his entire history with the sport flashed before his eyes. This was his chance to become immortal.
He stood back on the mound, catcher A.J. Pierzinski called another slider, his most dominant pitch of the night, and the pitch crossed the plate for a called third strike. Humber had made history, and I was sitting right there to watch.