UFC 145 Results: Jon Jones Pummels Rashad Evans, Shows He's Unbeatable at 205
April 22, 2012

Kevin C. Cox/Getty Images
Jon Jones wears many flattering descriptions—UFC Light Heavyweight Champion, the youngest champion in the organization's history and the biggest, brightest star in the mixed martial arts constellation to name a few.
As of his throttling of No. 1 contender and former training partner Rashad Evans, you can add another one: unbeatable.
At least by another 205-pounder.
That's not to say Bones can't possibly lose as a light heavyweight. As we've seen proven over and over and over again in the fight game, anyone can lose to anyone else on any given occasion. However, if Jonny's ever going to eat a legitimate loss at 205—forget the disqualification versus Matt Hamill—the culprit will be his own arrogance, his own laziness and/or his own boredom.
And woe be to the man who knocks him from the throne because the unseating will be temporary and the rematch will be ugly.
Jones is simply that much better than any and all light heavyweights out there.
Seriously, take a look at the UFC's light heavyweight roster and you'll see Jon's already dispatched the best names on the list. What's more, he's done so with extreme prejudice and zero mercy—Suga Rashad got decimated at UFC 145, Mauricio Rua got his at UFC 128, Lyoto Machida went nighty-night at UFC 140, Quinton Jackson cried uncle at UFC 135 and Ryan Bader fell victim to Jones' meteoric rise at UFC 126.
All of the above save for Evans got stopped by the champ, as did Vladimir Matyushenko and Brandon Vera.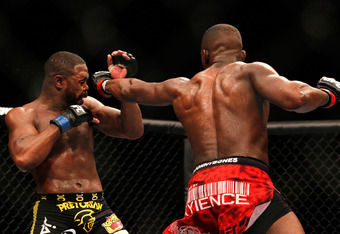 Kevin C. Cox/Getty Images
The kid is already threatening to clean out the division with only the ageless and surging Dan Henderson standing in his way. I say already because the 24-year-old is still relatively raw and getting better quickly.
Which is the problem for all the up-and-comers out there.
Give fellow youngsters like Phil Davis (27) or Alexander Gustafsson (25) some time in a vacuum and they might be able to catch up to Jonny's current level. Unfortunately, that's not how it works—Jones will also be improving, so his colleagues will constantly be chasing him.
Let's consider what we just saw in Atlanta.
Rashad Evans is an abnormally quick, abnormally strong, abnormally well-conditioned light heavyweight. He also had a psychological advantage over Jones that no other fighter could possibly have—he was his training partner when Jon was first starting to climb the learning curve, so I'm sure there were training sessions in which the seasoned Suga put Bones on the receiving end of a thrashing or two. Regardless, he wasn't held hostage by the champion's intimidating aura thanks to that familiarity.
Yet Evans never had a chance.
Jones used his trump card, that 84.5-inch reach, to stay out of harm's way while figuring novel methods of pulping his opponent's face. This time, it was elbows thrown as if they were jabs that knock the sense either out of or into Suga Rashad. Once they started landing, the challenger adopted a mostly defensive posture and, though he did land a couple decent shots in the following rounds, they were merely cosmetic—reminding the audience that Evans was still trying and hopelessly outgunned.
Toss in the customary arsenal of leg kicks that only exacerbate the reach issue for Jones' adversaries and you get the picture.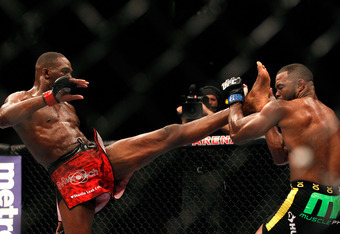 Kevin C. Cox/Getty Images
As Joe Rogan said during the pay-per-view telecast, the pride of Greg Jackson's stable enjoys the biggest advantage in the UFC when he steps in the Octagon with that reach. To put it in (some) perspective, heavyweight Stefan Struve is the tallest man in the organization at 6'11" and he's got an 84-inch reach.
Who's reach is truly longer is irrelevant for our purposes because we're talking about the current Jon Jones, and he's a light heavyweight. The future Jon Jones might be a heavyweight, but until then, he'll have at least a six-inch reach advantage against whomever is standing opposite him.
The difference will be over a foot when Hendo squares off with Jonny.
Yikes.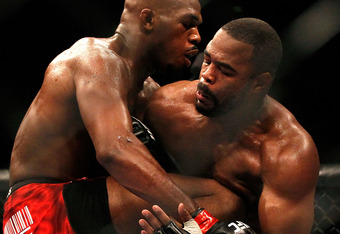 Kevin C. Cox/Getty Images
Of course, let's not oversimplify this too much; Jon Jones is much more than just a guy with freakishly long arms. Take that reach advantage away, and he's still a handful beyond the capacity of most gladiators. To get an idea, just check out the UFC 145 fight card and the two mini-Jon Joneses.
Bantamweight Michael McDonald and the welterweight Rory MacDonald pretty good approximations for what the light heavyweight kingpin might look like if you shaved half a foot off that reach. By all accounts, they are young (21 and 22, respectively), insanely athletic, uncanny strikers and tireless workers with steady-ish heads on their shoulders.
Both came up in the modern era of MMA, just like Jones, so they're also well rounded.
And as anyone who watched the festivities on Saturday can also attest, they are bound for glory in their weight classes.
Jonny has all those things—the youth, the athleticism, the virtuoso striking, the work ethic, the well-roundedness—but he also has that freakin' reach. Which is a bit like granting Usain Bolt a head start whenever he enters a race.
Whatever Chael Sonnen is smoking notwithstanding (at the 2:35 mark), 205 still is one of the best divisions in the UFC, but Bones is marauding through it, and he's barely breaking a sweat.
It's fitting that his latest triumph came in Atlanta, the starting point for General Sherman's famous rampage through the South. That literal declaration of total warfare is widely credited with severely crippling the Confederacy's physical and psychological ability to fight.
Jon Jones most impressive victory to date may have the same effect on the rest of the light heavyweight division.