UFC 145 Results: Karate Is Useless in the Cage, Deal with It!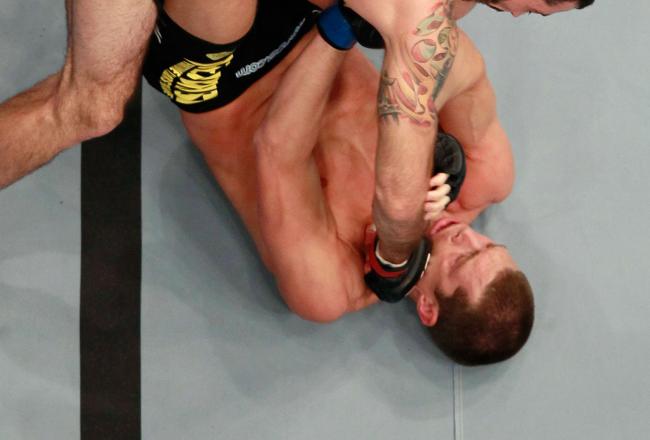 Kevin C. Cox/Getty Images
Karate is a joke.
That's not opinion, that's martial arts fact.
The most highly touted "saviors" of traditional Karate in modern MMA have both been outed.
Stephen "Wonder Boy" Thompson was the most recent, but Lyoto "The Dragon" Machida started the "trend" if you can call it that.
Machida, the former UFC light heavyweight champion, made a name for himself after an impressive winning streak—then he fought a Muay Thai expert in Mauricio "Shogun" Rua and was soundly defeated (except the judges gifted him a decision).
But he wasn't so lucky in the second fight. "Shogun" proved that Muay Thai was simply the better art form by destroying Machida in the very first round by a vicious knockout.
Machida then lost to Quinton "Rampage" Jackson.
However, the flashy, rarely effective techniques of Machida's karate were given another chance to shine, this time against aged wrestler Randy Couture at UFC 129.
The win over Couture earned Machida a title shot against Jon Jones, which the Brazilian lost in devastating fashion. He was left broken and unconscious on the mat—his mastery of karate didn't help him there.
Enter Stephen Thompson, a 63-0 kickboxer with a karate base that was the new "next big thing" at welterweight.
In his UFC debut, he smashed the over-matched Dan Stittgen with an impressive knockout. He was seemingly a bona fide prospect.
But it was all smoke and mirrors.
When Thompson fought real competition—and by real I mean a journeyman who was barely over .500 by the name of Matt Brown—he folded like a cheap suit.
His karate was useless against Brown's Muay Thai, judo and overall MMA skills.
Fans want to fall in love with karate and believe that it works because popular culture has rammed it down their throats since they were born. But the fact is that karate simply doesn't work well in the cage.
Machida and Thompson, when they met fighters who were from a more effective base they were destroyed. Don't begin to lecture about Georges St-Pierre's Kyokushin background or Chuck Liddell's Kenpo background because neither man's exploits redeem their respective arts (besides, St-Pierre uses wrestling more than anything now).
Karate is a joke. Karate's "budo" and tradition is a joke. Wrestling is older than dirt and has been in practice for many centuries, now that's real tradition.
Muay Thai, Brazilian Jiu-Jitsu and wrestling are far superior and the mixing of all three is best. Karate is great for a sampling of esoteric techniques to pull off every once in a while, but as a base, it's practically worthless.
This article is
What is the duplicate article?
Why is this article offensive?
Where is this article plagiarized from?
Why is this article poorly edited?