Cricket: Buckley Battle Hard in the Wet to Beat Abergele
April 21, 2012

With the awful weather around, many would have thought that most of the North Wales Cricket Leagues opening fixtures would be rained off. But the curtain raised for Buckley and Abergele this weekend and it was somewhat of a nail-bitter.
On a very wet wicket, Gele captain Ed Rooney won the toss and decided to bowl first. Gele were on the front foot as Owen Lynam and Ranan Das opened, and it wasn't long before Das opened his account for the season as he bowled Mike Williams and departed for 10.
The next wicket to fall was that of Lewis' opening partner Simon Nicholls, who was caught by Paul Garnett, who was on his Gele debut, off the bowling of Karl Higgins. 
Das was brought off for a rest, and this paved the way for an excellent stint from Amer Jamil. He recorded great figures of 4-for-36 off his allocated 12 overs. He claimed vital wickets for Gele. These included Phil Bradfield, Chris Allen and James Balckwell, who all got starts for Buckley before they were out. 
Jamil was backed up well throughout the innings as wickets fell regularly. Das had figures of 2-for-14 and David Moulson 2-for-22. 
Matthew Edge was the standout batsman for Buckley. He scored 18 and hit a huge six off Jamil on the way. He was backed up well by Daz Wilcox's 15, Chris Allen's 13 and Adam Harper's 12.
The bowling continued to be consistent as Abergele started their innings. Ryan White opened the bowling alongside Jason Lloyd and the going was tough from the start.
Gele's wicketkeeper batsman Ben Garnett was ran out for nine. Before White picked up his first of three wickets, getting Moulson caught for 18.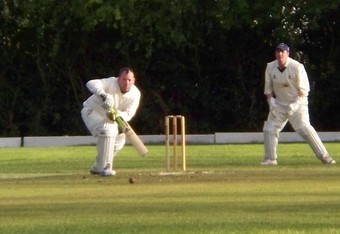 Rooney continued his good form from last season with a patient 22 before he was caught after some good tight bowling from Nichols, Blackwell and Wilcock, before the latter took his wicket. 
Wickets fell regularly as well for Gele. There was a brilliant cameo from Higgins, who put on 30 with Lynam before Higgins was stumped for a well-made 20.
Three wickets fell on 110 to leave Abergele short by 11 runs. Buckley's best bowlers were White, who picked up 3-for-19, Nichols 2-for-17 and Wilcock 2-for-13.
Gele will be hoping for a better result in the Welsh Cup next weekend as they again take on Buckley for the place to take on Prestatyn.