25 Early-Season Philadelphia Phillies Stats That Tell the Story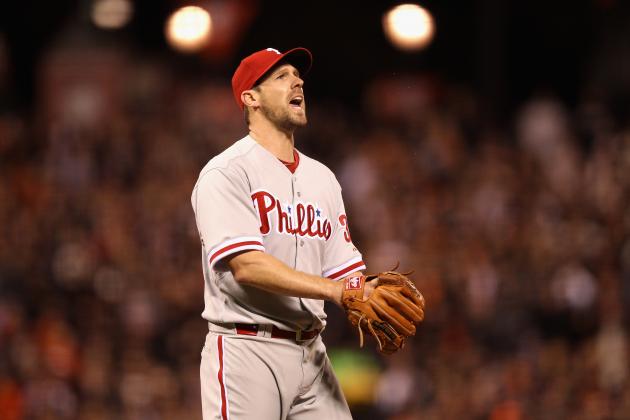 Ezra Shaw/Getty Images

If the Philadelphia Phillies have been anything this year, they've been predictable.
With Ryan Howard and Chase Utley on the shelf while Roy Halladay and Cliff Lee lead the pitching staff, you expect them to play in a lot of close ballgames and hear the old baseball axiom, "Pitching wins ball games," at least a million times.
The Phillies have certainly done that. The pitching staff has put things on cruise control while the offense never left spring training. They've been hovering around that .500 mark in the standings for that reason.
They have the pitching to keep them close and there is no doubt about that. The real problem is that their offensive firepower is the equivalent of a toddler blowing out the candles on his birthday cake.
There are diehard fans out there willing to keep telling themselves that this club is going to turn a corner. That may be true, but it sure doesn't look like it's going to be a big corner. So when pictures and blind statements won't do the job, we'll hand the ball off to one of my favorite aspects of the game: statistics.
In this slideshow, I'll show you why—through numbers—the Phillies have struggled early in the season.
*All statistics used in this slideshow were accrued prior to the Phillies game against the San Diego Padres on Sunday, April 22nd. Any adjustments that need to be made will be done accordingly.
For news, rumors, analysis and game recaps during spring training, check out Greg's blog: The Phillies Phactor!
Begin Slideshow

»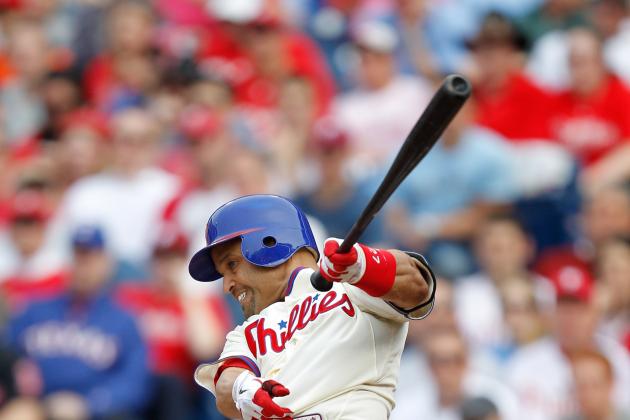 Brian Garfinkel/Getty Images

The Phillies are the type of team that is going to have to put the bat on the ball with some consistency to have any type of success at the plate because of their lack of power, and while they have been putting the ball in play—they are right near the bottom of the league in strikeouts—they have also been hitting the ball right at guys.
The Phillies are hitting .239 as a team. There isn't much of a need to connect the dots, right? A contact-oriented team hitting below .240 is a major problem.
When you tout the best contact hitter on your team as Placido Polanco, a man hitting below the "Mendoza Line," you know you have a serious problem on your hands.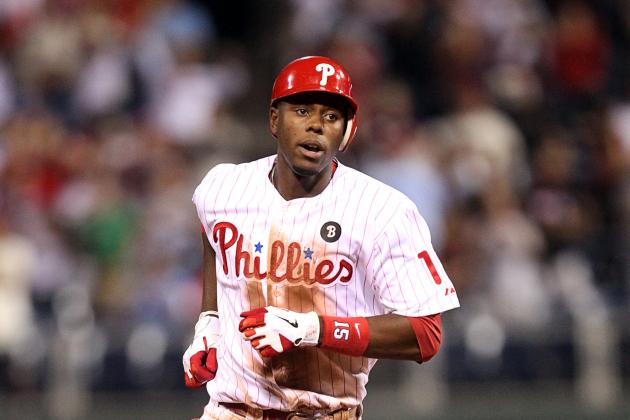 Hunter Martin/Getty Images

The Phillies have some speed to burn on the basepaths, but they've been shooting themselves in the proverbial foot early on in the season, no pun intended.
In order to make things happen with speed on the basepaths, you have to find a way to actually reach base, and the Phillies haven't done that consistently.
As a team, the Phillies' on-base percentage is sitting at .279, a dreadful mark, and while there aren't many guys putting up impressive numbers, it is players like John Mayberry Jr., whom the Phillies were counting on to play well, killing the team with low OBPs. (Mayberry's is .179.)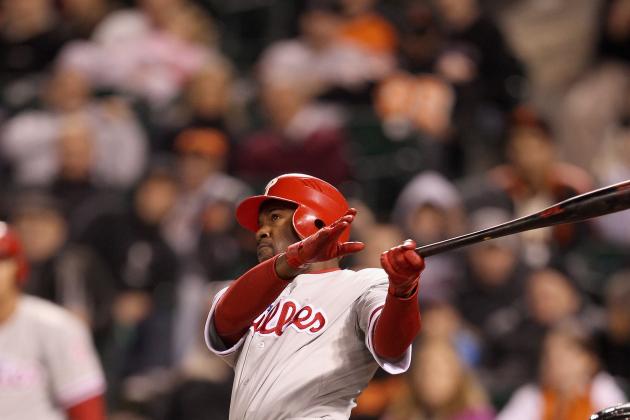 Ezra Shaw/Getty Images

The Phillies' biggest Achilles' heel this season has been their complete lack of power, both figuratively and literally.
With Ryan Howard on the shelf recovering from offseason surgery to repair his torn Achilles' tendon and Chase Utley working on his balky knees, two of the Phillies' biggest threats to leave the yard are sitting on the disabled list, and considering they've been replaced by a slew of bench players and Freddy Galvis, we knew there wouldn't be much power to speak of.
This lineup has been a little extreme, however. Jimmy Rollins, the team's three-hole hitter, is slugging .254. As a team, they are slugging .320. That will have to improve if they want to score runs.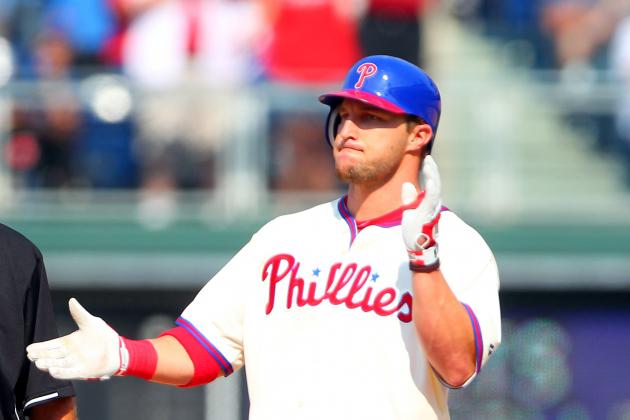 Rich Schultz/Getty Images

So if you've followed the last two slides, you will have surmised that the Phillies' on-base plus slugging percentage statistic has not been strong early on either.
That's because they haven't had anyone step up at the plate. No one has gotten on base consistently. No one has driven the ball consistently.
If you're a fan of small sample sizes, the Phillies' best hitter in regards to OPS has been Cole Hamels, who is sporting an .833 OPS after his double in San Diego.
A bigger sample size shows a bunch of average results, with the highest OPS belonging to Ty Wigginton, a part-time player, followed by Shane Victorino.
As a team, the Phillies have posted an OPS of .599.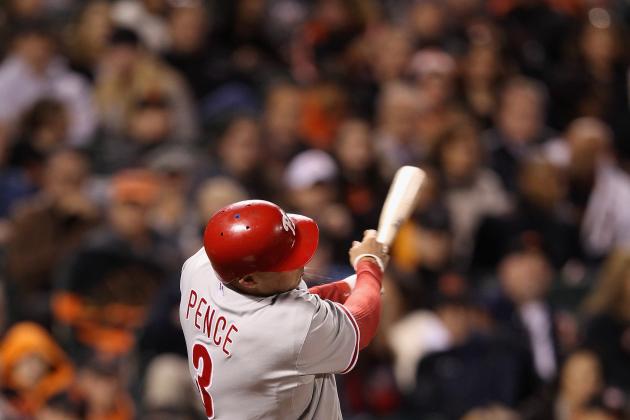 Ezra Shaw/Getty Images

The Phillies' biggest problem this season may be the simple fact that they can't deliver the "big hit."
As we've already touched upon, this lineup has close to zero thump, even with Hunter Pence in the middle. They are a contact-oriented team and their contact hitters haven't played up to their potential early on.
It's a bad combination.
There are times in this game when being a "singles machine" can be a good thing, but not when that reference is applied to your entire team. The Phillies have collected just 162 total bases this season.
For comparison, the Texas Rangers have 273.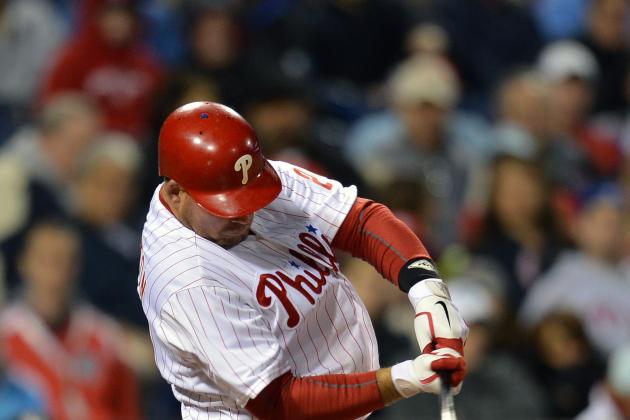 Drew Hallowell/Getty Images

If the Phillies lineup is a group of guys battling a number of different ailments, this one hurts the most.
They say, "You don't know what you have until it's gone," and I think the Phillies are finding that out the hard way. Ryan Howard has anchored the middle of their order for years, and now, Charlie Manuel can't pencil him into the order.
Ditto for Chase Utley.
Without those two guys, the Phillies' biggest power threat has been Hunter Pence, and he isn't your prototypical home run hitter. The next tier of guys consists of situational hitters like Ty Wigginton, Jim Thome and Laynce Nix.
The result is that the club has hit an embarrassing seven home runs early in the season, and it is almost surprising to see double digits in the games-played column and a single digit in the home run column for this club.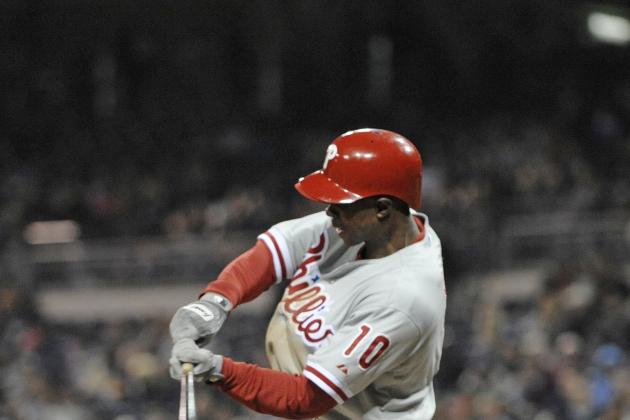 Denis Poroy/Getty Images

With all of the Phillies' offensive woes, they certainly have the pitching to keep them in any given ballgame, but at the end of the day, you have to score runs to be successful, and the Phillies haven't done that with any sort of success early in the season.
With the lineup in flux, guys like Juan Pierre have had to step up big time, and that just hasn't happened. The Phillies' table-setters have been forced to transform into run-producers, and that has led to the club scoring a putrid 42 runs early in the season.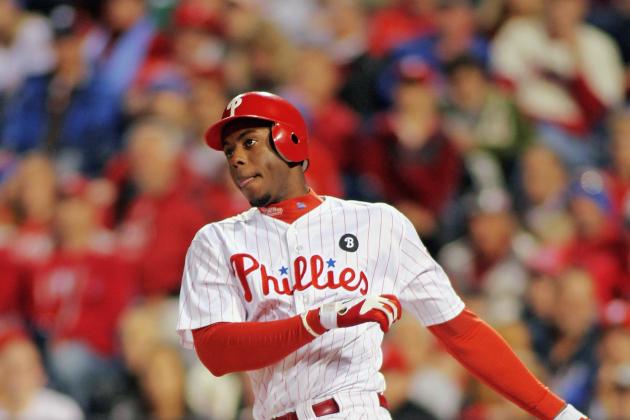 Len Redkoles/Getty Images

Part of the Phillies' biggest problem this season has been their complete lack of any discipline at the plate. As I've said before, they are a team full of contact hitters. They are going to take their hacks and pick up their base hits.
On the other side of that coin, they are a team of free-swingers as well. Guys like Ty Wigginton, Jim Thome, Laynce Nix and others are swing-for-the-fence kind of guys. You would like to see that they'll hit their home runs and take their strikeouts, but that hasn't been the case.
The combination of those two types of hitters has led to a complete lack of walks early in the season. The Phillies have not been a patient team, and although they've only struck out 96 times as a team, they've only managed 28 walks as well.
They'll need to be more creative in getting on base moving forward, and that includes working the count.
Brian Garfinkel/Getty Images

In their collective mind, the Phillies had a relatively healthy team coming into the season. They knew that Ryan Howard was going to miss the first couple of months of the season, but that was it.
With that in mind, Ruben Amaro Jr. and company spent most of their time upgrading the bench, adding quality hitters like Jim Thome, Ty Wigginton and Laynce Nix to significantly upgrade from last year's group.
Now that those guys have been forced into more regular roles, the bench has suffered. The Phillies have just one hit from a pinch-hitter. One!
The Boston Red Sox, Tampa Bay Rays, and New York Yankees all have more than one. Those are American League teams!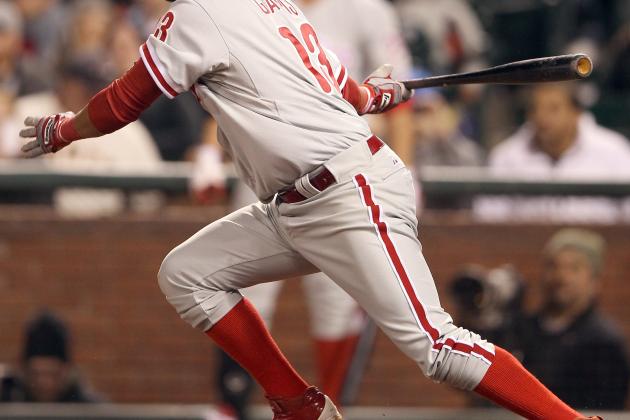 Ezra Shaw/Getty Images

When you're a team that puts a majority of its runners on base by collecting simple base hits, having a tendency to erase them in a double play can be deadly, and that has been the case for the Phillies early in the season, especially at the bottom of the order in front of the pitcher.
The Phillies have already grounded into 11 double plays this season, with the regular eight-hole hitter, Freddy Galvis, leading the way with three.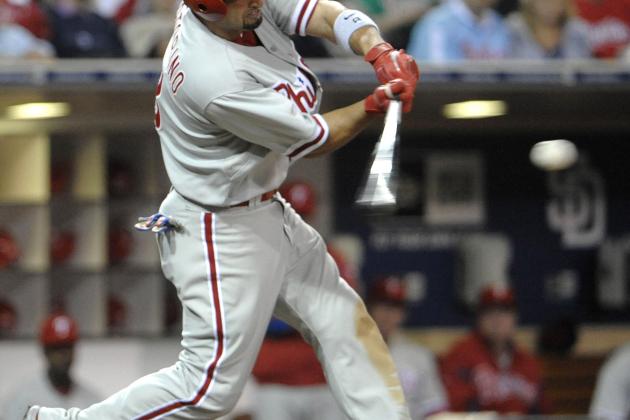 Denis Poroy/Getty Images

Not only have the Phillies witnessed a complete power outage early in the season, but when they have hit the lonely home run, it has been with a huge margin in between each occurrence.
When the Phillies offense is going right and completely healthy, they have guys that can hit home runs in bunches, but not right now.
Shane Victorino's home run in San Diego only temporarily shortened the Phillies' at-bat/home run gap before another dreadful offensive performance widened it to 72.4—fourth worst in baseball.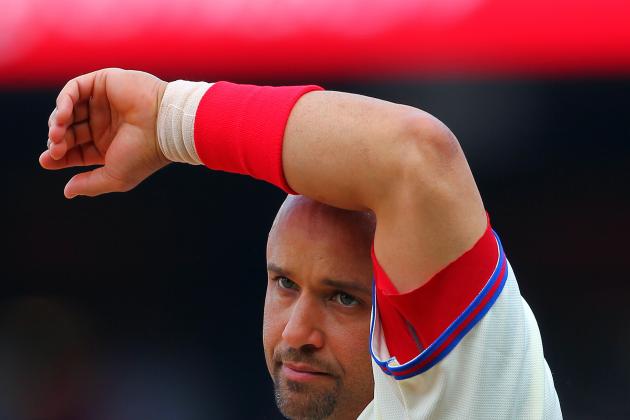 Rich Schultz/Getty Images

Eventually, someone in the Phillies lineup is going to have to step up an add a little thump for the opposing pitcher to be concerned about, even if it isn't home run power. The Phillies simply need to drive the ball more consistently.
There are some players in this lineup that have made a name for themselves collecting singles. Others have no excuse.
The Phillies are going to need their big hitters—Jimmy Rollins, Shane Victorino, Hunter Pence, etc.—to start collecting some extra-base hits and create opportunities to score more runs. The Phillies have just 26 extra-base hits this season.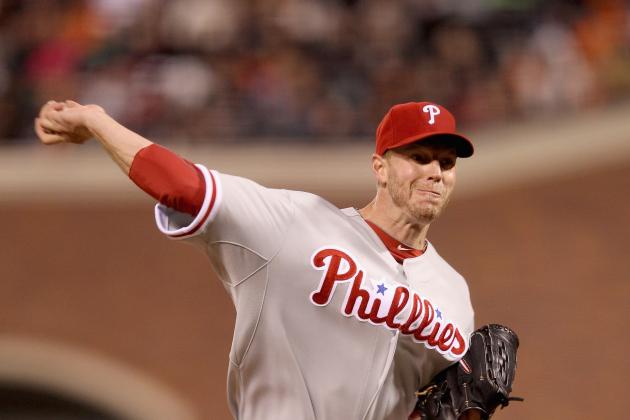 Ezra Shaw/Getty Images

As horrendous as the Phillies offense has been this season, their pitching has been as good as advertised.
While they haven't scored enough runs to give them a better record, the pitching staff has done everything within its ability to keep the club close enough to jump into the win column.
Led by the starters and ace Roy Halladay, the Phillies have posted an ERA of 2.41 to kick off the season. Only the Washington Nationals have posted a better mark.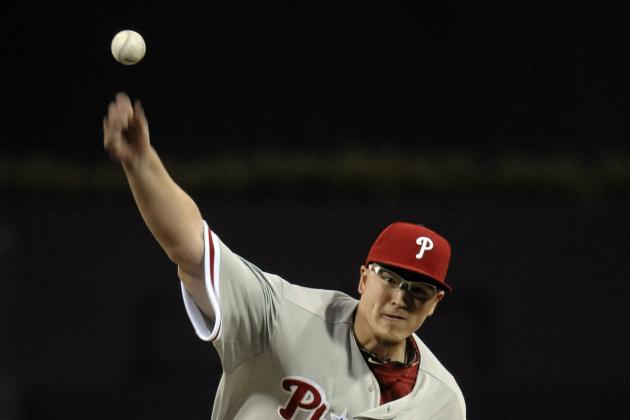 Denis Poroy/Getty Images

One of the biggest reasons the Phillies have even been able to hover around the .500 mark in spite of their lack of offensive production is the outstanding ability of their starting pitchers to not only keep the club in the game, but give them an excellent chance to win.
Although it is still early in the season, every one of the Phillies' five-man starting rotation has at least one quality start, and Roy Halladay leads the way with four, as the club has collected 11 in 15 games.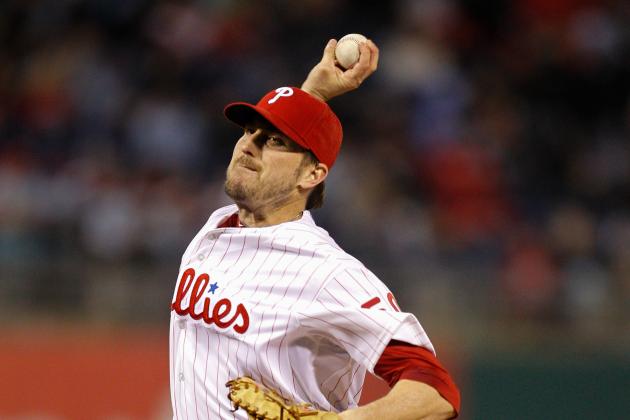 Brian Garfinkel/Getty Images

One of the biggest reasons the Phillies' pitching has been so good this season is the simple fact that the opposition is having trouble putting the bat on the ball. Even when they do, the Phillies defense has shown that they are still well above average.
It's not just guys like Roy Halladay, Cliff Lee and Cole Hamels that are tough to hit this season either. One of the biggest surprises early in the season has been the play of Chad Qualls, who has limited hitters to a .143 batting average, emerging as the setup man.
Including Qualls, the Phillies have five pitchers holding the opposition to a batting average of under .200.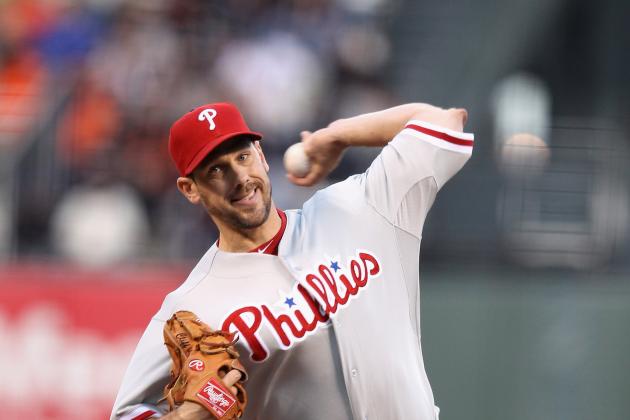 Ezra Shaw/Getty Images

The Phillies' pitching has been so good early in the season that it forces you to wonder just what this team would look like with even an average offense in support of them.
The Phillies have posted a WHIP of just 1.11 early on, and that includes a horrendous mark of 2.50 from Antonio Bastardo and slow starts from Mike Stutes and Kyle Kendrick.
At the other end of that spectrum, the Phillies have, excluding Jose Contreras and Joe Savery, three pitchers who have posted a mark of less than 1.00: Roy Halladay, Chad Qualls and Cliff Lee.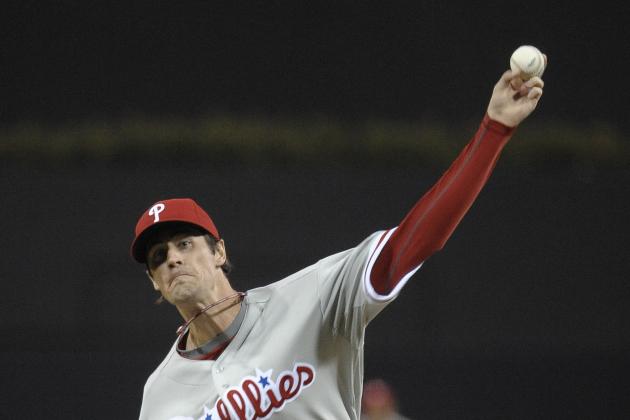 Denis Poroy/Getty Images

Led by their trio of aces, the Phillies' pitching staff has had so much success because they attack the strike zone with a fearless nature.
Guys like Roy Halladay, Cliff Lee and Cole Hamels would rather you hurt them on a mistake in the strike zone, as opposed to issuing the opposition a free pass that could come back to hurt them.
That leads to a lot of strikeouts and not many walks. The Phillies have posted a very strong strikeout-to-walk rate early in the season, with Cole Hamels' incredible mark of 11.50 leading the way.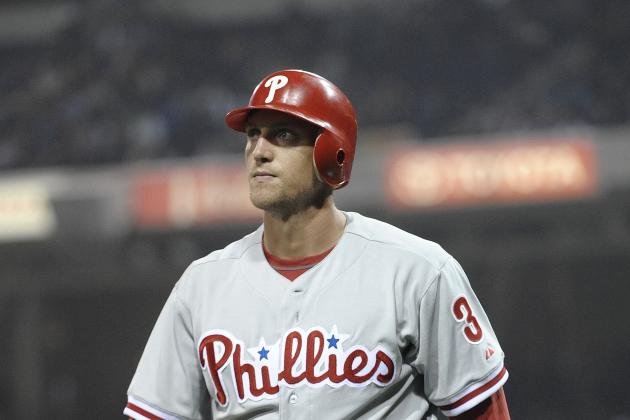 Denis Poroy/Getty Images

At the end of the day, the Phillies' elite pitching staff and mediocre offense trickles down to just one team statistic as far as I'm concerned: run support.
As has been the rhetoric for over a month now, the Phillies certainly have the pitching staff of a contender. That doesn't mean much when you have the lineup of an annual cellar-dweller. While there is a chance that they could rebound when guys like Ryan Howard and Chase Utley return, who knows what they'll do when they return?
Right now, the Phillies' core of offensive players—Jimmy Rollins, Hunter Pence, Shane Victorino and even Carlos Ruiz—have just not filled the gap efficiently. The Phillies' run support average early on in the season is just 0.53.
That's not going to cut it.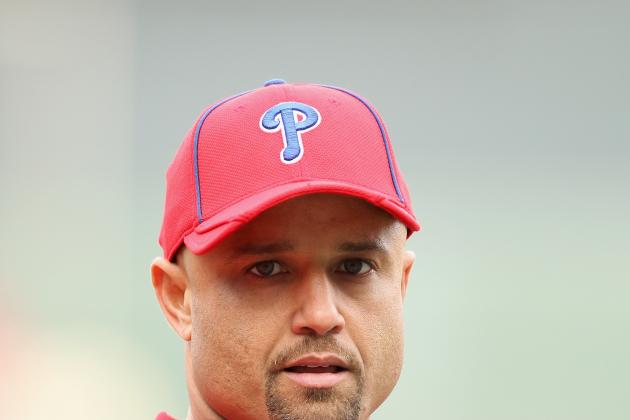 Ezra Shaw/Getty Images

With two of their stars on the disabled list for an extended period of time, the Phillies really needed Placido Polanco and his "professional" style of hitting to step up to the plate this season, and that just hasn't happened yet.
Polanco has posted a measly .192/.222/.212 line this season, collecting a total of just 10 hits—just one of them an extra-base hit.
The Phillies need Polanco to set the table for the middle of the order, but his bat just has not shown any signs of life this season.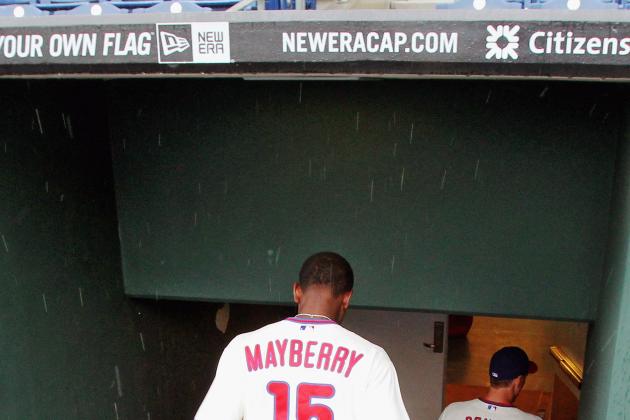 Len Redkoles/Getty Images

One of the reasons that the Phillies offense is struggling so badly right now is the simple fact that almost every single one of the guys that needed to step up with Ryan Howard and Chase Utley on the disabled list are floundering like fish out of water at the plate, John Mayberry Jr. included.
After a very strong 2011 campaign, the Phillies rewarded Mayberry by giving him the nod as the club's starting left fielder, but he hasn't shown up to play in 2012, losing more playing time by the day.
He has posted a dreadful slash line of .179/.179/.205 in 39 plate appearances, and that includes zero walks, 12 strikeouts and one extra-base hit.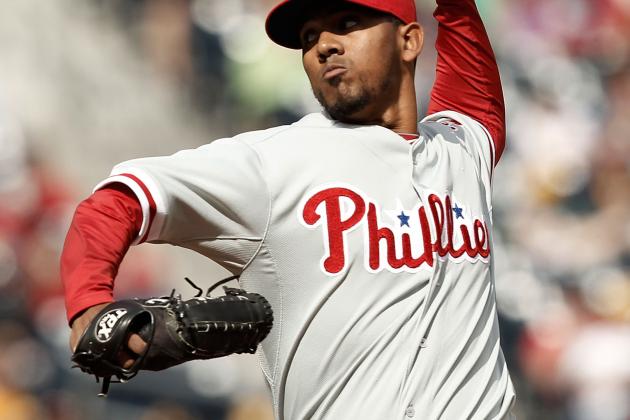 Jared Wickerham/Getty Images

Whether it's because of a lingering forearm issue from spring training or a different ailment entirely (if it is even an ailment at all), the Phillies have to be concerned with Antonio Bastardo's first couple of outings.
Penciled in as the setup man over the offseason, the lefty has thrown just two innings this season, posting an ERA of 4.50 and peripheral statistics that aren't much better, including nine walks per nine innings and a batting average against of .300.
Of course, that's a terribly small sample size, but the point remains: Bastardo has not been good.
Luckily for the Phillies, Chad Qualls has been good. In fact, he has been very good. The right-handed reliever has emerged as the club's setup man, tossing six innings and posting a ground ball rate of 60 percent. He has yet to allow an earned run, stranding every runner to reach base against him.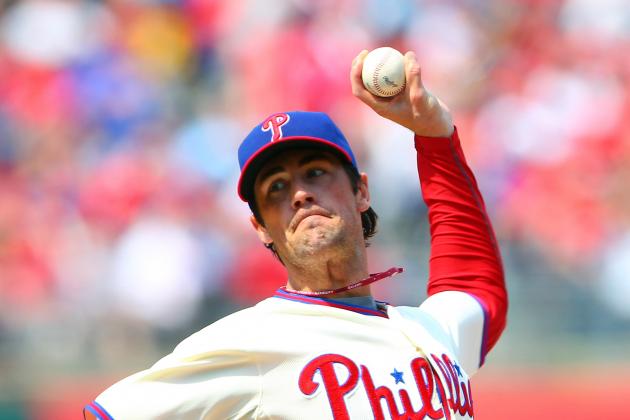 Rich Schultz/Getty Images

There's no question that the Phillies are going to go as far as their big three will carry them, and if the first couple of turns through the rotation are any indication, they'll go far with a bit of run support.
In 10 starts this season, Roy Halladay, Cliff Lee and Cole Hamels are a combined 5-3 with an ERA of 2.14. They have struck out 60 batters and walked just 12.
That's just three starters. Both Vance Worley and Joe Blanton have been very solid as well.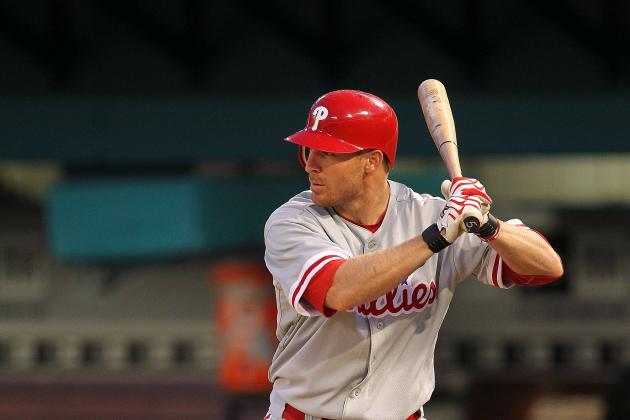 Mike Ehrmann/Getty Images

Coming into the season, the bench was supposed to be a strength for this Phillies' club, but a slew of injuries have forced some of those part-time players into more full-time roles, and the bench has suffered because of it, and not just in terms of their one pinch hit.
The Phillies bench, in some way, shape or form, has consisted of Jim Thome, Ty Wigginton, Laynce Nix, Pete Orr and Brian Schneider.
Those five guys have combined to post a slash line of .193/.251/.299. They have hit a total of one home run and five extra-base hits, while striking out 21 times and drawing eight walks.
Factor in the performance of Juan Pierre and John Mayberry Jr. and the numbers aren't any better.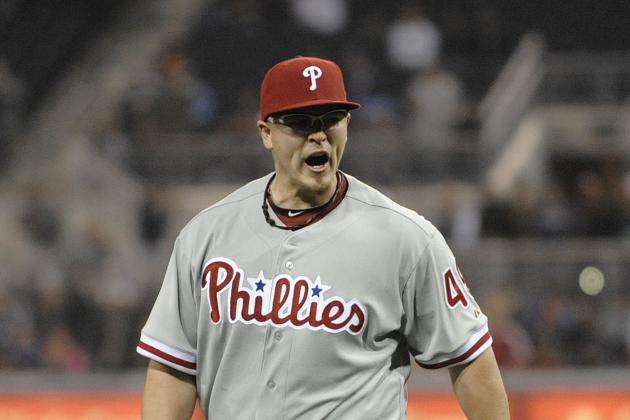 Denis Poroy/Getty Images

With the way the Phillies' big three have been pitching, it is easy to forget about Vance Worley, who is pitching well enough to let fans forget all about Roy Oswalt and helping them lay claim to a new quartet of aces.
Worley is 1-1 on the season in three starts and has posted an ERA of 2.37. He has posted a strong ground-ball rate of 51.1 percent and has left an incredible 96.2 percent of his baserunners on the base paths. Worley has posted a strikeout-to-walk rate of five and the opposition is hitting just .246 against him.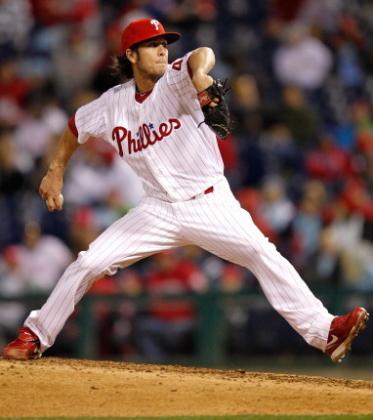 Brian Garfinkel/Getty Images

We've already talked about the struggles of Antonio Bastardo, but he certainly isn't the only member of the Phillies bullpen struggling out of the chute.
Two guys that the Phillies will be counting on this season, Mike Stutes and Kyle Kendrick, have both been off to slow starts.
Stutes has been the big concern. The opposition is hitting .280 against him and he has allowed five runs (four earned) in just 5.2 innings this season. His strikeouts are down and walks are up, and the Phillies will hope that he can turn things around.
Kendrick hasn't worked much early in the year—just 4.2 innings. The troubling thing is that his walks are way up to over five per nine innings in that small sample size, and his low strikeout rates have continued. Considering the fact that he'll be taking Cliff Lee's place in the rotation as the lefty recovers from an oblique injury, that will be something to watch.