12 Reflections on Arsenal's 0-0 Draw with Chelsea at the Emirates
April 21, 2012

Mike Hewitt/Getty Images
The final result of Arsenal's Premier League Day 35 lackluster encounter with their London neighbors, Chelsea, was a goalless draw. I reflect upon the match through the following 12 points.
1. Shaky Beginning
This was as bad a start for Arsenal as you can find anywhere: loose passing, dearth of ideas, defensive lapses, loss of concentration, etc. A sharper team could have punished Arsenal in the early quarter of the game alone, which was what Wigan Athletic did to Arsenal early in the week.
2. Spine Broken
The problem here for Arsenal was the absence of the midfield spine, the horizontal frame that holds the midfield together, which, in other words, is Mikel Arteta.
I have observed that Arsenal will have problems adjusting to this loss because they don't have any other box-to-box to call upon, with Jack Wilshere out and Abou Diaby not fully fit.
The lack of this transitional pivot caused a lot of problem for Arsenal.
3. Ramsey lost at Sea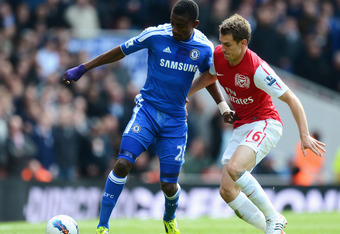 Mike Hewitt/Getty Images
In the absence of Mikel Arteta, Ramsey was slotted into the box-to-box role, and what a torrid time he had at it: too slow on the ball (meaning he was pick-pocketed a number of times), unable to read the game quickly from the back and unable to move into spaces very well from this position.
Ramsey clearly was the major weakness in the Arsenal lineup in the first half. In the second, owing to the introduction of Abou Diaby, a change that allowed Ramsey to play higher on the pitch, Ramsey showed marked improvement in all of the three areas I have highlighted. 
He even made one great Alex Song-like pass to Robin van Persie, the volley to which didn't quite come off.
4. Work in Progress Still
A few readers have wondered why Wenger has been reluctant to introduce changes into the team—say introduce Park Chu-Young or Marouane Chamakh—when it has been in winning positions.
I have wondered whether that has to do with the team's penchant to collapse even in winning positions in past seasons. The fear of giving away leads could be one reason.
But a more plausible reason was on display in this match. The team isn't comfortable in its skin yet. One missing piece throws it off balance. We saw that at Swansea City and against Manchester United at the Emirates.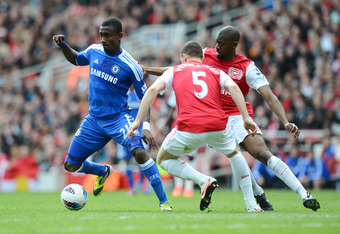 Mike Hewitt/Getty Images
Here, the absence of Mikel Arteta greatly disoriented the team. The return of Wilshere from injury next season and Diaby's return to fitness should solve the box-to-box problem for Arsenal.
An additional purchase for the position could only strengthen Arsenal's hand.
5. Flanks into Star Points
As a result of Chelsea pushing their full-backs high up the pitch, and as a result of Arsenal doing the same, it meant the flanks were practically neutralized into what I consider tips of abstractive stars.
It meant that although Theo Walcott and Bacary Sagna (or their counterparts on the left wing: Kieran Gibbs and Alex Oxlade-Chamberlain) were often in touching distance, the space was so shrunk that they were often forced to pass the ball inside, into the midfield, and this suited Chelsea, who played with three defensive midfielders, well enough.
6. Tight Spaces Throughout
What Chelsea did well was to erect two gates on the flanks, which forced Arsenal to play through the middle. This in turn played into Chelsea's defensive approach to the game. Their sitting deep meant there was little space for Arsenal to work with.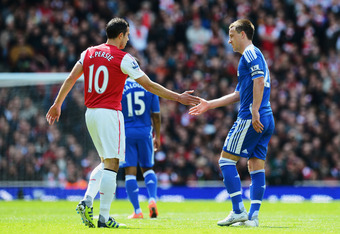 Mike Hewitt/Getty Images
It was why both Theo Walcott and Alex Oxlade-Chamberlain began cutting inside to create space for themselves.
By the way, although AOC was subbed, he did play well. The only problem here was that this type of cagey matches do not suit his direct style, as is true of Theo Walcott as well.
7. Second Best but Better Chances
But for what seemed the last 10 minutes of the first half, Arsenal were second-best to Chelsea throughout that half.
The same was true of the second half minus the last 25 minutes. But even though Chelsea dominated—and I'm using this term loosely—Arsenal still had the better chances to score—the Van Persie glancing attempt at a tap in from a Theo Walcott free kick, and the Laurent Koscielny header from a Van Persie free kick are two clear examples.
8. Diaby Helped
I'd have loved to see Abou Diaby introduced into the match much earlier than he was for some of the reasons highlighted above. I do understand that Wenger and his assistants are being careful with the injury-prone midfielder.
Diaby wasn't at his mesmerizing best here, not even close. But if the reader observed very well, his introduction stabilized Arsenal in possession. It is the reason why they controlled the rest of the match's last quarter.
His passing here was rusty at best, but considered within the obvious fact that he has been out for a year, one has to say that he did well notwithstanding.
9. Challenge for Attacking Football 
Playing with three defensive midfielders—Michael Essien, Oriol Romeu, Florent Malouda (Malouda sat deeper than usual—Chelsea practically stifled things in the midfield and were content to sit back in their own half, hoping for a counter-attacking opportunity. 
In other words, they, more or less, recalled their strategy against Barcelona.
Writing shortly after the latest el Clásico and in the light of the Chelsea-Barcelona, it appears to me that this week has been a victory for defense over attack.
All teams need to do now is park the bus and hope for the odd chance and they'd have the opposition team's fans seething in frustration for their team's apparent inability to score.
I am not one to condemn one strategy over another, although I'm biased naturally toward attacking football.  But when defensive strategies are employed to stifle attack-minded teams, the onus is on the latter teams to come up with ways to overcome this obstacle.
A comforting fact is that defensive teams will not always ride their luck as happened in the Chelsea-Barcelona match, nor is the ball always going to hit the crossbar or the post, as happened in this match.
It is why fans must always temper their reaction with proper perspective.
10. Robin van Persie's Mini Drought Continues
Robin van Persie was too hasty with his shot, which he skewed away from goal when he appeared clean through in the second half. There was an appearance of a dive in the second half, which wasn't. At another time, he was closed in upon when he appeared to have a clear chance of scoring.
Already, articles have started appearing "analyzing" the danger of Arsenal's over-reliance on Van Persie, as though one were to say Newcastle are over-reliant on Papiss Cissé or that Barcelona and Real Madrid are over-reliant on Lionel Messi and Cristiano Ronaldo, respectively.
This naturally is the normal reactionary view that must accompany the emotion of the moment. These types of views always have one thing in common—they lack perspective.
I am not worried about Van Persie at all. The goals will flow again. Plus, the man is giving Arsenal his all. For me, there's little more to ask for.
11. Walcott's Injury is Manageable
Arsenal have enough flank players to see through the rest of the season without the injured Theo Walcott: Gervinho, AOC, Yossi Benayoun. And as we saw in this match, even Andre Santos can be used in this role.
Walcott needs to concentrate on getting well and on signing his new contract.
Talking Gervinho, he was somewhat disappointing here. But I don't agree with those who seem to have forgotten how helpful he was to Arsenal's cause early in the season and haste to claim that Gervinho is an overall disappointment.
He isn't a disappointment any more than Aaron Ramsey is.
12. Implication of this Result
There appears to be just two remaining obstacles to Arsenal's European ambition for next season.
The first is resurgent Newcastle United, who, by their 3-0 win over Stoke City, cut down Arsenal's advantage to just three points, with a match in hand to boot.
The second is the possibility that Chelsea could win the Champions League, which would mean that they would claim one of the remaining two Champions League spots.
In this event, the team that finishes fourth would lose out of Champions League football next year.
Will Chelsea win the Champions League? Unlikely. Will Arsenal finish fourth? Possibly. 
Newcastle have a better run of form right now, and with both Stoke City and West Brom away, Arsenal have a big challenge before them. 
If Arsenal manage to win the rest of their games, their superior goal difference could prove the difference between third and fourth position.
Furthermore, owing to challenging fixtures for Newcastle United, the advantage still seem to lie with Arsenal.
Here is Newcastle's remaining schedule:

These are tough games, tougher than Arsenal's remaining matches.
It will be a great achievement indeed were Newcastle to win all these matches.
I don't see it happening. So although they have a match in hand, they are a bound to drop a few points in this final run-in.
In the case of Tottenham Hotspur, the fact that they lost to QPR this week means that their threat to Arsenal has been greatly minimized. What's more, but for Newcastle's tougher remaining games, Spurs could lose out on Europe altogether.
As far as I can tell, therefore, third place appears to be Arsenal's for the taking. All they need to do is hold out against Stoke City, and then take maximum points against Norwich City.
However, Arsenal must dig deep and take their destiny into their own hands.